Auschwitz Survivor Shows Off Camp Tattoo, Telling Doctor 'I Understand Risk'
As the world fell silent to commemorate all those who lost their lives during warfare, a doctor shared a poignant photograph of an Auschwitz survivor's chilling tattoo.
November 11, known as Veterans Day or Armistice Day, is commemorated at the 11th hour of the 11th day of the 11th month, to mark the signing of the armistice that brought an end to the First World War.
As people reflected on the bloody battles of the past, a doctor from the U.K. posted an image on Twitter that embodied the horrors of the Second World War.
Dr Helgi Johannsson, a consultant anesthetist at Imperial College Healthcare in London, shared a photograph of a woman's arm, and while the numbers in blue ink had faded over time, they were still very much visible.
He captioned it: "Remembering today one of my patients. I was discussing the risk of an operation and she simply showed me her tattoo and replied "don't worry, I understand risk" #LestWeForget."
Dr Johannsson chatted about the woman, who he confirmed had since passed away, revealing the photo was taken some years ago.
He told Newsweek: "She was around 83 years old around 10 years ago, came into hospital for an operation which was quite risky for her but after a discussion with her we came to the conclusion that it would be in her best interest. She looked me in the eyes, showed me her tattoo, and said 'Don't worry Helgi, I understand risk'.
"I was initially speechless, but asked her more about it. She was a child in Auschwitz, came to the U.K. as a refugee without any of her family and made her life here. She's one of the most inspirational people I have met, and I'm delighted to say she survived her operation."
Using the Image to Promote Peace
He added she was "very explicit" in giving him permission to share the image "in any way I wanted to promote peace and fight fascism."
Dr Johannsson's tweet, sent on Thursday, amassed more than 15,000 likes, and he followed it up with another post.
"She wanted me to take the photo and use it to remind us how easily we can hate. We must never take peace for granted, we must actively work to keep it, we have to be tolerant of each other," he added.
Auschwitz was set up by the Nazi regime in 1940, in outskirts of Oswiecim, in German-controlled Poland, with the first wave of prisoners arriving on June 14 that year.
The camp was the largest, and the deadliest, of the six extermination camps set up under Adolf Hitler's brutal regime.
The Holocaust Memorial Museum estimates at least 1.3 million people were deported to Auschwitz. Of that figure, 1.1 million were murdered between 1940 and 1945, when was the camp was liberated on January 27.
Explaining more about the significance of the tattoos, the museum said: "The Auschwitz camp complex was the only location that issued identifying tattoos during the Holocaust. Only prisoners selected for forced labor were assigned serial numbers.
"Prisoners who were sent directly to the gas chambers were not registered or tattooed. More than 400,000 serial numbers were assigned at Auschwitz."
The name would become synonymous with the horrors of the Nazi regime, and the Auschwitz-Birkenau camp is now a memorial and museum dedicated to those who lost their lives.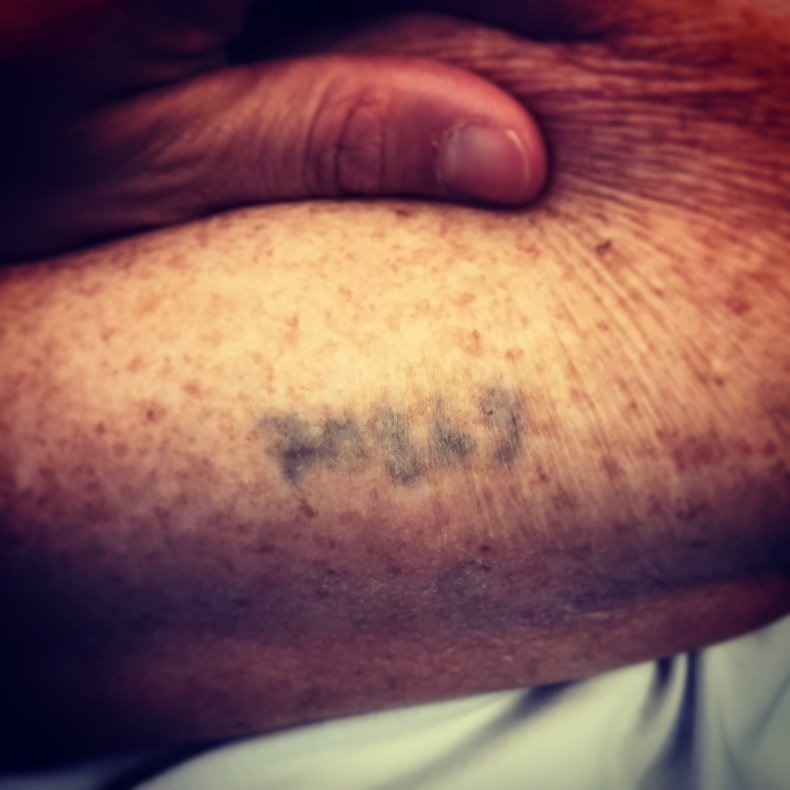 Correction 11/15/21, 7:46 a.m. ET: This article was updated to change the date the camp opened.