Austin, Texas' Fourth-Largest City, Keeping Mask Mandate Despite Gov. Greg Abbott's Order
Austin, Texas, is keeping a mask mandate in place despite Texas Governor Greg Abbott's recent order to lift the state's requirements on mask wearing, along with other COVID-19 safety protocols.
Austin Chief Medical Officer Mark Escott announced Tuesday the state's fourth-largest city will remain in Stage 4, the second-highest risk level. That stage advises individuals to avoid nonessential travel and recommends that businesses operate up to 25 to 50 percent capacity, in addition to the wearing of face coverings.
Escott announced the rules, which are required by a City Council ordinance that authorizes public health officials to implement a mask mandate, an Austin City Council spokesperson confirmed in an email to Newsweek. The rules will be in effect until April 15 and require all people over 10 years old to wear a face covering.
"In Austin, we're committed to saving lives. Period. If state officials don't want to do their jobs protecting people from the virus, then we will," said Austin City Council member Greg Casar in an email statement to Newsweek.
The rules Austin is implementing are a rebuke of Abbott's statement last week that "it's time to reopen Texas 100%," when the Republican governor repealed mask mandates and reinstated normal operations for all businesses in areas that do not have high COVID-19 hospitalization rates.
"We're not anywhere near close to herd immunity," Escott said at a briefing with the Austin City Council and Travis County commissioners on March 2, the same day Abbott announced the pullback on restrictions. "And the danger that we face by releasing [or] reducing those restrictions—particularly the mask mandate, which really has been the most effective public policy decision the governor has ever made—surely has the potential to initiate a surge at the moment when we have the potential to drive the COVD-19 numbers into the ground."
Austin City Mayor Steve Adler was immediately critical of Abbott's move earlier this month. With bars and businesses opening up during spring break under the relaxed conditions, Adler said, the number of people indoors without masks could be "problematic," according to CBS Austin.
According to Johns Hopkins University, Texas has about a 10 percent positivity rate and has vaccinated about 8 percent of its population. As Abbott eases restrictions, hubs like Austin are now bracing for potential coronavirus surges as spring break commences and deadlier variants spread through the U.S..
Adler told Fox News on Sunday "it's the wrong move" for Abbott to encourage communities to drop mask wearing when facial coverings don't in fact slow down the capability to reopen businesses or schools. Adler subsequently launched a social media campaign for Austin-area businesses that require masking to share their stories and encourage support. On Monday, service industry workers protested Abbott's "100 percent open" policy at the state Capitol in Austin.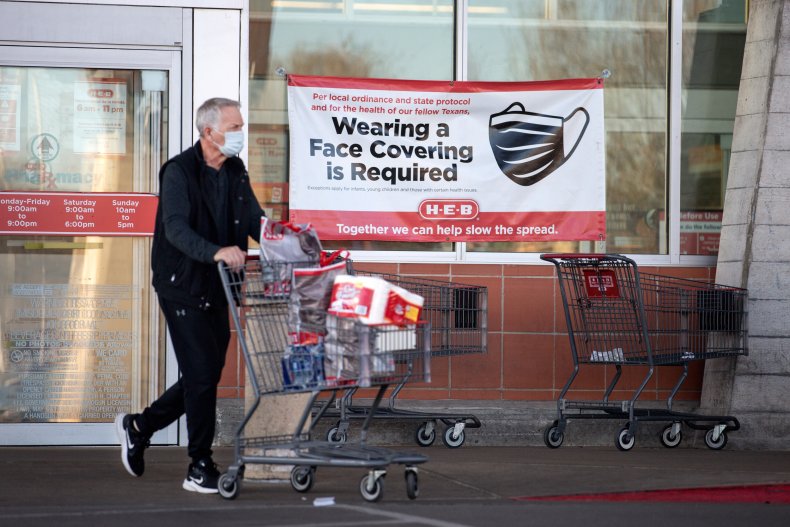 City officials confirmed to Newsweek that Austin can legally set its own mask guidance apart from the governor's actions.
"This action is both legal and the right thing to do," Casar said in the email statement. "Cities have independent authority under [the Texas] Constitution, [and] state law allows cities to create health rules. If state officials sue Austin, they'll be going out of their way to harm the health of Texans."
In a Twitter post, Casar pointed to the ordinance that cites the Texas Health and Safety Code. It says any "home rule municipality," which Austin is, may "adopt" or "enforce" any of its own rules or laws necessary to protect the municipality's public health.
"The City Council passed an ordinance last year that would establish these 'home rule municipality' protections, via the Health Authority," Tara Pohlmeyer,
Casar's communications director, told Newsweek. "The mayor has suspended enforcement of his mask order after the governor's announcement, but today we announced that the City Council ordinance and Public Health Authority order still will be enforced."
Pohlmeyer added that Abbott's orders do not mention local health authorities and that Abbott doesn't have the power "override" city rules. The ordinance also says a person who "knowingly" violates a health authority's rules is subject to a fine of no more than $2,000, but Pohlmeyer said fines will be targeted more at businesses rather than individuals who are not complying.
"It's really the easiest and simplest thing we can do to ensure that we are going to be able to keep schools open for more and more students in person, open up businesses more and more. But we don't know exactly how the public is going to act to that," said Adler, according to CBS Austin.
Pohlmeyer confirmed to Newsweek that city officials expect the mask rule to last beyond the April 15 expiration date, until hospitalizations are reduced to the point that the city's health authority recommends ending masking policies.
Newsweek reached out to Adler and Abbott for comment but did not hear back in time for publication.
This story has been updated to include comments from Tara Pohlmeyer, communications director for Austin City Council member Greg Casar.