Australia to Pay Millions in Reparations to Indigenous People: What This Means for U.S.
As lawmakers continue debating reparations in the U.S., Australia's prime minister said Thursday his country will pay millions of dollars in compensation to Indigenous people forcibly taken from their families.
For decades, a debate on reparations has been ongoing in the U.S., but it gained renewed attention last year as people around the world marched in protest of the death of George Floyd, a Black man who died in May 2020 while in Minneapolis police custody.
Laura Pitter, the deputy director of the U.S. Program at Human Rights Watch, told Newsweek Australia's reparations announcement is likely to increase pressure on the U.S. to move forward with reparations for Black Americans.
"While there's still more to do, Australia has taken an important step in providing reparations," she said.
"The U.S. should follow suit. It has never fully reckoned with its legacy of slavery," she added. "But the time has come to provide similar redress and repair for the decades of abuse, free labor and discrimination that this country's wealth and prosperity is built upon."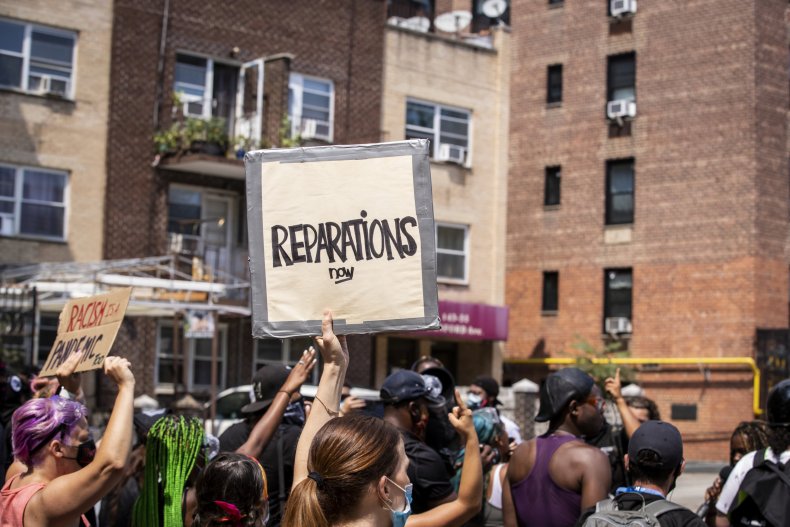 Australia has faced its own reparations debates in recent years following an official inquiry by its Human Rights and Equal Opportunity Commission, which was released in May 1997. That inquiry, which assessed child separation in the Aboriginal and Torres Strait Islander communities, estimated that between 10 percent and one-third of all Indigenous children were removed from their families between 1910 and 1970. The impacts of those removals were largely negative, discriminatory and "genocidal in intent," the inquiry stated.
Australia Prime Minister Scott Morrison on Thursday announced $378.6 million in reparations for qualifying members of the "stolen generations" who were relocated from their communities in the Northern Territory, Australian Capital Territory and the Jervis Bay Territory, according to a news release from his office.
"This announcement reflects the Government's commitment to recognise and acknowledge the wrongs of the past as part of the nation's journey to reconciliation, and this scheme represents a major step forward towards healing," Morrison said in the release.
Qualifying individuals will receive a one-time payment of 75,000 Australian dollars "in recognition of the harm caused by forced removal" and 7,000 Australian dollars "in recognition that the action to facilitate healing will be specific to each individual," according to the prime minister's office. Each qualifying individual will also have an opportunity to share his or her story and receive a written or in-person apology, his office added.
In the U.S., Democratic lawmakers have been pushing for reparations for more than three decades. The late Representative John Conyers of Michigan was first to introduce H.R. 40 in the House of Representatives, and the bill was most recently reintroduced by Representative Sheila Jackson Lee of Texas earlier this year.
H.R. 40 proposes creating a commission to "examine slavery and discrimination in the colonies and the United States from 1619 to the present and recommend appropriate remedies." Though the bill passed in the House Judiciary Committee this spring, it has yet to get a full vote in the House.
Pitter said moving forward with H.R. 40 is an "essential first step" for "real healing and repair."
"There's no reason why H.R. 40 should not move forward," she said. "It's the least this country can do to begin to address the harms that have resulted from the legacy of slavery."
Pitter said the U.S. is having a reckoning with the long-lasting impacts of slavery amid a global movement in which other countries are considering reparations of their own.
"I do think that what Australia has done should increase pressure on the U.S. to take similar action," she said.