'Jeffrey Epstein Did Not Kill Himself,' Rapper Declares During Award Acceptance Speech
A rapper declared "Jeffrey Epstein didn't kill himself" during an acceptance speech at an awards ceremony in Australia.
Suffa made the claim about Epstein while accepting the award for Best Australian Live Act with his Hilltop Hoods bandmates at the ARIA Music Awards in Sydney on Wednesday.
The rapper, whose real name is Matthew Lambert, was delivering the speech on behalf of the band after telling the audience that "no one else wants to do it."
He said: "I'm going to get out a few thank yous because I think this is the last time you're going to see us. To our road crew Mugga, Pauly, Snebs, everyone, you're all legends and we love you. Thanks to our wives, our children. And Jeffrey Epstein did not kill himself. Thank you."
The remark about the disgraced financier's death led to laughter in the audience and some shocked expressions.
The awards ceremony—which featured performances from Dua Lipa, Halsey and Khalid—was live-streamed internationally on YouTube. But some Australian viewers took to Twitter and wondered if the moment would air on Channel Nine as the televised broadcast was delayed. According to news.com.au, Suffa's speech was aired in full.
Newsweek has contacted a representative for Hilltop Hoods for further comment. Conspiracy theories have swirled since Epstein, a previously convicted sex offender, was found dead in his Manhattan jail cell in August while awaiting trial on sex trafficking charges. Social media has been awash with "Epstein didn't kill himself" memes and the line has been uttered at random during interviews on cable news.
Earlier this month, Republican congressman Paul Gosar attracted attention when it was observed that the first letter of his tweets about the House impeachment hearings spelled out the phrase. After news outlets reported on the tweets, he added on Twitter: "What? Epstein didn't kill himself?"
Before that, a former Navy SEAL blurted out "Epstein didn't kill himself" while speaking to Fox News during an unrelated interview about military dogs.
According to the Associated Press, prosecutors have insisted there is ample evidence backing a medical examiner's determination that Epstein hanged himself, including video surveillance they say confirmed that nobody entered the area where Epstein was locked in his cell.
Nevertheless, the theories have continued to swirl, fueled by the pedophile's past ties to powerful figures including Bill Clinton, Donald Trump and Britain's Prince Andrew.
Andrew, the Queen Elizabeth II's second son, was forced to announce that he was stepping back from public duties recently after he was widely criticized following an interview with BBC Newsnight in which he addressed his friendship with Epstein for the first time.
The prince faced a backlash over the lack of remorse he showed for the friendship after he told interviewer Emily Maitlis that knowing Epstein had some "seriously beneficial outcomes."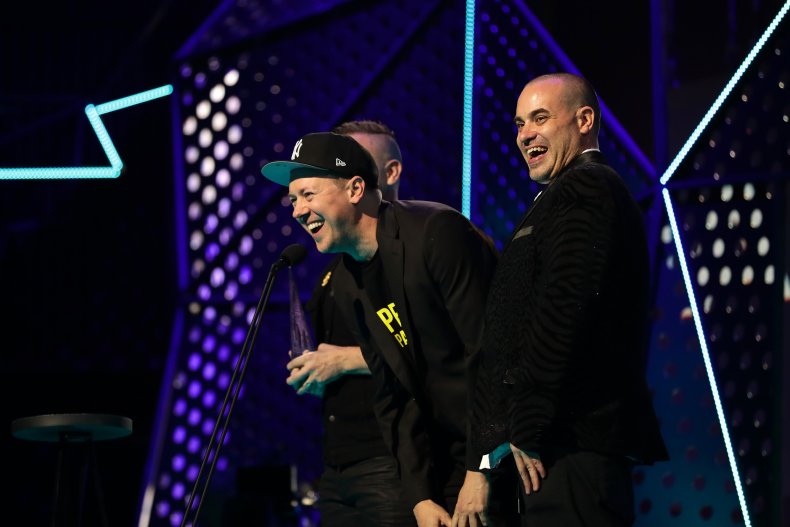 'Jeffrey Epstein Did Not Kill Himself,' Rapper Declares During Award Acceptance Speech | World