Australian Wildfires Are on an 'Exceptionally Bad' Scale Never Seen Before, Say Experts
Bushfires continue to ravage Australia in what has been an "exceptionally bad" season that started in September and has seen fire burn "on a scale never seen before."
On the last count, there were 137 active fires with more than 60 still to be contained in the state of New South Wales alone. A state of disaster has been announced in Victoria while officials in NSW have issued a week-long state of emergency, with some of the latest warnings predicting dangerous fires that could pose a "serious threat to life" on Saturday.
"The bushfires have been choking the residents and life out of the cities, creating hermits during the summer season when most Australians are enjoying the outdoors and spending time together," Richie Merzian, the Climate & Energy Program Director at The Australia Institute, an independent progressive think tank based in Canberra, told Newsweek.
"In the capital Canberra, which had the worst air quality in the world this week, the national university has been shut down, the major hospital has delayed surgeries and those who can have left."
Merzian himself had to evacuate the city with his family when the suffocating smog became too much for his one-year-old daughter—"Even then it was a mission with roads closed due to fires and alternate routes taken."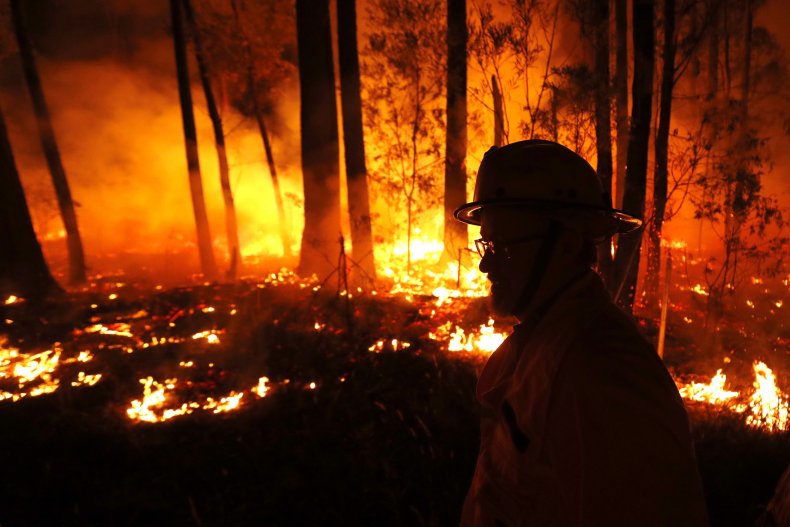 In recent weeks, the fires have forced thousands of tourists have to evacuate, while people across the southwest are being advised to flee their homes to safer locations. The death toll has risen to 20, with one elderly woman reported to have died as she stepped off a plane, allegedly due to smoke inhalation. Many more have been declared missing.
The fires have burned across approximately 12.35 million acres, Associated Press reports, creating an environmental disaster and level of damage to the country's forests and ecosystems that could take decades to recover. In NSW, more than 1,300 homes have been destroyed.
Meanwhile, the air pollution from the bushfires is creating "a public health emergency", say charities. Cities like Sydney are being smothered in toxic smoke, with air pollution up to 11 times higher than the base "hazardous" level, according to the Climate and Health Alliance, a global coalition of health institutions.
"The smoke is effectively terrible air pollution, but with higher amounts of dangerous smaller particles," Ilan Kelman, a professor of disasters and health at University College London, U.K., told Newsweek. This means it can amplify the negative health effects of air pollution, such as asthma, heart and lung disease and strokes, as well as damage to fetuses.
Australia regularly experiences seasonal bursts of bushfire activity, which typically peaks during the country's autumn and summer months. Indeed, much of its native fauna has adapted to fire.
But this season has been particularly severe. "It has been an exceptionally bad season but that alone doesn't explain why it is on a scale never seen before," said Merzian.
A long, dry period and record-breaking high temperatures have helped to create what Matthew W. Jones, a senior research associate at the University of East Anglia, U.K., calls "the perfect conditions for fire."
"While it is not possible to place blame squarely on climate change, there is no doubt that climate change increases the likelihood of major fire events occurring," he told Newsweek. "When regional-scale weather conditions develop as they have done recently, their effect is exaggerated by higher background temperatures."
While the season is far from over, the recovery process when it does eventually end can take years—"some people never fully recover," said Kelman. The key, he said, is to start preparing years in advance. That includes being ready to lose one's home.
"Mental health impacts are often overlooked," he said. "The survivors deserve extensive support in dealing with trauma, bereavement, and loss. Feelings of home and security might be shattered, their community might never be the same, and they may experience debilitating fear of the next fire."
On top of the emotional fallout and environmental damage of the fires, there is the economic cost. The Insurance Council of Australia has already announced more than 5,000 claims worth $224 million dollars, Bloomberg reports. But that is only likely to increase as the fires continue.
"Unfortunately, the fires are continuing with damage progressing," said Kelman. "And we are only in January."
Kelman points to the fact that several of the most deadly fire disasters—including one in 2009 that saw 173 people die in just one day ("black Saturday")—took place in February, saying we can expect to see more damage and without sufficient intervention, more bushfire disasters.
"The forewarning for the future is that we need to make choices to stop bushfires from becoming bushfire disasters," Kelman said.
The article has been updated to correct a misspelling of Ilan Kelman.