Australians Place Charred Wildlife From Bushfires On Steps of Local Parliament To Demand Action On Climate Change
People in Tasmania, the Australian island and state south of the mainland, are placing charred trees and shrubs at the entrance of its parliament in a symbolic call for action on climate change, according to footage of the scene posted on Twitter.
Folks of all ages gathered at Hobart, the capital, as part of a climate action rally, images showed. Unlike those occurring elsewhere in the country, this protest was largely silent. They brought whatever they could carry, including 12-foot trees reduced to blackened posts, placed them at the steps of the building and went on their way, according to footage from the tweets.
Thousands of people are now homeless because of the devastation incurred from the wildfires, and at least 27 people have died, the Washington Post reported on Friday. As many as one billion animals have died, been displaced or have been otherwise affected by the fires, estimates by ecologists in the country show. More than a dozen fires are still burning, some of them still out of control and getting worse.
Tasmania's protest is not an isolated event. Nationwide, tens of thousands of Australians took to the street on Friday, calling for Prime Minister Scott Morrison's resignation over what they view as his lackadaisical response to climate change, according to the Post.
Morrison has maintained that reports of backlash to his administration are exaggerated and that the country is already meeting its goals for emissions cuts. But emissions reached record highs in recent years and increased again between March 2018 and March 2019, according to Australia's environment and energy department.
"What we've always said though is you cannot link any single emissions reduction policy of a country, whether it's Australia or anywhere else, to a specific fire event – that's just absurd and to suggest it's the case would be simply wrong," Morrison said in an interview Thursday with ABC News.
"The government accepts the need to take action on climate change and we are," he continued.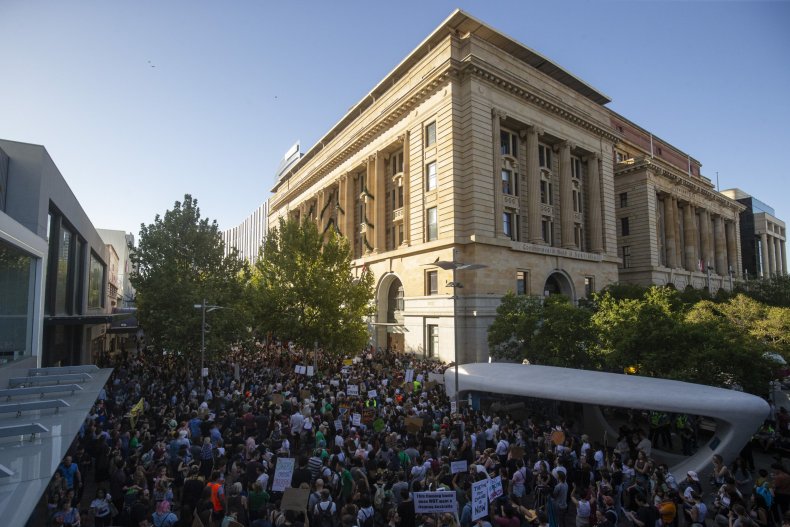 Australia has a wildfire "season" prompted by dry spells. Some scientists hesitate to link this year's extreme bushfires to climate change directly, but there's a consensus among climate experts that the warming planet makes them more deadly and widespread in general. This year, Australia broke its record for average temperature twice and experienced a prolonged period of drought.
Other variables that may have made matters worse are still being investigated. At least two dozen people have been charged with arson, and more are on the hook for discarding lit cigarettes or not complying with the country's total fire ban. In Victoria's East Gippsland region, dry lightning was to blame for sparking a number of fires.
Friday's protests in the country span nine cities, according to the Post. They chanted "ScoMo has got go," using the prime minister's nickname, and held signs that read, "We can't breathe."
Newsweek earlier compiled a list of ways people can help those affected by the fires, such as by donating to local animal hospitals or Airbnb stays for displaced Australians.