Football can bring people together, offering a sense of community and healthy competition.
However, it can also provide those magical moments that players and supporters will remember forever.
One such event happened at a middle-school football game in Central California when a seventh-grader with autism scored his first-ever touchdown.
Harris was playing for his team at Tenaya Middle School in Fresno against Dinuba when the youngster managed to take the ball and run across the line to win his team 6 points.
In the video, which was posted to Twitter by Antoine Bishop on September 26, we can see the boy take the boy running as players chase after him.
When he scores both teams gather around Harris to congratulate him on his achievement.
In the footage, which can be watched here, we can also hear sideline supporters cheering him on and someone shouting: "Go Mikey, go buddy!"
His touchdown is then met with loud applause from supporters on both sides around the field.
Bishop, of T1 Sports Academy, captioned the heartwarming video, writing: "Mike Harris scoring a touchdown!'
He then added the hashtags: "#autism #AutismAwareness #autismfootball #autismfamily #fortheculture #tenayabraves #bravehearts #braveworld."
Speaking to local news outlet ABC7 news his coach said he participates in everything the team does as well as working hard in practice sessions.
Another impressive moment to come out of a football game recently was at Miami Hurricanes' home opener against Appalachian State.
At the Hard Rock Stadium in Miami, Florida, on Saturday September 1, the stand-out catch came not from a player, but from fans who managed to catch a cat in an American flag.
In a clip captured by a Twitter user known as @ReakinHavoc we can see that the animal is dangling from the façade on the upper deck by one paw.
Unable to hold on any longer the cat plunges to the deck below, and is luckily caught by fans in the stand below using a flag as a net.
As the black and white pet bounces on the flag, the whole stadium erupted into cheers and rapturous applause.
The video was captioned: "Cat saved by fans #CatsOfTwitter #cats #Cat #catsaved #savethecat #um #TheU #Miami #MiamiBeach #MiamiHurricanes."
The tense scene has so far been viewed by a whopping 61,400 people and liked more than 750 times.
Newsweek have reached out to Antone Bishop and Tenaya Middle School for comment.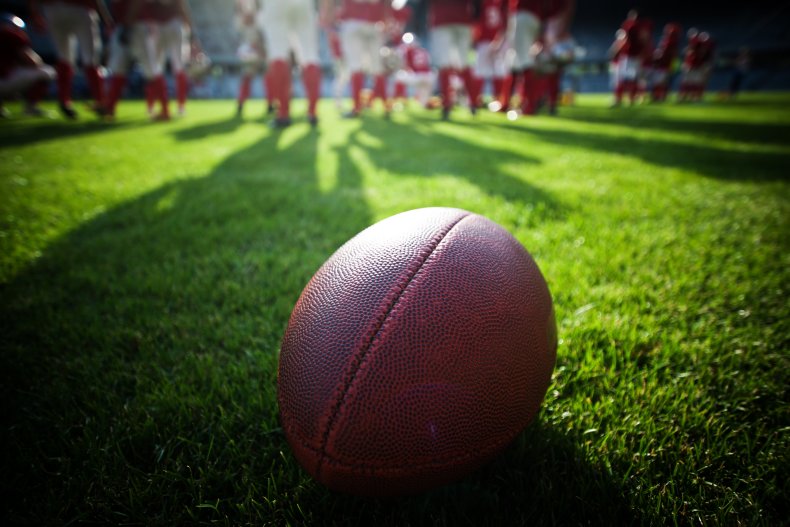 Uncommon Knowledge
Newsweek is committed to challenging conventional wisdom and finding connections in the search for common ground.
Newsweek is committed to challenging conventional wisdom and finding connections in the search for common ground.