AZ Congressman Calls Marjorie Taylor Greene a 'Traitor' for Suggesting 'National Divorce'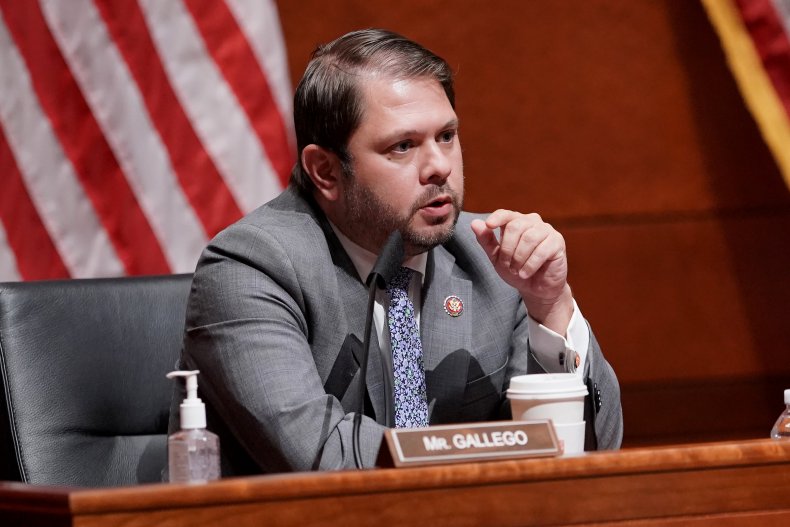 Representative Ruben Gallego (D-Ariz.) has dubbed Representative Marjorie Taylor Greene (R-Ga.) a "traitor" after she promoted a "National Divorce scenario" on Twitter.
Greene suggested in a tweet on Wednesday that "brainwashed" Democrats from blue states should be given a "cooling down period" where they are not allowed to vote if they move to a red state. Although suspending voting rights for people who have moved states based on political affiliation would be clearly illegal, Greene argued that a ban could be possible during a so-called "National Divorce," prompting Gallego to blast her for promoting civil war.
"There is no 'National Divorce' either you are for civil war or not," Gallego tweeted. "Just say it if you want a civil war and officially declare yourself a traitor."
Greene's original tweet was in response to a pair of tweets from conservative writer Pedro L. Gonzalez, who described another Twitter user moving from California to Florida as a "lib" who was "like a cancer" and one of "the absolute worst people in the country."
Gonzalez maintained that he was in favor of "actively discriminating against transplants like this through legislation," arguing that his political opponents "shouldn't be able to vote for a period" and "should have to pay a tax for their sins."
"All possible in a National Divorce scenario," Greene tweeted in response. "After Democrat voters and big donors ruin a state like California, you would think it wise to stop them from doing it to another great state like Florida. Brainwashed people that move from CA and NY really need a cooling off period."
Opinion polls have recently suggested that a majority of Republicans, as well as a significant number of Democrats, would favor breaking up the United States along ideological lines in order to live in new countries dominated by like-minded people.
Greene is not the only Republican lawmaker to recently broach the topic. Representative Thomas Massie (R-Ky.) pointed out West Virginia breaking off from Virginia to avoid being part of the Confederacy during the Civil War while asking, "Has secession ever succeeded?" on Twitter earlier this month.
While Greene's suggestion of a "National Divorce" seemed to suggest a civil war, her call for a "cooling down period" to prohibit Democrats from voting would also likely be illegal under current laws. Regardless of political affiliation, people who move states are already subject to a short waiting period to establish residency before being allowed to vote in their new state.
However, the time required to establish residency is usually short and limited by law. The process also does not differ depending on political affiliation nor state of origin. A 1972 Supreme Court decision struck down a Tennessee law that required residency of one year in the state and three months in a county before registering to vote.
Additionally, the proposal to establish a new tax based on a resident's political affiliation or state of origin while suspending their right to vote would be a clear violation of the current U.S. Constitution, although the foundational document would almost certainly be ignored by some if a new civil war were to take place.
Newsweek reached out to Greene's office for comment.