Azealia Banks Slams 'Abusive Psychopath' Kanye West Over His Kim Kardashian Feud
Azealia Banks has called Kanye West an "abusive psychopath" as she shared her take on his public parenting feud with estranged wife Kim Kardashian.
West and Kardashian have been locked in a war of words over their 8-year-old daughter, North, having an account on TikTok—a move that the rapper has publicly stated he stands against.
While Kardashian has defended her decision to allow their eldest child on the video-sharing platform, "212" rapper Banks has lashed out at West, accusing him of publicly bullying his daughter with his statements.
Taking to her Instagram Story on Sunday, Banks said the TikTok disagreement was the second time he had publicly targeted his daughter, citing his 2020 revelation that Kardashian had considered aborting North after discovering she was pregnant.
"Y'all are making way too many excuses for Kanye," Banks wrote. "This is the second time he has publicly bullied North West. First with the abortion s***, and now putting her on blast on his Instagram page as if she is some sort of criminal.
"Kanye had no problem with that magazine cover where North had on a f****** belly top and purple eyeliner with her little buds showing thru the shirt, he thought it was fashion. You all said nothing."
West, who in 2021 legally changed his name to Ye, has been open about his struggles with bipolar disorder in the past—however, Banks said in her lengthy Instagram post that the "Donda" hitmaker's issues went beyond that.
She went on: "Y'all wanna call it a mental health issue. I have never once seen Kanye have this much smoke for any of his male adversaries."
Banks then brought up West's accusation last week that Kardashian attempted to kidnap their daughter Chicago by not giving him the address to her 4th birthday party. She also mentioned his new romance with actress Julia Fox.
"Trying to accuse a mother of kidnapping her own child ???? Was Chicago supposed to be hanging out with him and Julia's horrible cool sculpting while they get drunk and high so Julia can blow vape pen smoke in Chicago's face?"
North, Banks reasoned, is likely seeking some semblance of an escape from the drama between her parents as she posts videos on TikTok.
She wrote: "Maybe North is looking for a fun escape because she has to look online and see her dumb a** dad always talking s*** about her mother and when Kim won't give him the attention he begs for he turns his anger on her by posting her picture to his Instagram, talking about 'his will' as if she is a f****** piece of property and not a young Black girl just trying to be happy."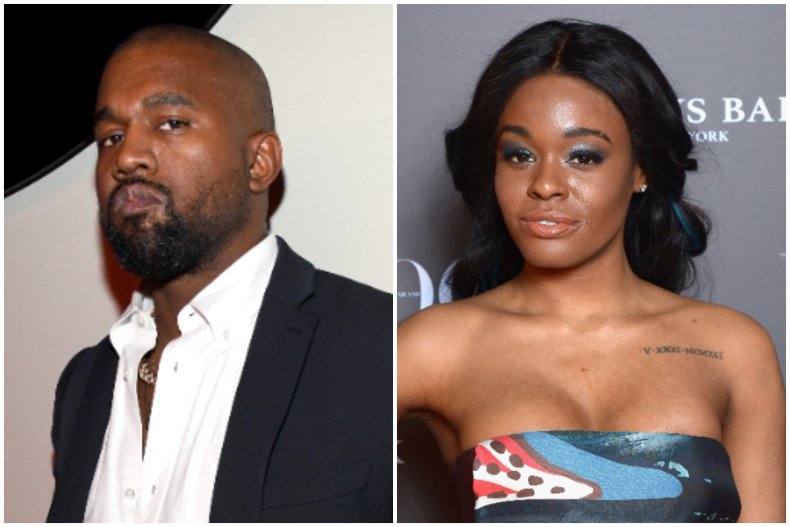 "For f**** sake. Kanye West is an abusive psychopath, it's beyond mental illness," Banks wrote. "Stop trying to help him and start trying to help the poor child that he keeps on trying to embarrass and abuse publicly to garner sympathy for his ashy a**."
For her part, Kardashian over the weekend defended her decision to allow North on the internet, stating that West's "constant attacks" on her on social media and in interviews were "actually more hurtful than any TikTok North might create."
She said in a statement shared to Fox News: "As the parent who is the main provider and caregiver for our children, I am doing my best to protect our daughter while also allowing her to express her creativity in the medium that she wishes with adult supervision—because it brings her happiness.
Kardashian—who also shares sons Saint, 6, and Psalm, 2, with West—added that divorce is "difficult enough on our children" and that her estranged husband's "obsession with trying to control and manipulate our situation so negatively and publicly is only causing further pain for all."
Answering her statement, West shot back on Instagram, per The Independent: "What do you mean by main provider? America saw you try to kidnap my daughter on her birthday by not providing the address.
"You put security on me inside of the house to play with my son then accused me of stealing I had to take a drug test after Chicago's party cause you accused me of being on drugs [sic]."
Rapper and fashion designer West's posts directed at Kardashian have since been deleted from his Instagram account.
Newsweek has contacted representatives for West and Kardashian for comment.
Kardashian filed for divorce from West in February 2021, after almost seven years of marriage. After Kardashian embarked on her romance with comedian Pete Davidson, West made repeated public statements that he wanted her back.
West has since embarked on a romance with actress Fox, after the two met on New Year's Eve.