Ireland Baldwin Calls Julia Fox's Interview About Kanye West 'Embarrassing'
Julia Fox's most recent interview about her fledgling romance with Kanye West appears to have left Ireland Baldwin decidedly unimpressed.
Actress Fox, who met West on New Year's Eve, has been open about her relationship with the rapper and designer, telling all about their lavish dates.
And in a follow-up chat with Interview magazine, which was published on January 15, Fox waxed lyrical their relationship—including West having her old wardrobe packed and boxed away as she embraces a new look.
The interview caught the eye of Baldwin, who on Monday took to her Instagram Story to share a screenshot of the article, which included a photo of the new couple.
Captioning the image, the model wrote: "I'm so sorry for opening this can of worms but this is the most ridiculously embarrassing thing I've ever read in my life."
She then followed up by sharing a TikTok video of the pair attending Monday's Schiaparelli Spring/Summer 2022 presentation at Couture Fashion Week in Paris.
In the seconds-long clip, which was originally shared by i-D magazine, Fox was seen wearing a patent black ensemble and dramatic eye makeup, while West, also dressed in black, sported a full face covering.
"Please tell me this is performance art," wrote the eldest daughter of Hollywood screen stars Alec Baldwin and Kim Basinger in reaction to the footage.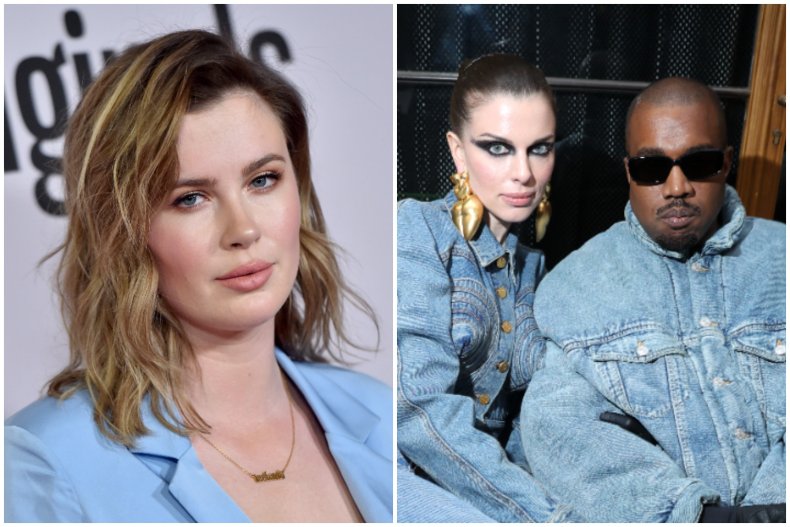 In the article in question, which bore the headline "Fox News," Fox was seen sprawled across a restaurant table as West posed over her with a knife and fork.
Fox gushed in the interview about her and West hanging out in Los Angeles with a host of celebrities, including Madonna, Marilyn Manson, Naomi Campbell, Dave Chappelle, Floyd Mayweather, Antonio Brown, and "the guy from the new Batman."
The star-studded chill session included West screening the Taylour Paige and Riley Keough movie Zola, which Fox said she and her new boyfriend had watched on the second occasion they spent time together.
She then spoke about her "transformation" at the hands of West, who shortly before meeting Fox had expressed a desire to reconcile with his estranged wife Kim Kardashian.
"After meeting him, a couple days later, all my s*** was in boxes, gone," said Fox. "It was so cathartic. It wasn't like I was just packing up my old clothes, it was like I was packing up my old life. I was like making that very conscious decision to really put everything in the box. To let go of the past."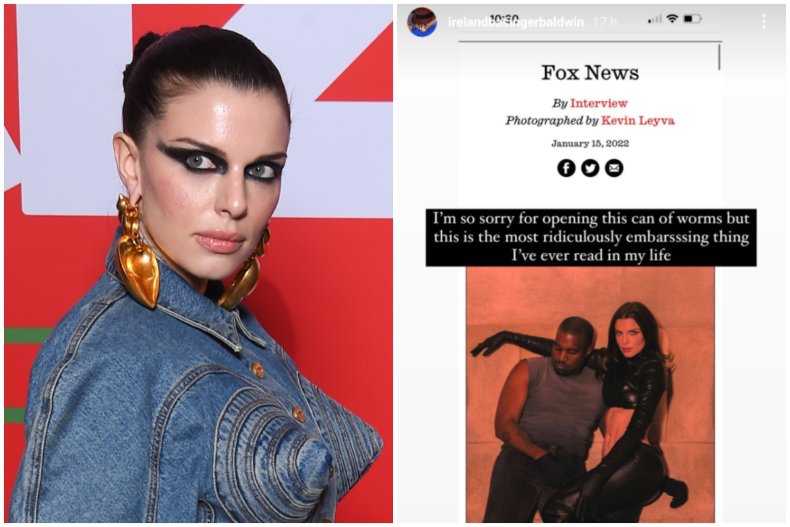 "I'm really surrendering," she went on. "For someone like me who's such a control freak and always so used to taking care of myself, to just let go and be taken care of is foreign at this point in life.
"I've been the primary caretaker of everyone for so long, so it's a new sensation, but honestly, I think I deserve it. Even a month ago, I was so f****** like...not getting along with my son's father, or not having help. It was just me alone.
"I was so tired and everything was work. I just remember being like, 'I know that there's going to be a reward for this, like this is so f****** miserable that I know that I know something good will come of this if I just hang in there.'
"And then a few days later there I am with Ye, and it was the most instant natural organic attraction and connection. I just feel really safe with him. It's a redemption story."
Despite this moment of romantic "redemption," Fox appeared to be taking a cautious approach to the relationship, in light of previous bad experiences.
"You know, I'm so used to being f***** over in relationships," she admitted, "So I keep waiting for him to disappoint me, because he makes very grandiose promises, and it's like, 'How could he ever pull it off with all the other things he has going on?' But he always does. Last night was a testament to that."