Kanye West has shared his belief that rekindling his relationship with estranged wife Kim Kardashian would influence "millions of families" to stay together.
Kardashian filed for divorce from the rapper and designer in February, almost six years after they had tied the knot during a lavish ceremony in Italy.
And as rumors swirl that his ex has embarked on a romance with Pete Davidson, West—who recently changed his name to Ye—made a case to save his marriage as he attended Los Angeles Mission's Annual Thanksgiving event on Wednesday.
"The narrative God wants is to see that we can be redeemed in all these relationships," said the "Jesus Walks" hitmaker. "We've made mistakes. I've made mistakes. I've publicly done things that were not acceptable as a husband, but right now today, for whatever reason—I didn't know I was going to be in front of this mic—but I'm here to change the narrative."
Addressing the crowd gathered at the charity event, which was held near downtown Los Angeles' Skid Row, he went on to state that he wasn't going to allow E! and Hulu—the networks that Kardashian's family has made reality TV deals with—to "write the narrative of his family," as he added: "I am the priest of my own home."
The erstwhile presidential candidate went on: "If the enemy can separate Kimye, there's going to be millions of families that feel like that separation is OK.
"But when God brings Kimye together, there's going to be millions of families that are going to be influenced to see that they can overcome the work of the separation, of trauma the devil has used to capitalize to keep people in misery while people step over homeless people to go to the Gucci store."
West, who shares four children—North, 8, Saint, 5, Chicago, 3, and Psalm, 2—with Kardashian, added that he has made great efforts to remain close to his family.
"I have to be next to my children as much as possible," he said. "So, when I'm out the house, I've got a house right next to the house. I'm doing everything to be right next to the situation. But I need to be back home."
Newsweek has contacted a representative of Kardashian for comment.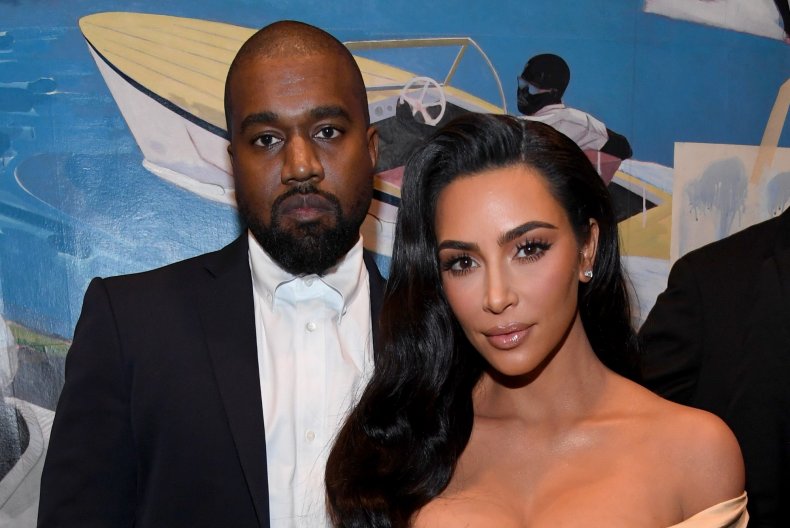 While West has expressed a clear desire to be reunited with Kardashian, she has been photographed enjoying a string of dates with Saturday Night Live star Davidson.
When she hosted Saturday Night Live in October, Kardashian spoke about the demise of her marriage during her opening monologue, saying: "I've been very blessed in this life, and I'm grateful for everything. All the ups, all the downs. I married the best rapper of all time.
"Not only that, he's also the richest Black man in America. A talented legit genius who gave me four incredible kids. So when I divorced him, you have to know it came down to just one thing—his personality."
Earlier in November, West addressed Kardashian's comments on the comedy show, as he said in an interview on Drink Champs that she was "still my wife."
"SNL making my wife say I divorced her on TV, 'cause they just wanted to get that bar off," he said. "And I ain't ever seen the papers. We're not even divorced. 'Cause that ain't no joke to me."
"My kids want their parents to stay together. I want us to be together," he went on. "But if you look at the media, that's not what they're promoting. They want it to be a new wedding, a new episode, a new TV show. And then they have people all around in my wife's ear. That publicist, I don't f*** with her."