The 8 Best Meme Reactions to Julia Fox and Ye's Arrival at Paris Fashion Week
Julia Fox and Kanye West's eye-catching relationship continues to start conversations as the pair arrived in France for Paris Fashion Week.
The new celebrity couple has already had several moments of infamy online since Fox first wrote openly about her first date with West earlier this month. West had previously expressed his intention to get his ex Kim Kardashian back but she now seems to be dating SNL actor Pete Davidson.
Now after several weeks together, Fox and West have arrived in Europe for a Paris Fashion Week party, and their outfit choice has raised a few eyebrows online.
While many Twitter users were complimentary of the couple's daring look, others made jokes at their expense for wearing what is commonly referred to as a Canadian Tuxedo, aka a denim jacket with denim jeans. But it was actually other aspects of the look which people noticed online.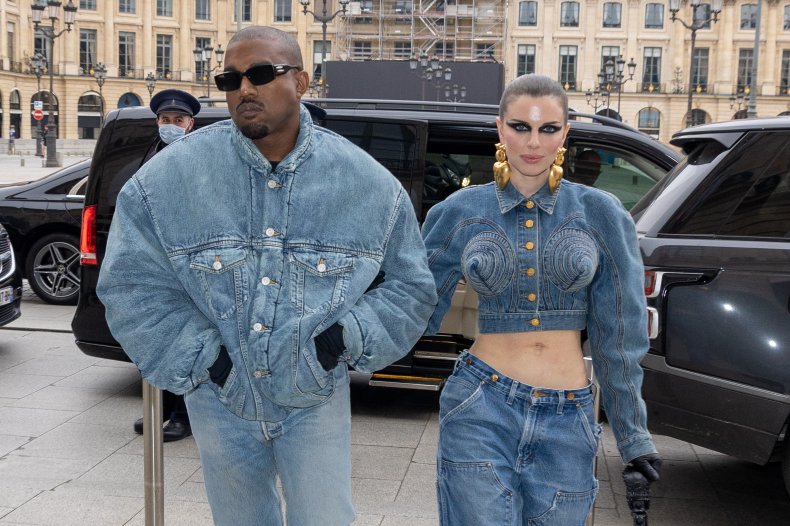 1. Madonna vibes
The triangular nature of Fox's top half was immediately noticed by some, as the outfit gave off Madonna vibes.
2. A timeless look
Not technically a meme but wholesome all the same, Twitter user @CAMartinsky compared West and Fix's look to her "Grandparents" claiming they did it first.
3. Superhero comparisons
While the outfit choice may have drawn many a reaction online, Fox's makeup was also highlighted. The strong, dark eye shadow look drew comparisons to Black Swan, The Batman and the Nightman character in It's Always Sunny in Philadelphia.
4. Fox as Black Swan
5. Always Sunny
6. "Julia Fox can't hurt u"
Twitter user @chaoticichogirl pointed out Fox's recent repetition of the strong look by posting a couple of photos alongside the "my therapist" meme.
West and Fox eventually got out of their double denim look as they attended a party at Paris Fashion Week. Here it wasn't so much the outfit that was noteworthy, but the dancing.
7. NPC dancing
@didjesusdrop shared a video posted by Ye Media which shows a group of people dancing. Fox can be seen in the crowd and @didjesusdrop suggests she's dancing like a "non-playable character" from a video game.
Fox and West haven't been together long as far as the public is aware but they have been photographed together many times, with multiple pictures shared on social media too.
8. A showmance?
Twitter user @mikeabrusci got over 11,000 likes for giving his take on the relationship, sarcastically suggesting he's enjoying hearing about it because of a head injury he received.
Netflix is set to release a new three-part documentary about West called jeen-yuhs: A Kanye Trilogy. Recently on his Instagram account West called for the creators of the documentary to give him final edit and approval.
The documentary was debuted at the Sundance Film Festival on January 23, 2022, but will launch on Netflix on Wednesday, February 16.