Baby Archie Christening: Infant Makes First Appearance on Official Royal Calendar
At just over two months old, Archie Harrison Mountbatten-Windsor has made his first appearance in the British royal family's official diary of engagements.
A record of the infant's christening was published in the Court Circular Monday—a list of royal activities published online daily.
The short entry read: "The Baptism of the Infant Son of The Duke and Duchess of Sussex took place at 11.00 a.m. [on Saturday] in the Private Chapel, Windsor Castle.
"The Archbishop of Canterbury baptised the Baby who received the names Archie Harrison."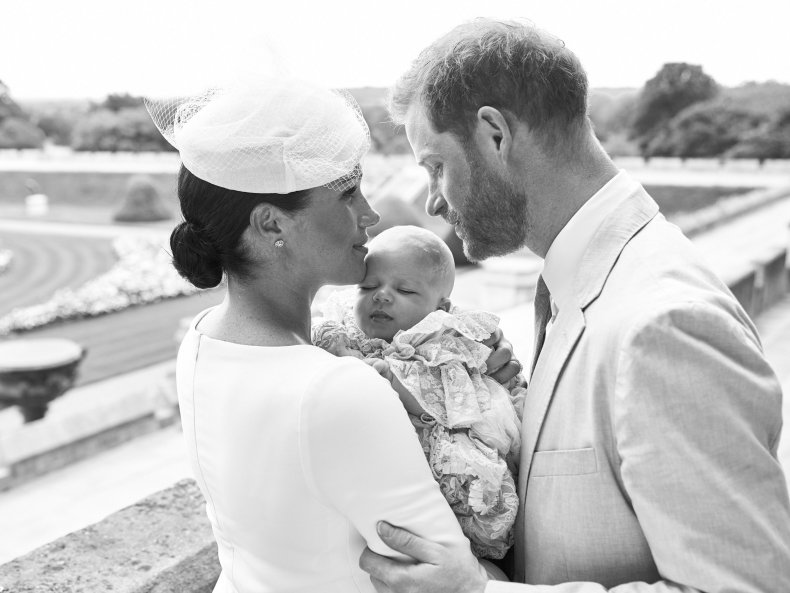 Printed in British newspapers The Times of London, The Telegraph and The Scotsman, the Court Circular has detailed the official engagements of the royal family since 1803.
It traces its history back to George III, who appointed an official "Court Newsman" to combat inaccurate reports of the family's engagements, according to the royal family website. The reporter would share official details of events with national newspapers in a process that became more formalized with time.
Today, official details of the previous day's royal engagements are written by an "Information Officer" at Buckingham Palace. They are published online and in print once the wording is approved by Queen Elizabeth II, the royal family website states.
Mountbatten-Windsor was baptized in a private ceremony held at a chapel in Windsor Castle Saturday. The service was conducted by Justin Welby, the archbishop of Canterbury.
Archie's parents, Prince Harry and Meghan, duchess of Sussex, attended, along with Prince William and Catherine, duchess of Cambridge, Prince Charles and Camilla, duchess of Cornwall, Meghan's mother Doria Ragland and others. The queen did not attend because of a prior engagement.
Meghan and Harry's decision to keep the ceremony private sparked a backlash among some royal followers, especially given the recent news that the couple's home renovations have cost the British taxpayer some £2.4 million ($3 million.)
The couple was also criticized for keeping the identities of Archie's godparents under wraps—an unorthodox move that may have flouted official Church of England rules.
The royal family marked the day by releasing two images taken by photographer Chris Allerton. Allerton also took photographs at Meghan and Harry's wedding in May 2018, including one that was used on the couple's Christmas Cards.
One formal portrait showed Archie surrounded by his family in the Green Drawing Room at Windsor Castle. It included Princess Diana's sisters, Lady Jane Fellowes and Lady Sarah McCorquodale. A second, more intimate, photo showed Harry, Meghan and Archie in the castle's Rose Garden.