A mom has been backed online after confessing that she refused to give her neighbor breast milk amid the ongoing national shortage.
The anonymous mom took to Reddit to share her dilemma, asking the internet who is in the wrong. She explained in the post that she has faced the anger of a neighbor after denying her request of spare breast milk.
During a recent neighborhood BBQ, the mom was conversing with other moms about the current formula shortage in the U.S. when she shared that she decided to donate her leftover breast milk to local NICUs and pediatric ICUs.
"Well one of my neighbors 'Sally' just recently had a baby who's about three months old now. She started hinting at the fact that formula is hard to come by/ so expensive to order now that she's going through drastic measures of ordering foreign products from Asia/ Europe. She said that she's been spending at least $600 a month now just to feed her baby and how she would have been so grateful if she had a third of my production. We all laughed because we thought it was a joke and then the conversation changed," she wrote.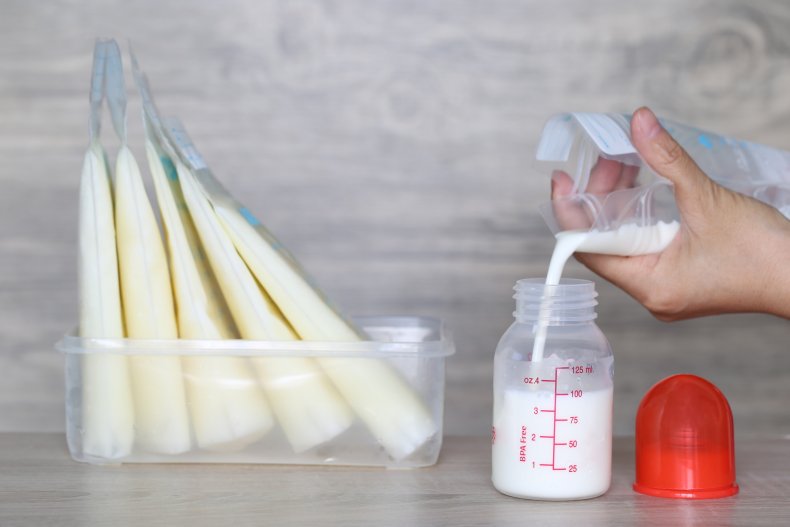 The U.S. is currently facing a continuing shortage of baby formula, leaving empty shelves of the product and parents without, sparked by a February recall by manufacturer Abbott. The recall came after four babies who consumed the formula were hospitalized with a rare bacterial infection and two died. Following an investigation, the U.S. Food and Drug Administration (FDA) published issues which needed to be improved before Abbott could reopen its Sturgis, Michigan, facility.
In May, the FDA announced that it reached an agreement to allow Abbott to reopen the facility, but Abbott confirmed that it could take up to 10 weeks for products to hit the shelves.
"I received a text from Sally asking if I could give her a few of my bags of breast milk since she's low on formula and she couldn't get more until the end of the week. I then told her exactly this: 'Hey Sally, I'm sorry but I don't feel comfortable giving your child my breast milk as it's the equivalent of giving your child blood and I'm still going through the process of getting it health screened,'" wrote the anonymous mom.
According to the post, the neighbor reacted negatively, hurling insults and even threatening to call CPS for "child abuse against her kids."
"I showed my husband these texts and he got very upset saying that we need to contact the authorities or a lawyer at least. I don't want her kid to starve but I really don't feel comfortable just handing out my breast milk, especially with all the heath cursors and such," added the mom.
"I am not denying Sally's baby food for an evil intent, I want their child to be safe and find a healthy source of food from something that has been medically approved."
Respondents to the popular online post were left reeling at the behavior of the neighbor, showing support for the anonymous mom.
"She's creepy. You can choose where your milk goes. She's in no way entitled to it. And it isn't like you're just trashing it: you're donating it. She can try to contact organizations who're handling the donating milk. Also I agree with your husband to contact a lawyer to protect yourself," wrote one user.
"First of all, premies and babies in the NICU have a greater need. And it's your breast milk. You can do whatever you want with it," added another.
One user wrote: "You are donating milk to a milk bank. A place that people can go and get breast milk for their babies. A place that the neighbor can contact to go and get some milk, if needed. This is like getting angry at you for donating food to the food bank instead of to the neighbor directly."
If you have a similar family dilemma, let us know via life@newsweek.com. We can ask experts for advice, and your story could be featured on Newsweek.