Baby Lilibet Photo Shows Meghan Markle's Adoring Smile as She Holds Up Daughter
Meghan Markle and Prince Harry said "Archie made us a 'Mama' and a 'Papa', and Lili made us a family" as they released the first photo of their daughter.
The Duke and Duchess of Sussex gaze lovingly into Lilibet Mountbatten-Windsor's eyes in the first official photograph since she was born six months ago in June.
The couple said in a message on the card: "This year, 2021, we welcomed our daughter, Lilibet, to the world. Archie made us a 'Mama' and a 'Papa', and Lili made us a family.
"As we look forward to 2022, we have made donations on your behalf to several organizations that honor and protect families—from those being relocated from Afghanistan, to American families in need of paid parental leave."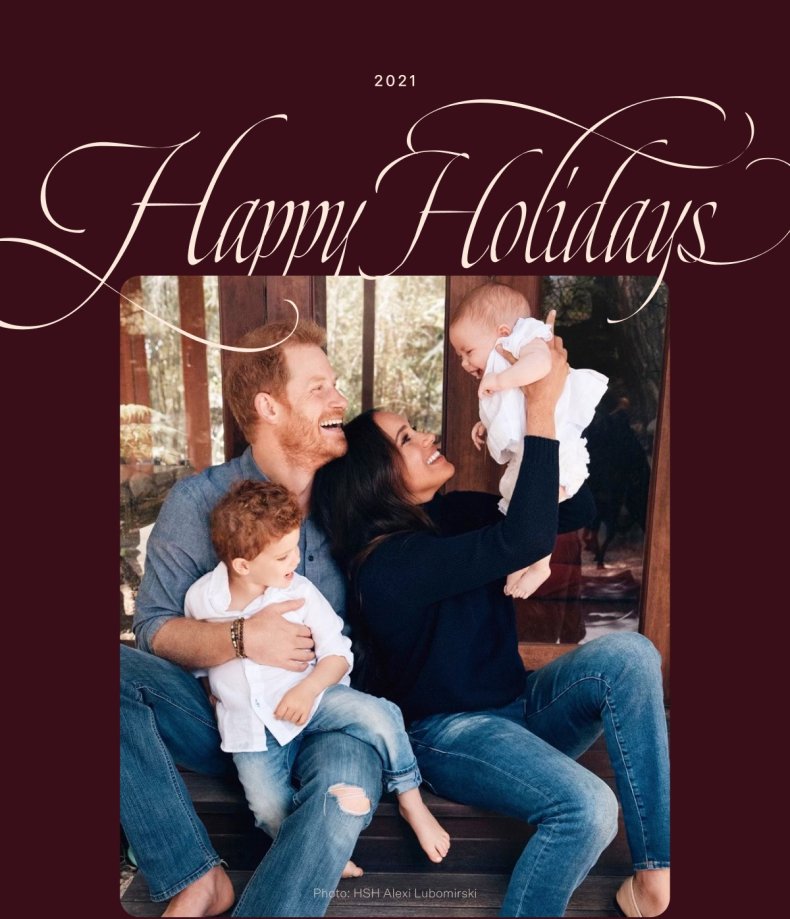 They signed off: "Wishing you a happy holiday season and a prosperous New Year, from our family to yours!
"As ever, Harry, Meghan, Archie & Lili."
Most royal babies are pictured for the first time within days of birth but, having quit palace life, the couple were free to hold back the first image until it suited them.
They opted for a family portrait taken by Alexi Lubomirski, their official wedding photographer, over the summer.
Their son, Archie Mountbatten-Winsor is also in the picture, sat on Prince Harry's lap, while Meghan holds Lili aloft.
In addition to being the first picture of Lili it is a rare photo of Archie looking all grown up, a few months after his second birthday.
The couple listed a series of charities, campaign's and causes they have donated money to, including: Team Rubicon, Welcome.US, Human First Coalition, Humanity Crew, Paid Leave For All, PL+US and Marshall Plan for Moms.
The picture was first shared by disaster relief charity Team Rubicon, who wrote on Twitter: "We're grateful to Archewell Foundation and Prince Harry and Meghan, The Duke and Duchess of Sussex for their support of our efforts to welcome Afghan families to the US. This generous donation will help the transition of families into new communities."
Welcome.US chief executive Nazanin Ash said the nonprofit is "mobilizing an all-country response to support our new Afghan neighbors" and was "honored to receive support" from Harry and Meghan.
"With this generous gift, The Duke and Duchess of Sussex will not only help thousands of Afghan families as they rebuild their lives but will also create opportunities for all of us to unite through compassionate service and common purpose."