Why Isn't Baby Sussex Archie a Prince? Prince Harry and Meghan Markle's Son Isn't the Only Queen Elizabeth II Great Grandchild Without a Title
On Wednesday, Harry and Meghan, the Duke and Duchess of Sussex, announced they had named their son Archie Harrison Mountbatten-Windsor. Unlike his cousins George, Charlotte and Louis—Prince William and Catherine Middleton's children—the baby does not have a royal title. For now, at least, he is only "Master."
Mountbatten-Windsor is the eighth great-grandchild of Queen Elizabeth II and one of five without a "Prince" or "Princess" moniker. Only the three children of William and Catherine, Duke and Duchess of Cambridge, have such titles.
Prince George, who is expected to one day become King, was automatically granted the title of "His Royal Highness (HRH)" at his birth in 2013, as a child of the eldest son of Prince Charles. In 2012, Queen Elizabeth II issued a letters patent to expand on a previous decree that granted such a title only to the eldest son of the eldest son of the Prince of Wales.
This meant that both Charlotte (born 2015) and Louis (born 2012) received HRH Princess and Prince titles, respectively, at birth.
Mountbatten-Windsor, on the other hand, did not qualify to become a prince automatically. But the Queen could have stepped in and bestowed a title.
The young child could have been granted titles such as the "Earl of Dumbarton" or "Lord." But—for now at least—the baby doesn't have any special title at all. Jonny Dymond, the BBC's royal correspondent, said the move was a "strong indication that [Meghan and Harry] don't want to bring him up as a formal 'royal.'"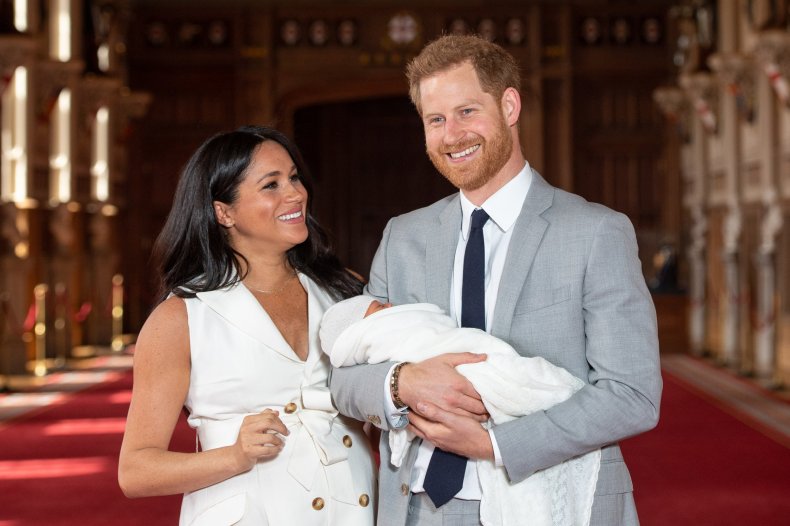 The four other members of Archie's generation do not have royal titles. To understand why, you need to look at their parents' roles in the family.
The Queen had four children: Prince Charles (born 1948), Princess Anne (born 1950), Prince Andrew (born 1960) and Prince Edward (born 1964). According to a 1917 letters of patent issued by King George V, the title of HRH Prince or Princess passed to "the children of any Sovereign of the United Kingdom and the children of the sons of any such Sovereign."
So while Prince Andrew's children—Beatrice (born 1998) and Eugenie (born 1990)—became princesses at birth, Princess Anne's children did not automatically receive such a title.
Princess Anne's children—Peter Phillips (born 1977) and Zara Tindall (née Phillips, born 1981)—did not inherit royal titles because their mother was a daughter, not a son, of the Queen. Although the Queen offered to bestow courtesy titles on Anne's children, the Princess Royal declined. Princess Anne's then-husband, commoner Captain Mark Phillips, also refused a title.
Tindall praised her parents' decision in a 2015 interview with The Times. "I'm very lucky that both my parents decided to not use the title and we grew up and did all the things that gave us the opportunity to do," she said. Like her mother, Tindall is an avid equestrian, and represented her country in the Olympic Games.
The Queen also agreed to eschew "HRH" titles for the children of Prince Edward and his wife Sophie Rhys-Jones, before the couple were married in 1999. The pair's children are known instead as Lady Louise Windsor (born 2003) and James, Viscount Severn (born 2007).
Peter Phillips' two children—Savannah Phillips (born 2010) and Isla Phillips (born 2012)—do not have royal titles. Likewise, Zara Tindall's two daughters, Mia Tindall (born 2014) and Lena Tindall (born 2018), are title-free.
In theory, Mountbatten-Windsor will be able to go by "His Royal Highness Prince Archie" once Charles becomes King, as he will be a grandchild of the reigning monarch. But, as royal historian Carolyn Harris told Town and Country magazine, it's possible he won't use it.
Mountbatten-Windsor's own children will be too far removed from the sovereign for him to pass down the title of Prince or Princess, "but the title of Duke of Sussex will pass to Prince Harry's male line descendants," Harris added.
The graphic below, provided by Statista, illustrates the line of succession to the British throne.