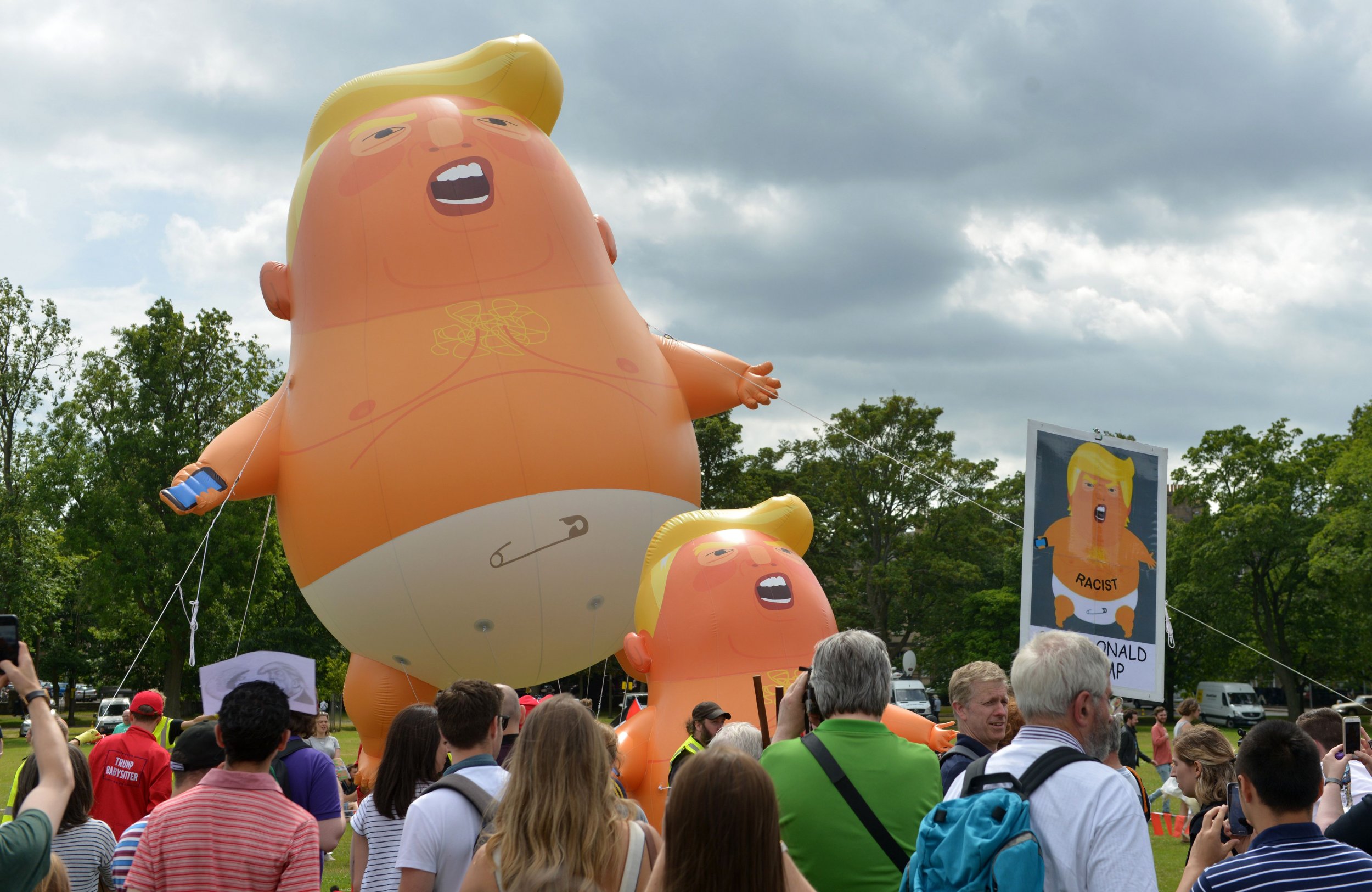 A "Baby Trump" balloon similar to the protest blimp that marked President Donald Trump's visit to London earlier this year made an appearance at a rally in Florida on Saturday.
The event in West Palm Beach was organized to mark the anniversary of Hurricane Maria hitting Puerto Rico. Last week, Trump disputed official figures that put the death toll from Hurricane Maria at nearly 3,000, insisting the figure was a number orchestrated by Democrats to smear him.
Those who attended the event on Saturday protested near Trump's Mar-a-Lago resort and demanded that more financial aid be sent to Puerto Rico. CNN-affiliate WPTV reported protesters drove by the resort honking their horns and waving Puerto Rican flags, but the President was not at his Florida home.
Organizers with the non-profit organization The People's Motorcade told the network the balloon that appeared in Florida is one of six "Baby Trump" balloons making their way to demonstrations across the U.S.
The People's Motorcade set up a GoFundMe campaign to raise funds to buy the balloons after it was given the go-ahead from activists in the U.K., who first launched the "Baby Trump" balloon in July.
The New Jersey-based organization was also allowed by its counterparts in the U.K. to make three of its own balloons by following the original patterns and molds.
The 20-foot "Baby Trump" blimp that took to the sky in Britain depicts the President as an angry smartphone-wielding infant wearing a diaper. It first appeared in London when the protesters descended on the British capital to voice their disapproval at Trump's visit to the U.K. and made a second appearance in Edinburgh, while the President was playing golf at his resort in Scotland.
The blimp was thought of and organized by London activist Leo Murray, who set up an online fundraiser aiming to generate £5,000 to help fly the giant balloon, which then reached more than £28,500 in donations.
"This has wildly exceeded my expectations," Murray, 41, told Newsweek in July. The British activist said his Trump Baby balloon has not only "captured something of the essence of the president's character," but has also managed to encapsulate an important moment in Trump's presidency.
The activist shrugged off criticism calling the demonstration a "stunt," saying "stunts like this" can be "effective when they are articulating a wider movement. You can't just do a stunt, or a prank, as some are calling it, and expect that to deliver change."