Is Trump Now Taking on the MLB? Red Sox Manager Blasts 'Disrespectful' Puerto Rico Tweets
During his 18 months in the White House, President Donald Trump's rift with players in the NFL and the NBA has been well publicized.
Major League Baseball had so far kept a respectable distance from the commander in chief, but now Trump appears to have angered a high-profile figure in the baseball world.
Boston Red Sox manager Alex Cora said he felt Trump's comments over a hurricane that devastated Puerto Rico last year were disrespectful.
On Thursday, Trump disputed official figures that put the death toll from Hurricane Maria at nearly 3,000, insisting the figure was a number orchestrated by Democrats to smear him.
"When I left the Island after the storm had hit, they had anywhere from 6 to 18 deaths," Trump tweeted. "As time went by it did not go up by much. Then, a long time later, they started to report really large numbers, like 3000."
Cora, who was born approximately 20 miles south of San Juan, the capital of San Juan, thought Trump's comments were uncalled for.
"To be tweeting about 3,000 people [...] it's actually disrespectful for my country," he told reporters. "We see it that way. I know probably he doesn't feel that way. And like I said: Hey man, thank you for helping us. He went down there, he did what he did."
Trump's words came as North and South Carolina braced themselves for Hurricane Florence, which has forced over a million people to leave their homes in a major evacuation operation.
Cora added that using natural disasters as tools to promote political agendas was particularly crass.
"I hate talking about politics and all that, but I think this is more than politics," explained the 42-year-old.
"This is about a country that really suffered.
"We still [...] you see the hurricanes forming now. Everybody's panicking. It's not easy. I hate that people make it a political issue. This is about human beings. The people that went through this, they know what happened."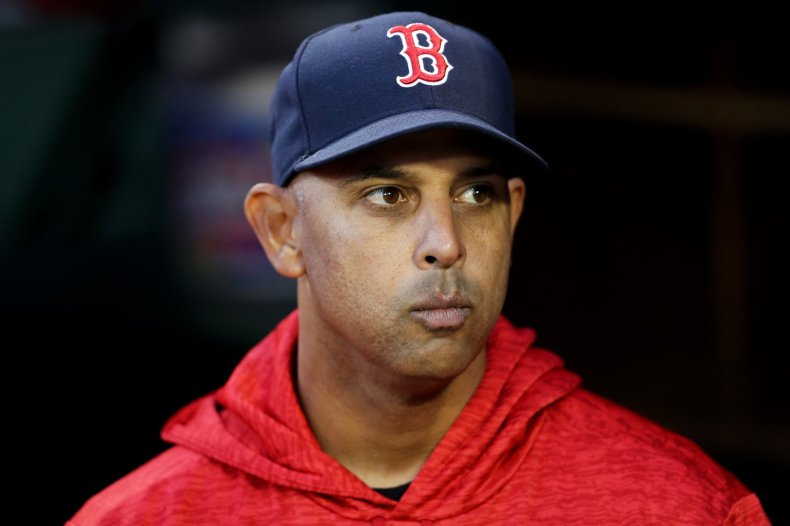 Earlier this month, following a study conducted by researchers from the Milken Institute at George Washington University, the governor of Puerto Rico confirmed that the death toll had risen from 64 to 2,975.
It remains to be seen whether Cora's words will elicit a response from Trump, but given the president's penchant for a Twitter tirade, it is not beyond the realm of possibility.
While Cora cautioned Trump against mixing politics and natural disasters, in July LeBron James accused the president of using sports to divide the country.
It was not the first time James made his feelings about President Trump known.
Ahead of the NBA Finals, he and Stephen Curry claimed that regardless of who won the NBA title, neither the Cleveland Cavaliers nor the Golden State Warriors would've accepted an invitation to visit the White House.
That same month, Washington Capitals winger Devante Smith-Pelly suggested he would not visit the White House should the team be invited after winning the Stanley Cup.
The visit has not yet been confirmed, but last month Capitals forward Brett Connolly echoed his teammate's stance, saying that visiting the White House would not be the right thing to do.
Earlier in June, Trump rescinded his invitation for Super Bowl LII winners the Philadelphia Eagles after learning many of the players did not plan on attending.
While Trump retains strong support within the NFL, particularly among owners, a poll from Quinnipiac University released earlier this week found that 67 percent of American voters supported the right of NFL players to protest by kneeling during the national anthem.
Republican voters did not support the right to protest, with 60 percent opposing it, and 39 percent supporting it.