'The Bachelorette': Why Michael Allio Left the ABC Show
The Bachelorette's 2021 season had one of its most emotional moments yet in Week 7 as one contestant had a tear-jerking goodbye with Katie Thurston before the final four rose ceremony.
Michael Allio had been considered a favorite by many fans of the ABC show due to his strong emotional bond with Katie, but the most recent episode of the series (streaming on Hulu from 5 a.m. ET on July 27) saw him leave the show.
Michael A. then had an awkward reunion with Katie in the "Men Tell All" special.
Why Michael Allio Left 'The Bachelorette' 2021
The July 26 episode of Season 17 began with Michael A. video-calling his son James, whom he has had to leave to film the series. As Bachelorette fans will know, the separation of the two comes about two years after James lost his mother to breast cancer.
On the video call, Michael told his son that he was not able to be with him because of work, to which James replies with the heartbreaking: "Maybe Daddy left because he don't want to see me."
This causes Michael to break down, with a member of The Bachelorette crew coming to comfort him. Speaking in a confessional, he says: "It's breaking me that I'm here when he is thinking that...We've gone through everything together. To go through losing a mother, I don't want him to ever think that he's not enough."
Shortly after, he visits Katie to tell her the news that he has to leave the show in order to be with his son. He explained to her that despite the pair sharing a number of romantic moments on the ABC show, "I can't focus on anything else...With hometowns coming up, I feel like it's wrong for me to give you half of what I could be."
He then added, "I'm not leaving because of us, I'm leaving because my son needs his dad."
After the pair said goodbye to each other, viewers saw Katie say: "It's hard because we were so close to the end. It just doesn't feel right."
On the latest episode of The Bachelorette, Katie then reunited with Michael A. as part of the "Men Tell All" segment.
In this reunion, he further explained his reason for leaving. He said his greatest difficulty was finding "that balance that all single parents try to keep together, which is taking care of somebody that they truly love while simultaneously trying to find happiness for themselves."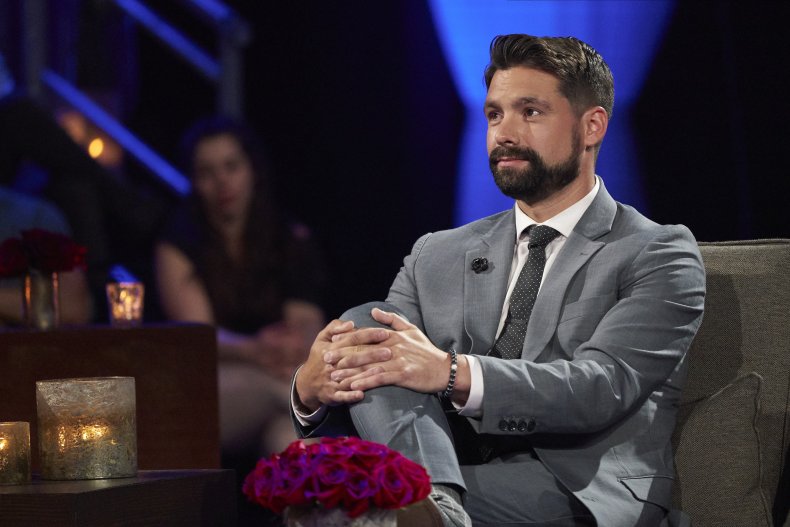 Bachelorette co-host Kaitlyn Bristowe then revealed that Michael had told her he was open to exploring a potential romance with her now that the show has ended. Katie, however, said: "I have nothing but love for Michael. But ultimately I could not dwell on the past. I had to continue to move forward, and my ending is ultimately how everything was supposed to happen."
Michael A.'s departure leaves Greg Grippo, Blake Moynes and Justin Glaze as the final three of Season 17, one of whom may walk away with an engagement in next week's finale. That episode will air on Monday, August 2 at 8 p.m. ET / 7 p.m. CT on ABC.