The Bachelorette 2022 is here and Gabby Windey and Rachel Recchia are making history as the first women to take part in the series together.
That's right, this year on Season 19 of the ABC hit there are two lovely ladies looking to make a romantic connection with the 32 The Bachelorette 2022 suitors.
Gabby, 31, and Rachel, 26, both starred in the last series of The Bachelor and made it all the way to the final with Clayton Echard, however, the pair were left devastated when he shockingly dumped them both for Susie Evans, who had previously walked away from the series.
We are only one episode in but it already looks like Gabby and Rachel are going to be rocking the boat and switching things up on The Bachelorette as the duo implemented a shock change to the usual first episode format during the season premiere.
Newsweek has everything you need to know about who went home on The Bachelorette 2022 Episode 1.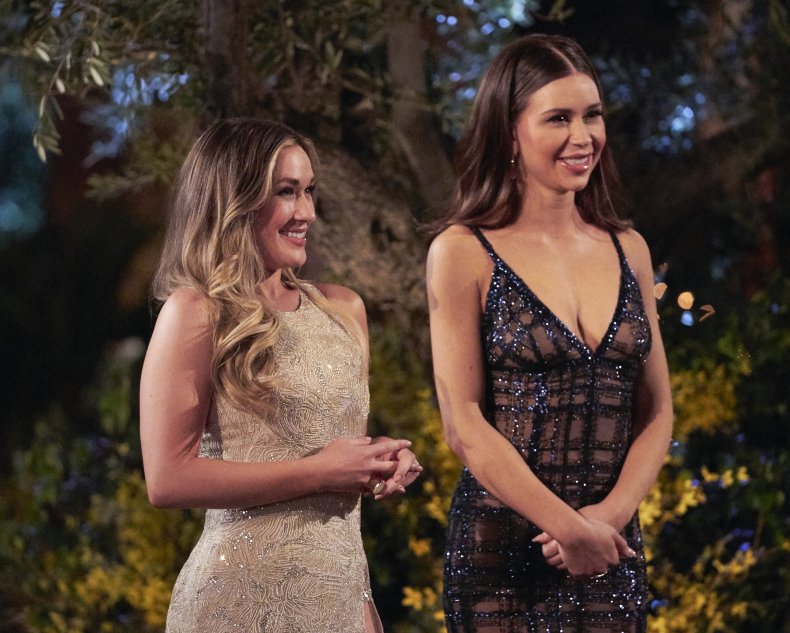 The Bachelorette 2022 Episode 1 Recap
The episode begins with a recap of Gabby and Rachel's experience on The Bachelor and the moment that host Jesse Palmer revealed that the ladies would be starring together on this new season.
The pair are then seen heading home to pack their things, say goodbye to their families and prepare for their new journey on The Bachelorette.
Once they arrive at their new residence, Gabby and Rachel crack open the champagne as they settle down and get into the big question: do they have the same taste in men? Their interests have of course crossed over before (hello, Clayton) but it looks like this time around the BFFs will be looking for different things.
Rachel shares: "I normally go for guys who are, like, taller, more athletic," while Gabby reveals she's dated all types: "The short kings, the tall ones, the funny ones, the bland ones, the smart ones, the dumb ones."
One thing is for sure, neither Rachel or Gabby want to be treated as they have been in the past.
"I want to be with someone who can make a decision. It's clear that Clayton didn't know what the f*** he wanted... I know what I want, and you know what you deserve, too," Gabby insists.
It's then time for host Jesse to meet the suitors and for Gabby and Rachel to officially start their The Bachelorette journey. The season begins with 32 suitors for Gabby and Rachel to get to know and some make a more interesting first impression than others.
There's Logan, 26, who arrives holding two chicks, Jordan H, 35, who bring noise cancelling headphones so he can speak to one Bachelorette without the other hearing, and Alec, 27, who brings a children's choir.

A lot of the men seem to be opting for the tactic of insulting Clayton but it's not having the effect they were hoping for as both Rachel and Gabby tell the cameras that the jokes are getting a little old.
Once inside, it's time for the ladies to get to work and begin their task of getting to know as many of the men as possible: once they have escaped from magician Roby, 33, and his card tricks that is.
When it comes to First Impression Roses, there are a number of men who catch Gabby and Rachel's eyes over the evening but eventually Rachel gives hers to Californian contractor Tino, 28. Gabby, meanwhile, goes for personal trainer Mario, 31.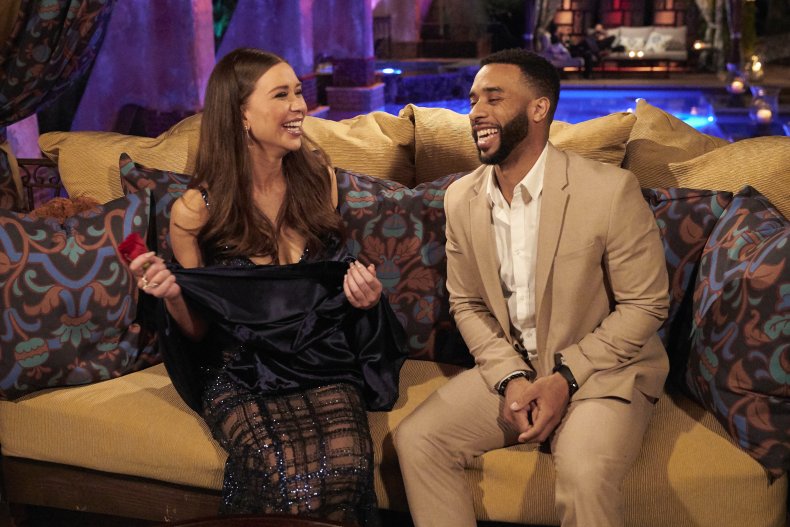 Who Went Home on The Bachelorette 2022 Episode 1?
The excitement of the First Impression Roses doesn't last long as, of course, it is time for the rose ceremony.
Jesse arrives to bring the evening an end but Gabby and Rachel don't feel like they've had time to make any big decisions about who should go home yet. "This is our journey," says Rachel. "I don't see why we couldn't bend the rules at least a little bit."
Jesse then reveals that the Bachelorettes are in control and don't have to do the full rose ceremony if they don't want, but advises but if there is anyone they are sure they're not interested in then it might be best to let them know as soon as possible.
Gabby and Rachel then take Roby and twin brothers Joey and Justin Y, both 24, for a private chat, where they let them know that they will not be continuing in the show.
"We've kind of come to a decision that there might not be a connection there for us," says Rachel. "We really, really appreciate you guys coming."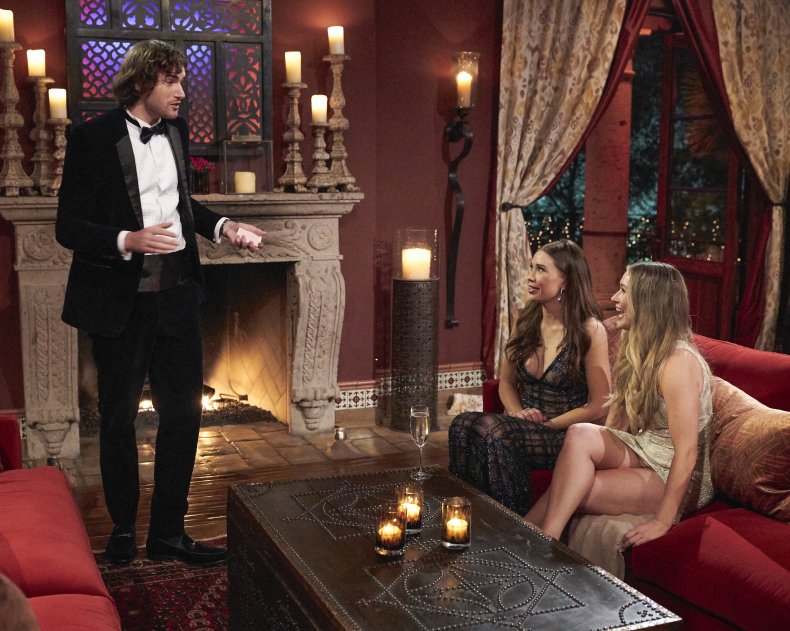 The ladies then reveal to the remaining 29 men that there will not be a rose ceremony as they've not had enough time to get to know everyone. "We are asking you to move forward with us next week, and cancel the rose ceremony tonight," Gabby shares.
So it looks like Gabby and Rachel are already taking control of their own The Bachelorette journey, but what other twists can we expect in the upcoming episodes?
Fans will have to watch to find out.
The Bachelorette continues Mondays at 8/7c on ABC.