'The Bachelorette' Viewers Call Out Katie for Still Having Feelings for Greg
The Bachelorette Season 17 has come to a close on ABC, with Katie Thurston ending the season with a proposal from Blake Moynes. The main drama of the finale, however, came from Katie's heated reunion with Greg Grippo on the After the Final Rose special.
Last week on the ABC reality show, Greg left the show after Katie had failed to respond in kind to his outpouring of emotion. At that point, Bachelor Nation took to Twitter, with many accusing Greg of gaslighting Katie in their final conversation before he left.
During After the Final Rose, however, the tables turned, with much of the Twitter discussion being more sympathetic to Greg as Katie gave him the cold shoulder at the reunion.
In the reunion, Katie told Greg: "What it really comes down to is the way you treated me. The way that you said you were so in love with me. I filled a hole in your heart.
"The small second that things got awkward for you, uncomfortable, you ran. You're a liar. If you think that's love, you don't know what love is."
She then repeated some of Twitter's claims that she had been gaslighted by Greg, telling him: "You came at me as if I did something so horrible that you had to leave... You could have just been a man and had a normal conversation, instead of being so rude, and dramatic, and leaving without even saying goodbye."
This moment was questioned by many Bachelorette fans on Twitter. Summing up many of the tweets, one social media posted the meme featuring two cartoon Spider-Mans pointing at each other, writing: "Greg getting gaslit by Katie who was gaslit by Greg." Another wrote: "HOW does Katie not realize that when she's explaining gaslighting, she ACTIVELY gaslighting."
Speaking to Newsweek, Dr. Donna Oriowo, a social worker with therapist directory Monarch, said: "Gaslighting is a little too common at this point. Some people use the word incorrectly. Having an argument does not necessarily mean you're being gaslit."
Dr. Oriowo defined gaslighting as: "A specific type of manipulation where someone tries to get someone else to question their own reality by psychological means. This means making them feel off-kilter with what they feel they've experienced—denying that it has happened, tossing it aside, or belittling it."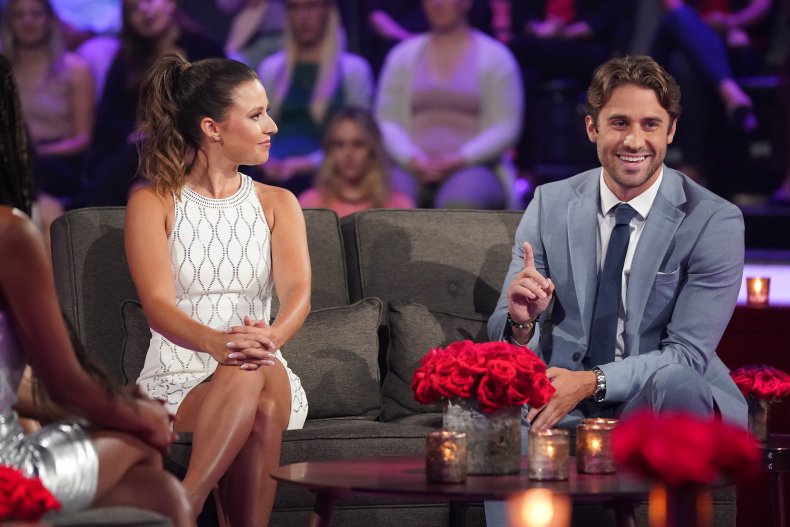 Whether or not Katie was or was not gaslighting Greg, the tide of opinion seemed to turn against her after she told Blake she was in love with him—something she had failed to do with Greg, which was one of the reasons he left.
Technically, Katie was being consistent to what she had said all along—that she would not say "I love you" to any of the men before she had made her final choice. However, that did not stop #TeamGreg from trending on Twitter. A typical tweet read: "Katie was my favourite bachelorette until tonight. last ep i didn't know where i stood with that whole argument, but the fact that she could suddenly tell blake she loved him after she told greg she didn't wanna say that to any of them, i lost all respect for her."
Other Bachelorette viewers said they thought Katie might still have feelings for Greg, explaining why she was acting so negatively towards him. A fan tweeted: "If you're so happy in an engagement, then why are you attacking your ex???" Another wrote that Katie was "clearly still heartbroken over Greg."
The Bachelorette finale is streaming now on Hulu.