'The Bachelorette': What Tayshia Adams Said About Her Ex Blake Moynes Joining Season 17
The Bachelorette 2021 shook things up in Episode 4, with the introduction of Blake Moynes as a new suitor for Katie Thurston. Regular viewers of the ABC show, however, may recognize the 30-year-old from last season.
At the end of 2020, Blake came eighth on the show. He first competed for Clare Crawley's heart, but after she left the show early to be with contestant Dale Moss, he stayed on to try and win new Bachelorette Tayshia Adams' affections. He was eliminated before the hometown dates.
To make things extra awkward, Tayshia is one of the two new hosts of The Bachelorette following the departure from the show of Chris Harrison, meaning she has to interact with her ex while he is chasing a new woman.
What Tayshia Adams has said about Blake Moynes
"I was shocked," The Bachelorette co-host said in an interview with Variety. "I was genuinely surprised. Did I expect to see an ex date or kiss someone in front of me that soon? No. But it happens in this world."
In the same interview, Tayshia revealed that she and Blake had talked before he agreed to appear on the new season. She said: "Blake and I did sit down and had a conversation... I knew he wasn't coming to ruffle feathers and just be a monkey in the wrench, so I gave him the green light."
Tayshia eliminated Blake in Episode 10 of her season. At the time, she said of him: "I care for Blake, but when I looked into his eyes I was looking for more validation and more confidence in the situation. I didn't see it and maybe that's why we haven't progressed as much as the other relationships."
In an interview on The Ellen DeGeneres Show, however, she said that Blake was one of the best kissers on that season.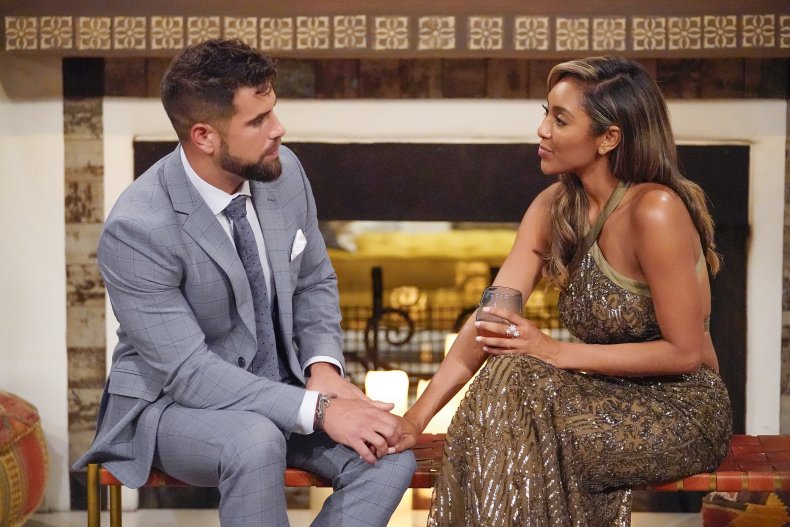 In a USA Today interview, she added that she supports Moynes' decision to try and win the heart of a different Bachelorette: "I've always encouraged for him to follow his heart. If that led him to New Mexico and on Katie's season, then so be it. I really stand by him. So whatever he wanted to do, I was there for."
In Episode 4 of The Bachelorette 2021, we learned that Katie and Blake had spoken on social media before this season was filmed. The former said that the latter sent her a message "to commend me for my bold personality."
Previously, Blake has spoken about not getting full closure with Tayshia after she eliminated him. He told Extra that he saw her a few months after the "Men Tell All" reunion. "There's still a piece of me where I still hang on to the what-ifs, in a way," he said. "It was tough, for sure."
At the same time, he had hinted he would be open to return to the franchise—though he teased an appearance on Bachelor in Paradise rather than a return to The Bachelorette. He said: "Realistically, I'm looking for somebody. So if that happens before Paradise comes, then great. If it doesn't, then yeah, you could probably find me on a beach."
The Bachelorette Season 17 airs Mondays at 8 p.m. ET / 7 p.m. CT on ABC.