'The Bachelorette' Fans Torn Over Whether Greg Grippo Did the Right Thing
The Bachelorette 2021 has been an emotional rollercoaster for Katie Thurston in recent weeks. First Michael Allio left to be with his son, and now Greg Grippo has seemingly walked out on her on the ABC show.
In the most recent episode of Season 17, streaming now on Hulu, the pair had an emotional conversation in which he opened up to her about his feelings for her and how she is helping him move on from the death of his father. Katie, however, was not able to match his level of emotional commitment, and was only able to reply "I love looking at you."
This led to a tense exchange between them later in the show in which he tells her he is leaving The Bachelorette because "I deserve more than what I've been given." This led to further tears from Katie, who insisted she would rather book a flight home and end her own time on the show rather than continue without Greg.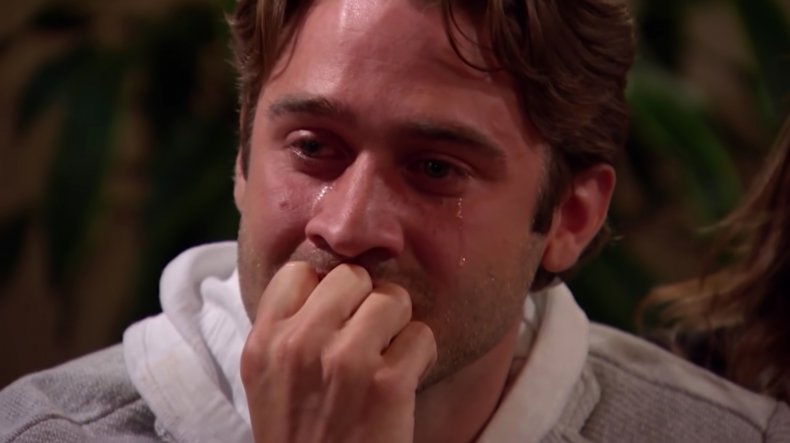 This latest drama has split Bachelor Nation right in half: One half are Team Katie, and think Greg was gaslighting her after a season where he has been notably jealous every time Katie spent time with another guy. On the other side is Team Greg, who think he was right to act the way he did because Katie's response to him opening up was fairly cold.
Team Katie
Twitter leveled plenty of accusations of gaslighting at Greg's door. A typical tweet read: "If Greg Grippo's instagram influencer career doesn't work out after the #bachelorette he can always do a Master Class on gaslighting! He's a professional."
Another tweet read: "Sorry to say but she is lucky Greg Grippo is acting like this now because she does not need a husband acting like him. Run, Katie. Need Tayshia and Kaitlynn to escort him out. Fast."
Further Bachelorette fans pointed out that if the pair could have this kind of miscommunication, they were not ready for the engagement that Katie said she wanted at the end of the show. A typical tweet read: "So #GregGrippo you just felt like giving up because you had miscommunication?!? Yeah, you are not ready for marriage."
"Greg Grippo is such a lame actor," another Bachelorette fan tweeted. "After realizing that Katie's gonna pick him, he pulls a sabotage move to get out of the show by starting the stupidest argument. So obvious and forced. Dude really wants to stay single and work the whole 'poor Greg' angle."
Then there were those who made the joke that was right there in front of them: "Greg Grippo? More like Greg get a Grippo," one fan wrote, while another tweeted, "what's funny is his name is Greg Grippo and he definitely does not have a Grippo on reality..."
As for Katie herself, she has spent most of the season interacting with fans on Twitter and retweeting some of their takes. While she tweeted about her dates with Blake and Justin, any mention of Greg was noticeably absent. However, she did tweet, "thank you for the virtual hugs tonight," suggesting Team Katie had been sending her messages of support.
Team Greg
The other side's point of view was summed up by tweets like the following: "Me not understanding how Greg is being painted as the bad guy when he literally poured his heart out to Katie and was only looking for her sincere acknowledgement of his feelings instead of hearing, 'I love LOOKING at you.'"
Other responses included: "Everyone attacking #greggrippo needs to sit down! He was completely pouring his heart out on an important night all to receive a response of "I love looking at you". I love Katie, don't get me wrong, but she clearly wasn't listening to word he said and majorly missed the mark!"
A Twitter user with the display name "greg grippo stan," meanwhile, wrote, "He doesn't want to marry someone who reacts to something that big so badly. I would act the same way. He's in love and she's being silent. What would YOU do?"
Greg himself does not use Twitter, so we did not get his take on the situation.
The Bachelorette Season 17 finale airs Monday, August 9 at 8 p.m. ET / 7 p.m. CT on ABC.