Back-to-School Chalkboard Photos Expose Info for Predators, Police Warn
Parents feel particularly proud when their child heads back to school at the end of the summer and often celebrate by posting a back-to-school photo. But sharing that information on social media could lead to predators targeting the child.
A recent back-to-school trend for parents is posting a photo of their child holding up a sign that depicts a chalkboard sharing the child's name, the school they are attending, their age, the teacher's name, the child's height and weight and his or her favorite activities. Meant to be a form of documentation by the family, sharing that information could lead to negative outcomes.
Personal information shared on social media can be used by predators, scammers or hackers, regardless of social media privacy settings, according to several police departments educating parents on the topic.
St. Louis County Police Department (SLCPD) recently posted about the chalkboard photos on its Facebook page. The post said instead of sharing information about your child such as name, school and other personal details, the sign could just read "First Day of School" instead. SLCPD said it's safe to share personal details with close friends and family but not openly on social media.
SLCPD Public Information Officer Adrian Washington said that many times, the photo of the child is taken in front of the family's home.
"Everyone loves the first day, back-to-school posting," but some of the things "we normally put on those boards are sometimes family passwords," he said. "And oftentimes, those pictures are taken in front of your house. So you're making it easy for someone to track and find who you are and use some of those words to discover a family password."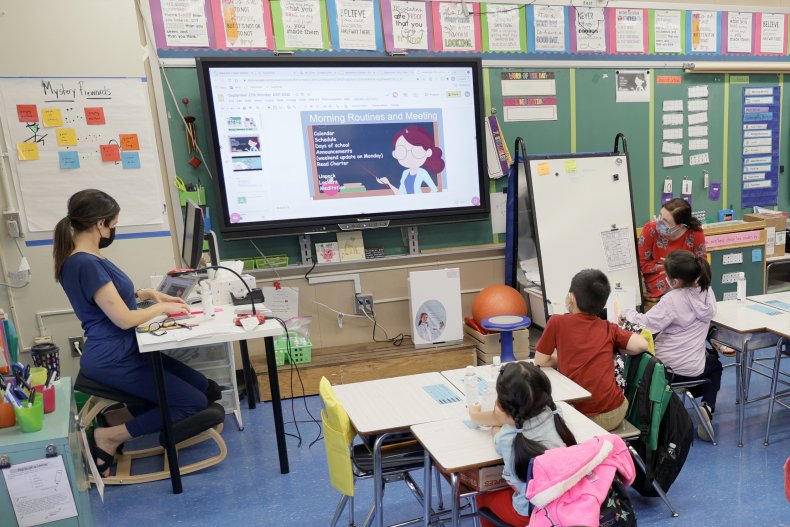 McHenry County Sheriff's Office in Illinois also shared a similar post on its Facebook page. MCSO launched a "Think Before You Share" campaign designed to educate parents on protective measures they can take when it comes to posting on social media. MCSO also showed a side-by-side photo like SLCPD in which a deputy showed an example of what shouldn't be shared.
The example that was safe to share only included the deputy's name and an answer under the "When I grow up, I want to be:" prompt. Information that wasn't safe to share included personal information such as favorite color, favorite food, favorite movies, a teacher's name and other information that could be used as passwords or security questions.
"This information—school name, classroom, grade, age, etc.—can all be used by predators, scammers, and other people looking to endanger your child, family, or finances," the MCSO post said. "No matter your privacy settings or friends list, it's best to keep personal information on the internet to the bare minimum."