Bad Bunny Meets With Uvalde Shooting Survivor
Global phenom Bad Bunny seems to have a good heart. At his concert last Friday in North Texas, the rapper-singer met backstage with an Uvalde school shooting survivor and gifted her with signed merch.
Mayah Zamora, 10, spent more than two months in the hospital following the May 24 massacre, which claimed the lives of 19 students and two teachers. She had to endure more than 20 surgeries for gunshot wounds she'd sustained to her hands, chest, arms and back, according to CNN.
In a Sunday post, the nonprofit Correa Family Foundation gave props to the Puerto Rican performer for giving back to Mayah at his show.
"A huge thank you to @badbunnypr for welcoming our Hero of the Month, Mayah Zamora, to your concert, and for making sure she had a beautiful and fun night dancing with her family!" the Facebook post read. "All the love she received from you and your team @noahassad @rimas made this an incredible experience she and her family will cherish."
The Correa Family Foundation, founded by professional baseball player and fellow Puerto Rican Carlos Correa, had named Zamora "hero of the month" for August.
Bad Bunny has teamed up with Correa's foundation before, CNN reported last month. They'd worked to help Mayah's family get new lodging after she learned that the Uvalde shooting suspect lived "just blocks away from her home."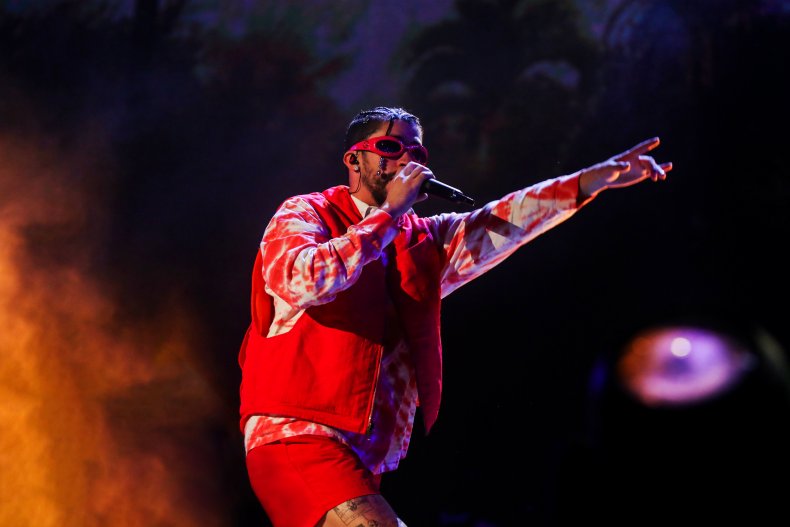 Many fans have lauded Bad Bunny on social media for his previous Uvalde outreach efforts. The parents of Ellie Garcia, a student who died in the shooting, posted pictures of themselves attending the performer's concert last week in San Antonio.
The late student's father, Steven Garcia, noted in a Facebook post that Bad Bunny had provided the family with suite tickets. He'd also showered them with "gifts and dinner," Garcia wrote, adding that it was his "first time ever in a suite."
Some on social media have expressed how impressed they are by Bad Bunny's generosity.
"Mad respect for Bad Bunny for inviting all the families of the victims of the Uvalde shooting to his concert," one Twitter user wrote, along with heart and crying emojis. "It wasn't just the family in the TikTok—it was all of them. In a suite."
"Bad Bunny gave the #Uvalde families free tickets to his concert," another person said in a tweet. "I'm already his #1 fan but when I hear things like this, it makes me immensely proud to support him."
On top of winning hearts, Bad Bunny is dominating the charts.
The entertainer secured "a sixth week at No. 1 on the Billboard Artist 100 chart," tying with The Weeknd for spending the longest time at the top spot in 2022, Billboard reported on Tuesday. And critics have celebrated his latest album, Un Verano Sin Ti, which earned an enviable 8.4 rating on Pitchfork upon its May release.
Newsweek has reached out to Bad Bunny's representatives for comment.