Matthew McConaughey Praised For Speaking Out Against 'Gun Extremism'
Matthew McConaughey is being praised for his speech about the mass shooting that occurred in his hometown of Uvalde, Texas.
The Hollywood star gave an impassioned speech at the White House, in which he centered on the victims whose lives were cut short and the grief of their families.
The speech has been receiving high praise on social media, with legions of fans, activists and other public figures applauding the star for using his platform in this manner.
"Finally, a famous white male gun owner is publicly outraged at gun extremism. Thank God. Thank you, Matthew," tweeted activist Shannon Watts in a viral tweet.
Watts is the founder of Moms Demand Action, a grassroots movement of Americans fighting for public safety measures around gun violence.
"I'm here today in the hopes of applying what energy, reason, and passion that I have into trying to turn this moment into a reality," McConaughey continued in his speech.
"Because as I said, this moment is different. We are in a window of opportunity right now that we have not been in before, a window where it seems like real change—real change can happen," the Interestellar actor said during his speech.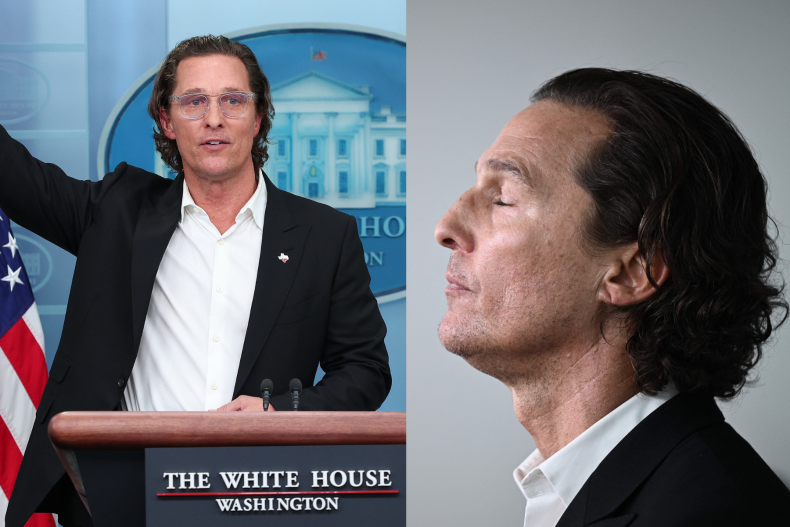 Throughout the speech, the actor became angry and pounded his fists on the White House lectern over the massacre.
He became emotional as he described how victim Maite Yuleana Rodriguez was identified by her favorite green Converse, in which she had drawn a heart on one of the toe caps.
"These are the same green Converse on her feet that turned out to be the only clear evidence that could identify her after the shooting, how about that?" he asked.
He also spoke of 10-year-old Ellie Garcia who was killed in the shooting.
"Ellie loved to dance, and she loved church. She even knew how to drive tractors and was already working with her dad and her uncle mowing yards," he said.
McConaughey went on to urge for investment in mental health and background checks.
"We need to invest in mental healthcare. We need safer schools. We need to restrain sensationalized media coverage. We need to restore our family values. We need to restore our American values. And we need responsible gun ownership—responsible gun ownership," he said.
"We need background checks. We need to raise the minimum age to purchase an AR-15 rifle to 21. We need a waiting period for those rifles. We need red-flag laws and consequences for those who abuse them.
"These are reasonable, practical, tactical regulations to our nation, states, communities, schools, and homes.
"Responsible gun owners are fed up with the Second Amendment being abused and hijacked by some deranged individuals.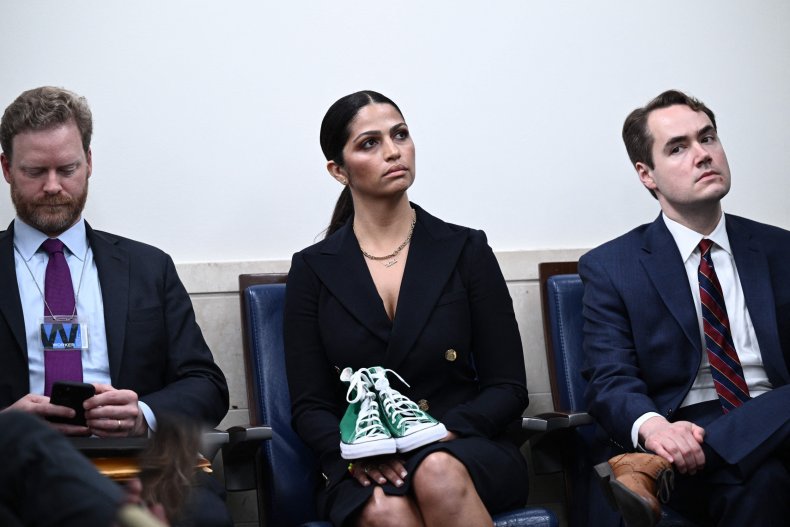 "These regulations are not a step back; they're a step forward for a civil society and—and the Second Amendment.
"Look, is this a cure-all? Hell no."
Fred Guttenberg, an activist whose daughter was killed in the Parkland shooting, tweeted: "Thank you @McConaughey. You just framed this perfectly. Since my daughter Jaime was murdered in Parkland, I have tried to engage gun owners and dads to support doing more."
Another tweet with thousands of likes reads: "A helpful reminder while the right tells Matthew McConaughey to "stick to acting"... the yam-tinted moron they just tried to overturn an election for was a reality TV game show host. So..."
While another added: "I don't care how Matthew McConaughey votes. He did more today for those innocent children than the entire Republican Party has done in two weeks."
Veteran journalist Dan Rather added: "My suspicion is that Matthew McConaughey is actually speaking for a lot more gun owners—certainly responsible gun owners—than the NRA."
"Matthew McConaughey used his connection to the Uvalde community to gather moving stories of children's lives from their survivors, and he used his platform to transmit them more widely and powerfully than anyone in journalism can. So shines a good deed in a weary world," said Adam Weinstein.