Internet Praises Matthew McConaughey's White House Speech on Uvalde Victim
The internet praises actor and Uvalde native Matthew McConaughey's heart-wrenching speech about one school shooting victim in a video that is going viral on social media.
Robb Elementary School student Maite Rodriguez was one of the 21 victims that lost their lives in the mass shooting that took place in Uvalde, Texas on May 31.
In a clip of McConaughey's speech that has gone viral on TikTok, the internet has praised the actor's emotions and words. The clip has over 200,000 likes and has been seen almost 1 million times.
McConaughey spoke about Rodriguez in the clip, explaining that she wanted to be a marine biologist when she grew up and already had been in contact with Corpus Christi University of A&M about her enrollment in the future.
"Maite cared for the environment that, when the city asked her mother if they could release some balloons into the sky in her memory, her mom said, 'Oh, no. Maite wouldn't want to litter.'"
The actor also explained that Rodriguez wore green Converse shoes with a heart on the right toe that represented her love of nature.
"These are the same green Converse on her feet that turned out to be the only clear evidence that could identify her after the shooting," he slammed his fist on the podium in anger.
On the Converse website, all sizes of the green Converse shoes in men's and women's sizes are sold out. Newsweek has reached out to Converse for comment.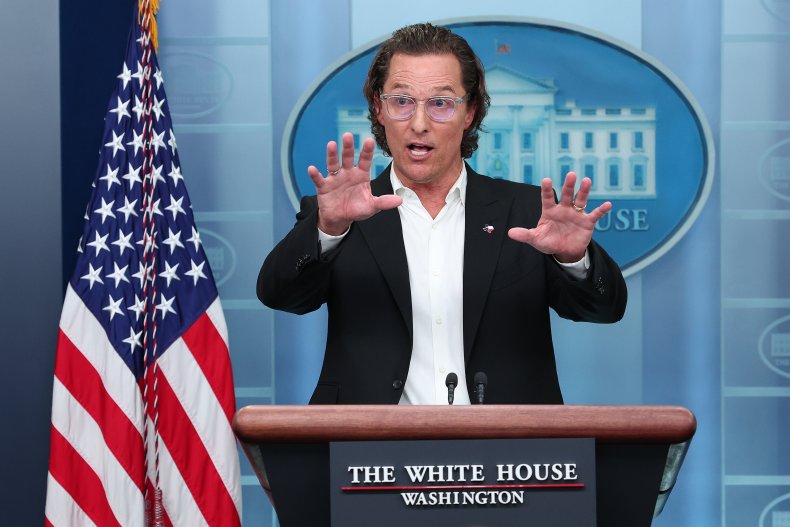 Many TikTok users shared their praise for the actor and their opinions on the topic of gun control.
"When he said her green converses were the only thing that identify Maite, I lost it. Such a senseless loss," one user wrote, many commenting to Converse about creating a green shoe with a heart on it to raise awareness.
"please we need that green converse heart on right toe and sales go to environmental groups" one urged.
Another user encouraged, "He is so passionate about the devastation. Keep saying it!!!!!"
"Kudos to Matthew for keeping this light shining on Uvalde. Much respect to him," a user said.
"He's just as mad as the parents who lost someone, and I respect that - were all mad," another said, "we just want someone to care and do something."
One TikTok user expressed, "The pain and hurt he expressed made me cry."
Another TikTok account exclaimed, "Matthew for Texas Governor!"
"You can hear his heart breaking. Right along w all of ours," one admitted.
"Thank you Matthew for always using your powerful voice for good," a user commented.
"Oh god that ending gave me chills," another stated.