Matthew McConaughey Asked if He's 'Grandstanding' After Uvalde Speech
After Matthew McConaughey gave an emotional speech at the White House press briefing Tuesday to call for action on guns in the wake of a deadly school shooting in his Texas hometown, a reporter was heard asking the actor if he had been "grandstanding."
The Uvalde native, who is known for starring roles in films like Dallas Buyers Club and Interstellar, choked up at least once while speaking to reporters and even slammed the podium after telling the story of one 10-year-old shooting victim who could only be identified by her green Converse sneakers.
When he wrapped up his speech and began walking out of the briefing room amid a chorus of journalist questions, one reporter shouted to ask the actor if he had been "grandstanding." The voice seemed to be male, but because cameras were pointed at McConaughey rather the the media members behind him, Newsweek was not immediately able to pinpoint the identity of the reporter who asked the question.
The shooting at Robb Elementary School late last month in Uvalde, which left 19 children and two teachers dead, has placed new urgency on a highly contentious gun control debate that features Democratic calls for gun action and Republican calls to instead focus on school safety and mental health. Since the shooting, McConaughey has publicly expressed his grief and emerged as a proponent of gun reform middle ground.
"Can both sides see beyond the political problem at hand and admit that we have a life preservation problem on our hands?" McConaughey said at one point in the speech, according to ABC. "We've got to take a sober, humble, and honest look in the mirror and rebrand ourselves based on what we truly value."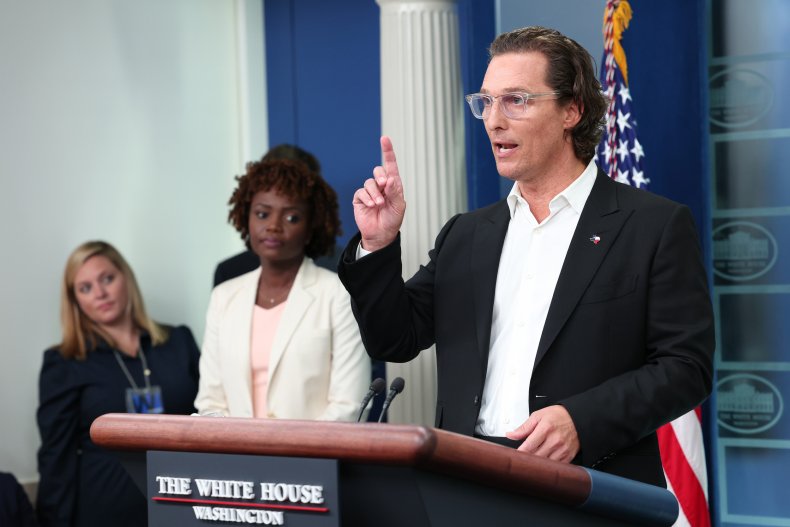 Grandstanding, according to a definition provided by Oxford Languages, is "the action of behaving in a showy or ostentatious manner in an attempt to attract favorable attention from spectators or the media." The term generally has a negative connotation.
It was not clear if McConaughey heard the shouted question as he exited the briefing room. Newsweek reached out to a representative for McConaughey for comment.
Prior to speaking to reporters at the White House press briefing, McConaughey met with President Joe Biden. And on Monday, the Austin American-Statesman published an opinion piece penned by McConaughey. The article called for a string of gun reform measures, such as increased background checks, a raised age requirement for assault rifle purchases and "red flag" laws, that closely resemble Biden's own priorities.
"I believe that responsible, law-abiding Americans have a Second Amendment right, enshrined by our founders, to bear arms," he wrote. "I also believe we have a cultural obligation to take steps toward slowing down the senseless killing of our children. The debate about gun control has delivered nothing but status quo. It's time we talk about gun responsibility."
After McConaughey's speech at the White House, Fred Guttenberg, the father of one of the victims in the 2018 shooting at Marjory Stoneman Douglas High School in Parkland, Florida, thanked and commended the actor for his remarks.
"You just framed this perfectly," he wrote on Twitter. "Since my daughter Jaime was murdered in Parkland, I have tried to engage gun owners and dads to support doing more."