Congresswoman Marjorie Taylor Greene has doubled down on her opinion that the only way to protect children from guns is to protect them "with guns."
The Republican politician, who represents Georgia, says tighter gun control would not have any impact on the number of school shootings. Instead, she believes placing more guns in schools would increase children's safety there.
Her comments—made just two weeks after teenage gunman Salvador Ramos massacred 19 children and two teachers at an elementary school in Uvalde, Texas on May 24—were posted to video sharing website Rumble on Monday, June 6.
Sitting at her desk for one of her regular broadcasts, MTG Live, which was titled "Episode 6: Special News Bulletin," she told viewers: "People know how to stop it [school shootings].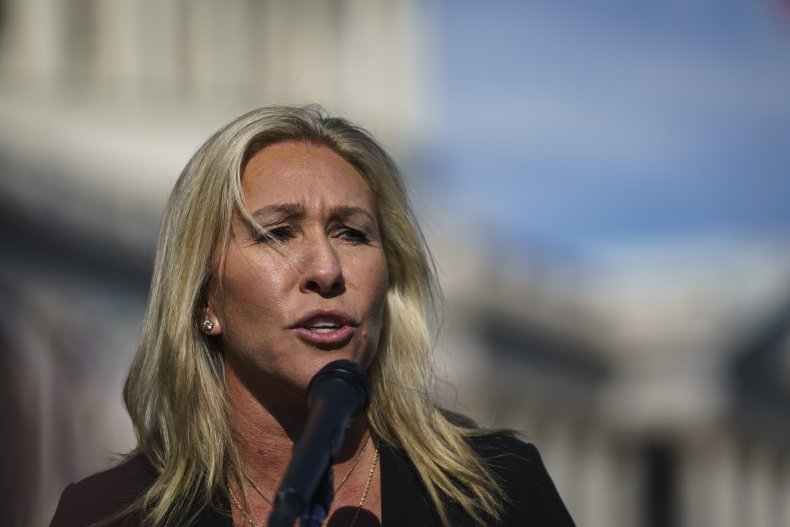 "And that is the only thing that Congress should be working on this week, is how to stop people from being able to kill kids in school. Now let me tell you: that does not involve gun control. That involves protecting our kids with guns.
"And so here we have these gun bills that the Democrats are bringing forward. They do not stop crazy people, stop mentally ill people, from obtaining a weapon, any kind of weapon, it could be a gun, it could be a knife, it could be a car, they could make a bomb. It could be anything that they want to use. It does not stop those people from doing that."
A little earlier in the segment, Greene—who recently won a GOP Primary despite reports alleging she believed QAnon conspiracy theories—said: "School shootings should never happen... That should never be a fear that we have in the United States of America. And I'll tell you why. It's because we have the Second Amendment. We have the right to bear arms."
Her stance echoed her previous comments calling for more guns inside schools.
On June 2, she tweeted: "Our children deserve to be safe. They deserve to be protected just like politicians. Kids should be guarded with guns."
And on June 3 she tweeted to remind her followers she was trapped in her classroom as a 16-year-old when an armed student entered her high school in 1990. No one was injured in the incident, which saw several children taken hostage by their fellow student.
Greene said: "As our classroom was locked down, my classmates and I wondered who would protect us when the only one there with a gun was the person who wanted to kill other students... It was that day that I knew that guns save lives."
But school shooting survivor turned gun control campaigner David Hogg believes tougher laws would have a dramatic effect on school shootings. On June 6 he tweeted: "The shooter at my high school was 19, the shooter in Buffalo was 18, the shooter in Texas was 18. All of them were able to legally obtain an AR-15. They aren't criminal masterminds with deep connections to the black market they are barely adults. Raise the damn age to 21."
Hogg helped co-found the March For Our Lives movement in 2018 after the mass shooting at Marjory Stoneman Douglas High School in Parkland, Florida, that left 17 people dead.
The group is planning a march in Washington, D.C. on June 11, with others held across the country, to call on politicians to protect children from gun violence.
March For Our Lives referred Newsweek to its brief statement on Twitter in response to the claims made by Greene, who is known as MTG, and said organizers did not have anything further to add. The group wrote: "Not sure who needs to hear this *cough cough @RepMTG* [Greene], but putting more guns in our schools—through armed guards, teachers, or students—is NOT how we'll stop the gun violence killing our classmates. Get to the root of this problem. Don't risk putting more guns in wrong hands."
Newsweek has also reached out to Greene and Hogg for comment.
The pair have sparred online in recent days as campaigners on both sides of the gun control battle intensify their efforts for change or to maintain the status quo.
Greene accused Hogg of trying to "violate our freedoms and leave Americans defenseless."
But he replied, saying: "Don't really have time to help you go viral for attacking survivors so you can fundraise."
Greene told Newsweek: "David fundraises for a living. If he wanted to fix it [children's safety in schools], he would discuss common sense solutions with me, someone who has also been on lockdown as a student when the only madman with a gun is another student who wants to kill people. Not just bully my weak RINO [Republican in name only] colleagues."
Newsweek has requested a comment from Hogg about the disagreement.
Update 6/8/22, 3:30 a.m. ET: This article was updated with comment from March For Our Lives.