David Hogg Rebukes MTG: Don't Have Time to 'Help You Go Viral'
Parkland shooting survivor David Hogg rebuked Rep. Marjorie Taylor Greene on Sunday, accusing her of "attacking survivors" to raise funds.
Hogg, a gun control activist and co-founder of March For Our Lives, was responding to the Georgia Republican on Twitter.
March For Our Lives was formed in 2018 following the mass shooting at Marjory Stoneman Douglas High School in Parkland, Florida, that left 17 people dead.
The organization is planning a June protest in Washington, and has urged people to march in the city after a gunman killed at least 19 children and two teachers at a Texas elementary school last week.
"I hear you & your girls are funded to come to town this week to once again try to manipulate some of my gutless weak colleagues to vote for gun control that will violate our freedoms and leave Americans defenceless," Greene tweeted at Hogg, an advocate for more stringent gun control measures, on Sunday.
"I don't see you on my schedule, why not?" wrote Greene, a staunch conservative who opposes stricter gun control laws.
Hogg responded to the lawmaker by saying that he is "more interested in protecting children and meeting commonsense people who are looking for reasonable solutions to stop children from dying."
"Don't really have time to help you go viral for attacking survivors so you can fundraise. Respectfully, David," he added.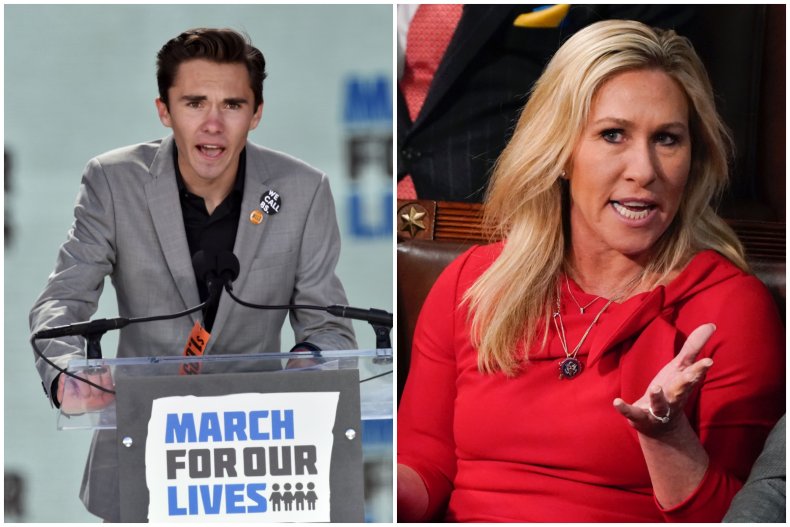 It's not the first time the pair have sparred on Twitter. The Georgia Republican harangued Hogg in April about his stance on guns.
Hogg tweeted on April 3 that he believes it should be a requirement to have a license to purchase a gun.
Greene responded by suggesting Hogg hang out "with actual deer hunters" because it would help him "learn to be more masculine and you will appreciate how we will get our food supply when Biden's inflation makes buying food unaffordable."
The pair exchanged heated remarks, with Hogg asking Green to explain how his "classmates' rights including the second amendment were not infringed upon when they were killed in their classrooms."
"When a student brought guns to my school to kill other students he was mad at, unlike you, my reaction was why is he the only one with guns and why is there no one with guns to defend us?" Greene responded. "Your reaction was joining a women's anti-gun lobby funded by billionaire Bloomberg."
The original 2018 marches that took place after the Parkland shooting were planned in coordination with the gun control advocacy group, Everytown for Gun Safety. Everytown was founded and originally funded by Michael Bloomberg.
Greene added: "The near experience of a school shooting at my school when I was in 11th grade solidified my strong support for our 2A and led to my learning that then Senator Joe Biden's legislation was the cause of us students being defenseless sitting ducks bc of gun free zones."
Greene appeared to be referring to a September 1990 incident at her high school in South Forsyth County, which saw an armed student hold other students hostage. A spokeswoman for Forsyth County Schools district told The Atlanta Journal-Constitution last year she couldn't confirm whether Greene was at the school on that day.
Newsweek reached out to Greene's office and March for Our Lives for comment.
The March for Our Lives protest planned in D.C. is set to take place on June 11.
"We're marching on our nation's capital just like we did in 2018," the group says on its website. "Show up, and demonstrate to our elected officials that we demand and deserve a nation free of gun violence."