Tucker Carlson Takes Offense at AR-15s Being Called 'Weapons of War'
Tucker Carlson is reacting with indignation to renewed calls to ban AR-15-style rifles, ridiculing descriptions of the firearm favored by mass shooters as a "weapon of war."
The Fox News personality during his program Tuesday evening pushed back on calls for a ban on military-style weapons, saying the AR-15 is "the single most popular self- defense rifle" in the U.S., while dismissing arguments from gun control advocates. The influential conservative commentator made the remarks as Democrats push to reach a bipartisan deal on gun control in response to recent mass shootings.
The U.S. saw its third-deadliest school shooting in history last week when a gunman armed with an AR-15 rifle killed 19 children and two teachers in a school in Uvalde, Texas. The same type of rifle was used in the 2012 massacre at Sandy Hook Elementary School in Connecticut and other shootings.
"Democrats, [President] Joe Biden, supporters in the media talk about banning the AR-15—the so-called 'weapons of war,' which are not, in fact, used by any military, but 'weapons of war' have been their focus," said Carlson.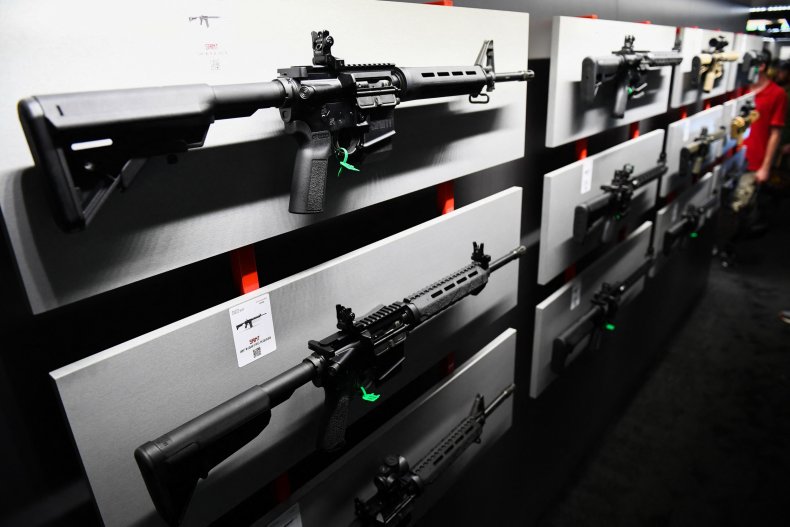 Carlson cut to a series of clips of Biden, California Governor Gavin Newsom, Senate Majority Leader Chuck Schumer and other prominent Democrats calling for bans on "weapons of war."
"They wouldn't know what end the bullet comes out," said Carlson. "They know nothing about this topic. They don't even know the basic crime stats in the United States. Rifles kill fewer people every year than fists or knives do; there's no effort afoot to ban knives or fists."
PolitiFact, a fact-checking initiative by The Poynter Institute, has found that FBI statistics do show that fists and knives account for more deaths than rifles. But the fact-checkers noted that firearms of any kind were used in 77 percent of homicides committed in 2020 and that the type of firearm wasn't specified in less than a third.
Then-President Bill Clinton in 1994 signed legislation banning the AR-15 and other high-powered rifles. Gun control advocates say mass shootings were down following the ban, which expired in 2004.
The AR-15 has loomed large since the ban expired. The rifle is not used by the U.S. military and is instead a semi-automatic of the M-16, which is still in use.
In 1963, gun manufacturer Colt received a $13.5 million contract with the U.S. military to produce 104,000 rifles, according to a 2017 post on the National Rifle Association's blog.
Rifles similar to the AR-15 have also become popular and used in mass shootings after the ban expired. According to the National Shooting Sports Foundation, one in every five firearms bought in the U.S. is an AR-type rifle.
Newsweek has reached out to Fox News for comment.