Schools Are Still Not Safe Despite Sandy Hook, Uvalde—Campaigners
The deadly massacre at an elementary school in Uvalde, Texas, in May brought the issue of safety and security to the forefront as a new school year began.
Students and teachers have returned to classrooms amid heightened anxiety after a gunman killed 19 children and two teachers at Robb Elementary School, with law enforcement failing to stop the attack for more than 70 minutes.
Everytown for Gun Safety's database shows that incidents of gunfire on school grounds rose sharply after students returned to in-person learning last fall. Between August 1, 2021 through May 2022, there were 193 incidents of gunfire at preschools and K-12 schools. More than 60 percent of school-age shooters were current or former students.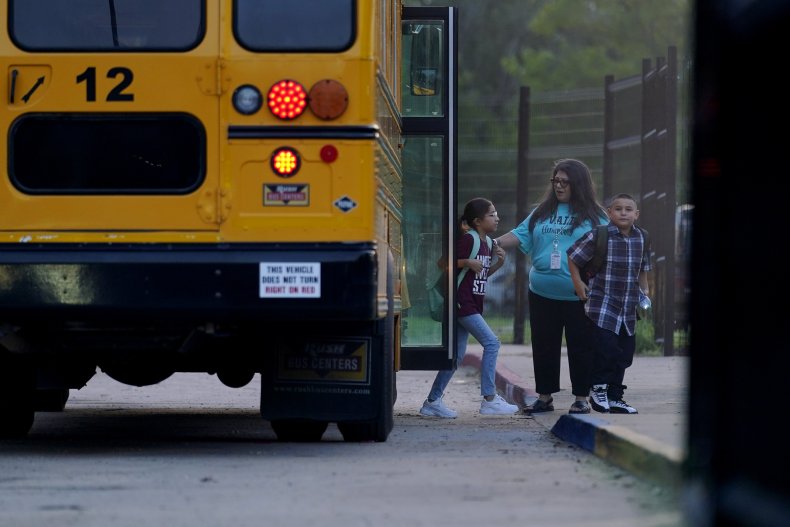 Ballistic shields and teachers with guns
Texas Governor Greg Abbott announced a $50 million grant program for ballistic shields in the state's schools.
School began in New York City earlier this September with more than 200 new school safety agents, and in Ohio, teachers can now carry guns in the classroom under a new law signed by Governor Mike DeWine in June.
Meanwhile, the Bipartisan Safer Communities Act—federal legislation sparked by the Uvalde shooting—will increase spending on student mental health, crisis intervention, violence-prevention programs, mental health worker training and school safety.
Still, safety remains an ever-present concern for students and their parents.
What happened in Uvalde had a profound impact on Nancy Thompson, the founder of the action group Mothers Against Greg Abbott PAC, and her children.
Thompson, who has a 9-year-old son in third grade and two teenagers in high school, said her youngest goes to an elementary school in Austin that is "mostly glass."
She told Newsweek that makes her fear what could happen if a gunman was on the school's premises.
The lockdown drills that her older children, 16 and 17, have had to go through during their school years have contributed to panic and anxiety attacks, Thompson said.
"It makes me very nervous. It makes them nervous," she said. "And I think it has contributed to a lot of mental-health issues in our children."
Madison Myers said she and some classmates felt relief at leaving high school this year. She had been in middle school when it went into a lockdown because of a 2018 shooting at nearby Highland High School in Palmdale, California.
"I had to coach my best friend through a panic attack," Myers said, and the trauma of that day followed the pair through their school years.
Thompson's fury at the lack of action by Texas officials to reduce gun violence is among the reasons she founded the action group seeking to oust the state's Republican governor.
"The number one thing that we can do to make them feel safer is to pass gun-safety laws," Thompson said. "And that's the number one thing that our politicians are not doing."
Shannon Watts, the founder of Moms Demand Action, said: "School gun violence is preventable—we don't have to live like this, and our children and educators should never die like this.
"The best way to prevent gun violence in schools is to prevent children from accessing firearms in the first place, and to implement comprehensive policies that identify and support students in crisis," Watts said. "We must demand commonsense, holistic, data-driven solutions that will protect our children and communities."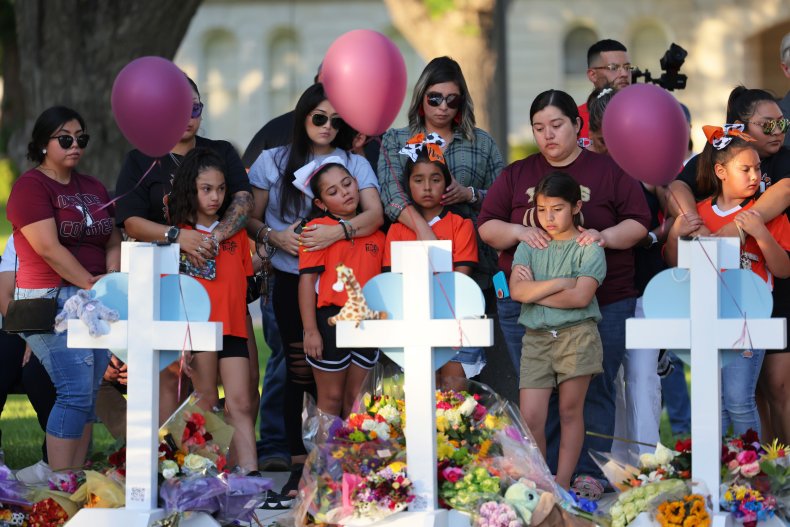 Daniel Santos, a teacher in Houston, said administrators at his school reviewed systems to maximize safety ahead of classes resuming in August.
"The anxiety is still present however," he told Newsweek. "During training, a couple of my colleagues were emotional and expressed frustration that since [the 2012 shooting at] Sandy Hook, very little has been done by our policymakers."
Gunmen aren't the only fear
But the threat of a gunman storming a school or students bringing guns to school isn't the only thing inducing anxiety in schools, Myers said. "There's an equal or increased concern about the harm that school resource officers (SROs) do to students on campus as well."
Myers is among those calling on the Antelope Valley Union High School District to cancel its contract with the Los Angeles Sheriff's Department, arguing that the officers assigned to schools do more harm than good.
Widely circulated videos that capture incidents such as a 16-year-old Black girl being bodyslammed by an SRO contributes to "a very deep-seated distrust of police," Myers added.
Erin Macias, a teacher who used to work in the school district, said she left after seeing the way students were being criminalized by SROs.
"I was traumatized by what I was seeing," Macias told Newsweek. "They don't communicate with their names. They communicate with their numbers, their student ID numbers."
And the inability of almost 400 law enforcement officers to stop the teenage gunman who opened fire in Uvalde has just reinforced the opinion that they do not belong in schools.
The National Association of School Resource Officers estimates that between 14,000 and 20,000 resource officers serve K-12 schools across the U.S. But research has found SROs do not improve school safety or reduce violence, and that students—particularly Black and Brown students—feel less safe and more fearful attending schools with such officers.
"Flooding school hallways with police officers won't keep our children safe, as demonstrated devastatingly clear in Uvalde," a spokesperson for the Movement for Black Lives (M4BL) told Newsweek.
"It only subjects students to increased violence. Police surveillance and harsh disciplinary policies have criminalized far too many Black, brown, indigenous and disabled children, and further enforced the school-to-prison pipeline.
"Students deserve nurturing, safe, and caring learning environments, which can only be achieved through a community-based model of school transformation, not destructive policing," the M4BL spokesperson said.
'Kids are aware, but they just live with it'
Police officers in schools are ill-equipped to prevent mass shootings, said Raquel Derfler, a parent and the co-chair of Cancel the Contract Antelope Valley. "They just react."
Derfler said her daughter Sophia is in her senior year at Paraclete High School, a private Roman Catholic school in Lancaster, California, with no security or officers on campus. "It's not the Wild West. It's not The Purge," she said.
"The reason that they're able to do that is because there is a care-first model… [students] understand that administrators, staff, care about them as individuals," Derfler said. "Because of that, there is that trust and then it engenders in the students a feeling of responsibility for their fellow students and the campus."
Still, a shooting threat did shock the school last year, and Derfler decided to keep her daughter home the next day. "Nothing did happen," she said. "The kids are aware, but they just live with it and that's upsetting as a parent."
Newsweek has contacted the Antelope Valley Union High School District for comment.