Bad Vegan: Fame. Fraud. Fugitives is Netflix's latest true-crime documentary about former New York restaurateur Sarma Melngailis and her then-husband, conman Anthony Strangis. In 2017, they were found guilty on several counts of fraud.
When they met in 2011, Melngailis was at the height of her success as the co-founder of New York's top vegan restaurant, Pure Food and Wine. However, over several years, she took $1.6 million of her business funds and transferred them into her personal account, which then went to Strangis, who had tricked Melngailis into believing he needed the money to transport them to a new utopia and make her dog Leon immortal.
Melngailis served four months in prison in 2017 and Strangis was sentenced to one year after taking plea deals. Now that they have been released, viewers of Bad Vegan want to know if Pure Food and Wine is still open today. Newsweek has everything you need to know.
Is Pure Food and Wine Still Open Today?
No, Pure Food and Wine is no longer open.
Once the hottest restaurant in Manhattan, frequented by celebrities such as Alec Baldwin, Tom Brady, Owen Wilson, Gisele Bündchen and Former President Bill Clinton, it officially closed in July 2015.
In 2004, Melngailis co-founded Pure Food and Wine with chef and her then-boyfriend, Matthew Kenney. He left the business a year later and their investor, Jeffrey Chodorow, allowed Melngailis to take control of the entire company, with its $2 million debt.
Melngailis also set up One Lucky Duck, a vegan juice bar and takeaway next door. Pure Food and Wine was listed twice in New York magazine's "Top 100 Restaurants" and five years in a row in Forbes magazine's list of "All-Star New York Eateries."
Pure Food and Wine's closure came after a series of walkouts by staff after Melngailis failed to pay them their wages.
According to the Brooklyn District Attorney's office, Melngailis and Strangis had defrauded 84 workers of up to $3,500 each.
To meet Strangis' financial demands, Melngailis had used money from Pure Food and Wine, under the belief Strangis would pay her back. In reality, he was gambling away the money at casinos. The official indictment alleged that Melngailis transferred more than $1.6 million from business accounts to her personal bank account with Strangis spending $80,000 at specialty watch retailers, more than $70,000 at hotels in Europe and New York, and more than $10,000 on Uber car rides.
Pure Food and Wine and One Lucky Shut closed in January 2015 but later re-opened for a short amount of time after Melngailis went to investors and asked for support to re-open the restaurant.
According to Esquire, she raised $844,000 and the restaurant re-opened in April 2015.
Then, according to the Brooklyn DA Office, Melngailis transferred $400,000 from the business account to her own account and then sent $300,000 to Foxwood's Casino at Strangis' request.
Strangis and Melngailis then went on the run for 10 months, with Pure Food and Wine and One Lucky Duck closing their doors for good in July 2015, following another staff walkout over unpaid wages.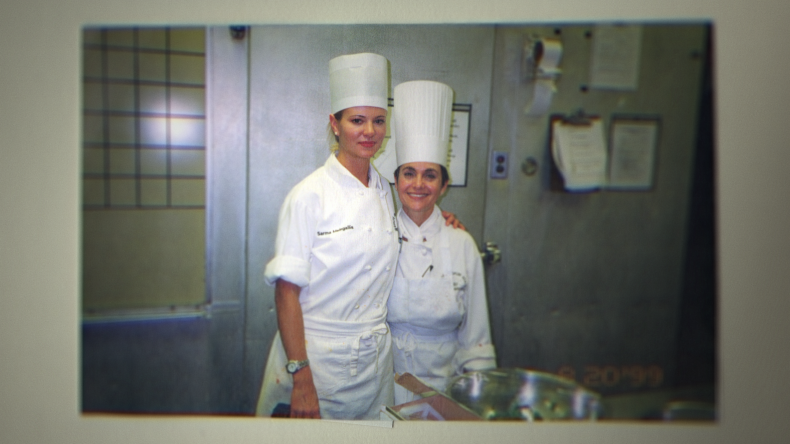 In May 2016, Melngailis and Strangis were arrested in Sevierville, Tennessee on several charges of fraud after Strangis ordered a Domino's Pizza delivery to his hotel room under his real name.
Melngailis and Strangis both took plea deals. She pleaded guilty in May 2017 to stealing more than $200,000 from an investor and scheming to defraud, as well as criminal tax fraud charges. Strangis pleaded guilty to four counts of grand larceny in the fourth degree.
In her official Instagram bio, Melngailis has described herself as "mourning Pure Food and Wine," writing: "Mom to @oneluckyrescuedog author of cookbooks. In mourning over @purefoodandwine + @oneluckyduck. Riker's alum. It's a long story."
At the end of Bad Vegan, Melngailis said: "I would just be glad for it to exist again. It's hard to imagine exactly how that would happen. I'm not in a position where I can ever go and ask somebody for an investment. I just can't do that. I can't ever ask anybody for anything again."
Bad Vegan: Fame. Fraud. Fugitives is streaming on Netflix now.