'Bad Vegan's' Sarma Melngailis Sets Straight 'Inaccurate' Netflix Doc
Bad Vegan: Fame. Fraud. Fugitives is the latest true-crime documentary to hit Netflix.
The four-part series takes audiences on a wild ride through the rise and fall of Sarma Melngailis, a vegan food restaurant, Pure Food and Wine, and the crimes committed by her and her then-husband, Anthony Strangis.
Across four episodes, Melngailis, who served four months in prison on fraud charges, shares her side of the story, recalling some of her darkest moments and explaining how Strangis was able to defraud her of almost $2 million.
However, Melngailis has called Bad Vegan "disturbingly misleading" at points in a blog post.
Newsweek has everything you need to know about Melngailis' comments.
Everything Sarma Melngailis Said About Bad Vegan
In Netflix's Bad Vegan, Melngailis transferred almost $2 million to her then-husband Anthony Strangis, who conned her into believing he needed the money for protection.
According to Melngailis, he also tricked her into undertaking "tests" which included sending thousands of dollars so they could be transported to a utopia, where her beloved dog Leon, would live forever.
Taking to her personal blog on March 16, the same day of the Netflix release of Bad Vegan, Melngailis revealed she had some thoughts on the four-part film about her story.
Teasing there was more to clarify at a later date, Melngailis started by praising the documentary for showcasing how "close" she was with employees and that "intentionally harming them is just about the last thing I'd have done."
However, she did state that "inevitably" due to the "weird and complicated" nature of her story, Bad Vegan "got some things wrong."
In particular, Melngailis believes the retelling of her and Strangis leaving New York for over 10 months was "inaccurately condensed." In particular, she took issue with the inclusion of tabloid reports claiming she had "fled" New York or was "on the lam."
She wrote: "I didn't leave voluntarily. I didn't know what funds Anthony had at the time, and I no longer had access to my electronic devices and email/text accounts. I can already hear the troll chorus of Yeah right! but most of what I say is verifiable. It also feels important to point out that of the money I'd raised at the end, over 90 percent went to re-open the restaurant and make payments. The idea that I would do all of that only to then run away with a man I hated and feared makes no sense. I didn't want to marry him, and that part of the story was inaccurately condensed."
Melngailis and Strangis did leave New York in mid-2015.
With Melngailis' business funds dwindling, staff walked out over delays in being paid or not being paid at all. The strikes concerned investors, some of whom contacted the police after Melngailis had acquired investments under false pretenses and a warrant was soon issued for the pair's arrest.
Facing charges of second-degree grand larceny, second-degree criminal tax fraud, and first-degree scheme to defraud, Melngailis and Strangis disappeared for 10 months.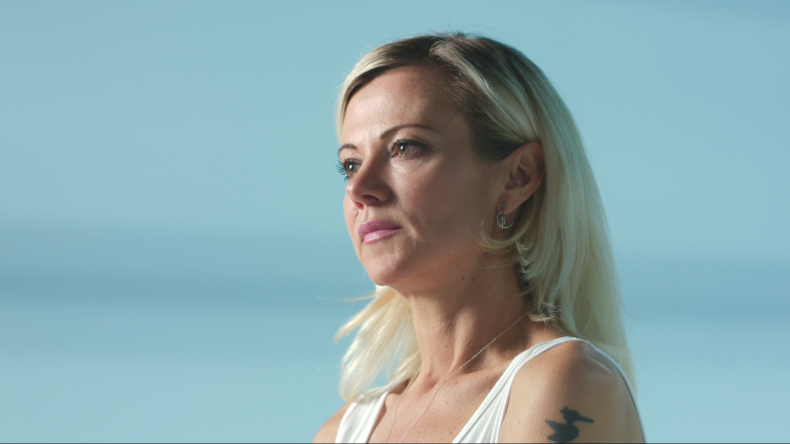 The indictment at the time accused Melngailis and Strangis of transferring more than $1.6 million from business accounts to Melngailis' personal bank account, spending $80,000 at specialty watch retailers, more than $70,000 at hotels in Europe and New York, and more than $10,000 on Uber car rides.
They were arrested in May 2016 in Sevierville, Tennessee after Strangis ordered a Dominoes pizza in his own name.
Melngailis and Strangis both took plea deals. She pleaded guilty in May 2017 to stealing more than $200,000 from an investor and scheming to defraud, as well as criminal tax fraud charges. Strangis pleaded guilty to four counts of grand larceny in the fourth degree.
Melngailis served four months in prison and Strangis served just over one year. They were given five years of probation each.
The end of the Netflix documentary plays audio of a phone call between Strangis and Melngailis, insinuating they are on good terms, leaving viewers to speculate that they might still be in touch.
In her blog post, Melngailis asserted she made the recordings at a much earlier time for "a specific reason."
She wrote: "The ending of Bad Vegan is disturbingly misleading; I am not in touch with Anthony Strangis and I made those recordings at a much earlier time, deliberately, for a specific reason. "
Bad Vegan director Chris Smith and Executive Producer Ryann Fraser told Newsweek the phone call was intended to show communication between Melngailis and Strangis was "not common."
They said: "The inclusion of the last phone call isn't to imply that Sarma and Anthony were still close. The call is dated "22 Months After Prison"—and Anthony clearly says at the end of the call—"it was nice to hear your voice"—which we feel shows that communication between them is not common."
"In this call, we found Sarma to be confident and strong—making fun of the tales Anthony had spun, telling him that he had to show up on a unicorn for there to be any reconciliation (meaning there is no reconciliation). Lastly—this call was one of the few pieces of audio we found of them communicating in a way that helped us understand their relationship in the first place."
Bad Vegan: Fame. Fraud. Fugitives is streaming on Netflix now.
Update 03/22/22 at 4.20 a.m. ET: This article was updated to include comment from Chris Smith and Ryann Fraser.