'BADASS': The Revenge Porn Victim Fighting for Justice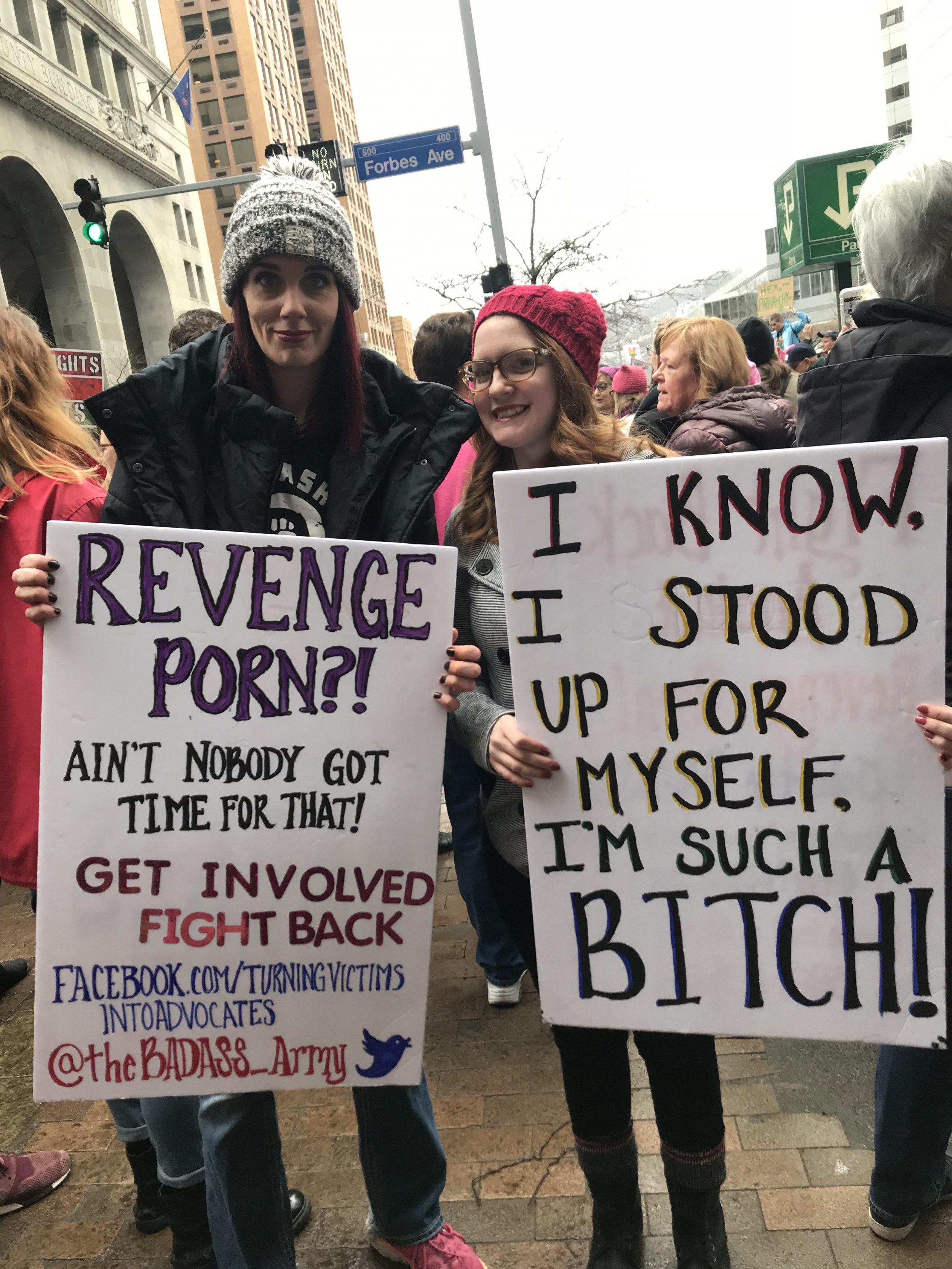 "Ashamed, horrified and angry." Those were the words Katelyn Bowden used to describe the moment she realized nude pictures of her had been shared online without her consent.
"I felt betrayed and paranoid because these had been up for weeks and no one had told me," the 32-year-old from Youngstown, Ohio, told Newsweek.
Bowden was doubly shocked to discover that even though the perpetrator admitted to stealing her ex-boyfriend's phone to retrieve the photos, the only crime that had been committed, according to Ohio state law, was the theft of a device.
Ohio is one of around half of the states in America that do not have specific laws in place to protect victims of the nonconsensual sharing of private images, according to the Cyber Civil Rights Initiative. So Bowden harnessed her anger toward the situation and launched the campaign group Battling Against Demeaning and Abusive Selfie Sharing (BADASS) to try to change the law and help fellow victims.
Bowden's case is far from an isolated incident. In January 2017 alone, Facebook received more than 51,000 reports of revenge porn, according to data seen by The Guardian. That was mirrored by a 2017 survey of more than 3,000 Facebook users for the Cyber Civil Rights Initiative: It showed that one in 20 users admitted to sharing an explicit image without the subject's consent. Meanwhile, a 2016 survey of 3,000 internet users by the Data & Society Research Institute showed that one in 25 Americans reported either having someone share an intimate image of them online or receiving a threat.
Who can forget that in 2014, hackers stole nude images of high-profile figures such as actress Jennifer Lawrence and distributed them online. And this week, lawyers representing model Blac Chyna called for legal action after a sex tape appearing to show her was leaked online.
Read more: Who is Mechie, Black Chyna's ex-boyfriend? Singer claims he is man in leaked sex tape that Chyna's lawyer dubbed "revenge porn"
"Revenge porn - posting explicit images without the consent of everyone in those images - is a crime, a civil wrong, and a form of domestic abuse," Chyna's lawyer, Lisa Bloom, wrote on Twitter.
"It's also a way to try to slut shame women for being sexual. Girls have killed themselves over revenge porn. It's not a joke," Bloom continued. The incident came less than a year after Chyna's ex-partner Rob Kardashian shared explicit photos of her online.
"No one should endure image leaks or revenge porn," Bowden told Newsweek. "The BADASS army supports Blac Chyna, and we hope she gets the justice she deserves."
It was May 2017 when a friend messaged Bowden on Facebook to say she had found nude images of her on AnonIB, a notorious message board where explicit images—mainly of women—are shared, and which was embroiled in the 2014 leak. The website is categorized into different genres and locations, and her friend found both of their images on a thread dedicated to Youngstown women.
Bowden tracked down the images on the site and realized she recognized the username as an acquaintance's Xbox Live handle.
"He had stolen my ex-boyfriend's cell phone in order to obtain the images and post them online. He confessed this to me through text message, which I promptly took to the police," she says. Yet the perpetrator still has not yet seen any consequences.
In a tragic game of whack-a-mole, victims must contact websites individually to have their images removed, and the fear remains that the pictures will lurk in some dark corner of the internet. After all, once something is online, there is no way to remove it permanently.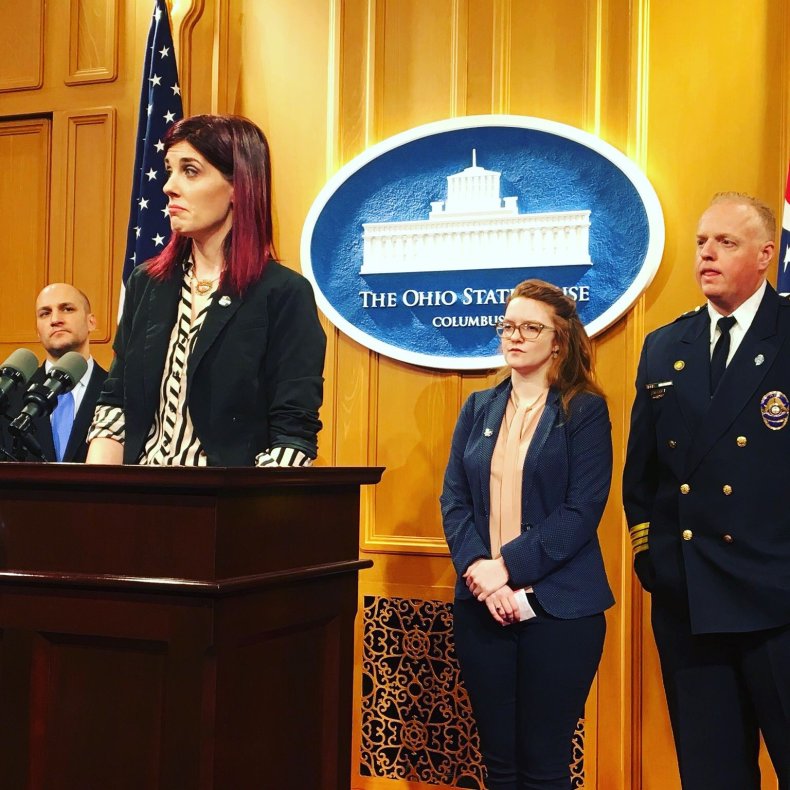 Read more: Who is Chrissy Chambers? YouTube star wins landmark revenge porn case
Bowden's experience pushed her into activism for the first time.
"I was angry. My photos kept getting reposted, and each time, I saw hundreds of women who were going through the same thing. I realized that although there are more victims than perpetrators, we had all been shamed into silence.
"I was a bartender when my images were shared, but working with the public became too anxiety-inducing after being exposed," Bowden recounted.
"I just wanted to do something instead of sitting around crying about it. I've always been outspoken and opinionated, but I've never formally been an activist before."
Bowden started by contacting other women whose images had been shared on revenge porn websites to encourage them to unite to fight back. One of the first people she got in touch with was Belinda Berry, who works in the nonprofit sector for women's health care and sex education. She is now the vice president of BADASS.
"There is power in numbers, and I knew that together we could accomplish something," Berry said.
"It's hard to shock me anymore, but I think the most heartbreaking cases are the underage ones, when the victim is still a minor. I can't even imagine showing up to high school, knowing that everyone has seen your body exposed without permission. It's such a breach of privacy, and being a teenager is difficult enough without that added stress and pain," she elaborated. "We see this scenario far too often, and I'm always awestruck by the strength and courage of the victims who fight back, even under all that pressure."
Last month, Bowden addressed the Ohio statehouse as Senator Joe Schiavoni put forward a bill to ban revenge porn after an attempt in 2016 wasn't voted into law, Ohio's local news outlet The News-Herald reported. Schiavoni hopes to make revenge porn a crime punishable by up to six months in jail, and to protect victims from losing jobs or scholarships if images are found by employers and educational institutions.
It also avoids placing the onus on the victim to prove the perpetrator had an "intent to harm," which is one of the most troubling obstacles facing victims seeking justice.
"It's extremely difficult to prove the intent of the poster, and allows many to avoid consequences," Bowden explained.
In addition to changing the law, Bowden is fighting to transform attitudes. She wants people to know it's never OK to share intimate images and videos without the subject's consent. That starts with rethinking the language around the crime. Campaigns prefer the term "image abuse," as they argue that "revenge porn" implies victims deserve punishment and that the images should be regarded as sexual.
It's a struggle Bowden has taken worldwide. Since launching last year, BADASS now has 680 members worldwide, including the U.S., Canada, the U.K., Ireland, Norway, South Africa, France, Australia, New Zealand and Bangladesh. "We welcome all nationalities, genders, sexualities and religions—we are intersectional and nonjudgmental," Bowden stressed.
The group offers peer support and counseling as well as advice on how to get images taken down and forms of legal recourse.
"We feel that the best way to re-empower victims is to equip them with the tools they need to fight back and gain control over their images," said Bowden, adding, "We have the right to receive adequate justice for what has been done to us."