BAFTA Producer Blasts Ariana DeBose Backlash After 'Painful' Performance
The producer of the 2023 BAFTAs is standing up for Ariana DeBose, after she was mocked for her rap about the female nominees at the show.
At Sunday night's BAFTA Awards (the U.K.'s answer to the Academy Awards), West Side Story star DeBose opened the show with an upbeat number, but the performance was immediately mocked online for being "awkward" and "painful."
Spun Gold was the production company behind this year's BAFTAs and the CEO of the company, Nick Bullen, has spoken out in defense of DeBose. He called the backlash she received "incredibly unfair" as he loved the show.
"The songs she was singing are very familiar songs, the room was clapping, and people were sort of dancing to the music," producer Bullen told Variety.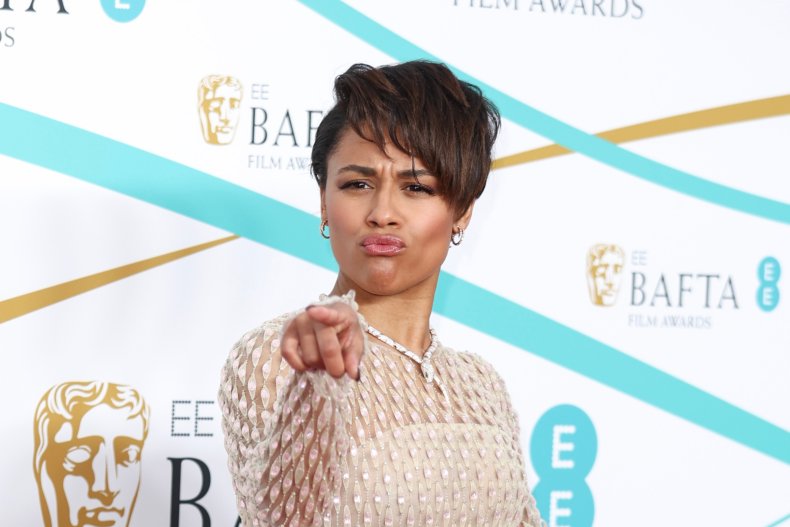 "That rap section in the middle, mentioning the women in the room, was because it's been a great year for women in film, and we wanted to celebrate that. And here is a woman of color who is at the absolute top of her game.
"And she's opening the BAFTAs with a song that said so much on so many levels. All of those mentions, I felt, from the moment we were rehearsing it right through to the transmission last night, spoke to what we wanted to do."
Bullen confirmed that DeBose put the whole thing together in a couple of weeks, with the help of "a great musical director and choreographer."
Shortly after it aired, the official BAFTA social media accounts shared the portion of the song that featured DeBose rapping about the female acting nominees in the room.
At the time of writing, the clips of DeBose have well over five million views online. The camera switched between each person name-checked, and not many had a smile on their face.
"Oh they not feeling it one bit," one user wrote on Twitter about the audience, while another added that it was "painful to watch."
TikTok user @theatreislife admitted it was an "awkward" performance but at least DeBose tried to sell it.
Cullen was asked whether the backlash for DeBose's rap was to do with a culture clash of American and English sensibilities.
"[...] American awards shows have much more razzmatazz, much more showbiz and perhaps a broader range of people being involved. We felt we're not about revolution, we're about evolution."
Bullen continued, "We don't want to just go for the traditional British award ceremony audience [...]. We wanted to get the message out there that this is a show for everybody. And I think some people don't like that change, but you know what? You need to get with it because changes are coming."
After receiving criticism and backlash, DeBose has seemingly deactivated her Twitter account.
Her Instagram account is still active but she has not addressed the performance on that platform yet.