An Australian bakery has been resoundingly slammed for a video in which its staff claimed to mail Amber Heard a severed finger cake and a bottle of vodka.
The prank referenced Johnny Depp's 2015 finger injury, which has become a key subject in his highly publicized trial against ex-wife Amber Heard. Depp is suing Heard for $50 million, alleging that she defamed him by claiming she suffered domestic abuse in a Washington Post op-ed. Depp says he has never been physically violent toward women.
On April 20, Depp testified that Heard threw a large bottle of vodka at him during a fight, cutting off the tip of his finger. Heard has disputed this claim, alleging that Depp cut his own fingertip as part of a three-day bender and that he choked, hit and sexually assaulted her during the fight in question.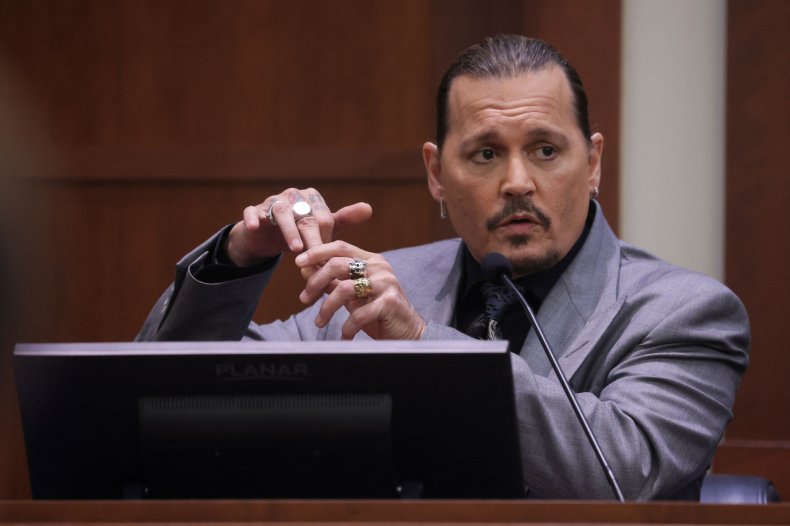 Dessert Boxes, an Australian dessert gifting company, made light of the incident in a TikTok video shared May 3.
"We're sending Amber Heard a dessert box," announced a staff member in the clip, which has racked up over 560,000 views. The footage showed a hand-shaped cake next to a bottle of Smirnoff vodka.
"We cut off the finger with a vodka bottle. We'll throw that in for her too," the employee said, packaging the cake and vodka together in the bakery's signature Dessert Box.
"And we'll send Johnny Depp this piece," she added, holding up the severed "fingertip."
Dessert Boxes confirmed to Newsweek that they did mail the box to Heard. The bakery said it has received a very mixed response to its viral clip.
"We have had people email telling us they support what we did and think it's hilarious and others who have sent thorough death threats," owner Kaisser Khater said.
Most TikTok viewers blasted the company, calling its joke "tasteless," "tone deaf" and "disgusting" and telling staff to "read the room."
"Jokes about [domestic violence] will never be funny," said one comment.
"This is putrid and [not] funny," another agreed. "Definitely won't be supporting you guys after this. This is insensitive and [quite] triggering."
A third comment chimed in, "POV: how to go out of business."
Some viewers said they chuckled at the video, but they were in the minority.
"Dark humor at its finest," wrote a supporter of the bakery.
Dessert Boxes used #justiceforjohnnydepp in their caption, a hashtag with over 9.7 billion views on TikTok, according to a Rolling Stone report. The closing arguments in Depp v. Heard are scheduled for May 27.
Updated 05/16/2022, 12:36 p.m. ET: This story has been updated with comments from Dessert Boxes owner Kaisser Khater and a verified video of the incident.