Bakhmut Life Expectancy Near Four Hours On Frontlines, Fighter Warns
An American fighting on the frontlines in Ukraine is warning that the battlefield in Bakhmut is gruesome.
Russia is nearing its one-year anniversary of the "special military operation" it launched against Ukraine in February 2022. As winter weather fades and spring approaches, military experts are speculating a renewed offensive from Russian forces. Frontlines shifted to Bakhmut—a city in eastern Ukraine—in July 2022, and according to former U.S. Marine Troy Offenbecker, the scene is grisly.
Offenbecker, who is fighting in Ukraine's International Legion comprised of foreign soldiers, told ABC News that when a Ukrainian soldier fights on the frontlines in Bakhmut, their life expectancy is only around four hours.
"It's been pretty bad on the ground," he said. "A lot of casualties. The life expectancy is around four hours on the frontline."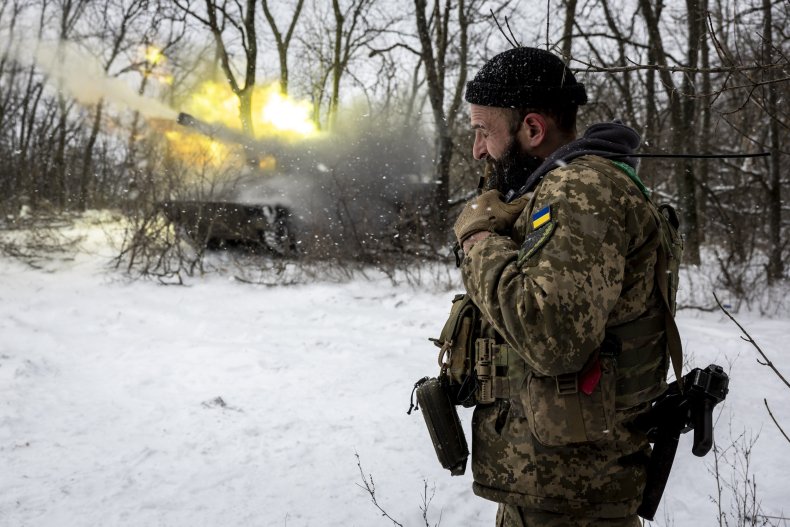 Offenbecker said Bakhmut has been called "the meat grinder" because of the macabre scenes, and he described the fighting as "chaotic".
Fighting has increased in Bakhmut as Russia directed its forces there since last summer to seize the city. But like many other instances during the war, Russia has been met with fierce resistance from Ukrainian troops.
However, Offenbecker isn't sure how long Ukrainian troops could continue to hold the city. He told ABC News that he expected the much-anticipated Russian offensive had already begun, placing Bakhmut as its focus.
Reports from both sides have claimed harsh casualties. Despite reports that Russia is struggling in the war with dwindling equipment and untrained troops, Offenbecker said attacks from Russians have been "nonstop" in Bakhmut, with artillery coming "all day and night".
Mark Cancian, a retired United States Marine Corps Colonel and senior advisor at the Center for Strategic and International Studies told Newsweek the battles in Bakhmut are reminiscent of World War I.
"In World War I, the line didn't move very much but there was tremendous attrition," Cancian told Newsweek.
Cancian said he and other military experts thought Russia's offensive would "explode", where one day everything is quiet on the battlefield and the next there is a "huge attack". However, he said that doesn't seem to be the case with Bakhmut and that Russia's increased focus in the area is an attempt to increase effort gradually instead of an explosive offensive attack.
If captured, Bakhmut would be the Kremlin's first major victory since last summer. However, Russians have been facing quite a fight. Ukraine has withstood many of Russia's attacks with aid from allied nations, such as the United States, but politicians are beginning to hesitate on if further aid should be supplied.
Newsweek reported Monday that the United Kingdom's Ministry of Defense said Russian troops have suffered many casualties, especially in Bakhmut. The Ministry of Defense speculated that Russia might announce its victory over Bakhmut even if that isn't the case.
U.S.-based think tank the Institute for the Study of War (ISW) also feels that Russia won't be able to seize Bakhmut this week. Despite the brutal fighting, ISW reported that Russia didn't seem to be "quickening their rate of advance" in the area as four days remain before the war's one-year anniversary.
If Russia is unable to claim Bakhmut in time, ISW reported that Russia might instead launch missile strikes on civilian targets instead.
Update 02/20/23 2:05 p.m. ET: This article was updated with comment from Mark Cancian.