Elite Russian Brigades 'Combat Ineffective' After Heavy Losses: U.K.
High Russian troop losses in eastern Ukraine are having an impact on Vladimir Putin's offensives in the region, British defense officials have said.
In its daily update, the U.K. Ministry of Defense (MOD) said Russia has suffered many casualties, particularly in Bakhmut, as well as Vuhledar, where "the 'elite' 155th and 40th Naval Infantry Brigades have sustained very high losses" and thus are "likely combat ineffective."
The MOD said on Monday that Russian forces were facing political pressure to present gains to coincide with the first anniversary of Putin's full-scale invasion on Friday, February 24.
"It is likely that Russia will claim that Bakhmut has been captured to align with the anniversary, regardless of the reality on the ground," the defense officials said, adding that if there is no progress in the spring offensive then "tensions within the Russian leadership will likely increase."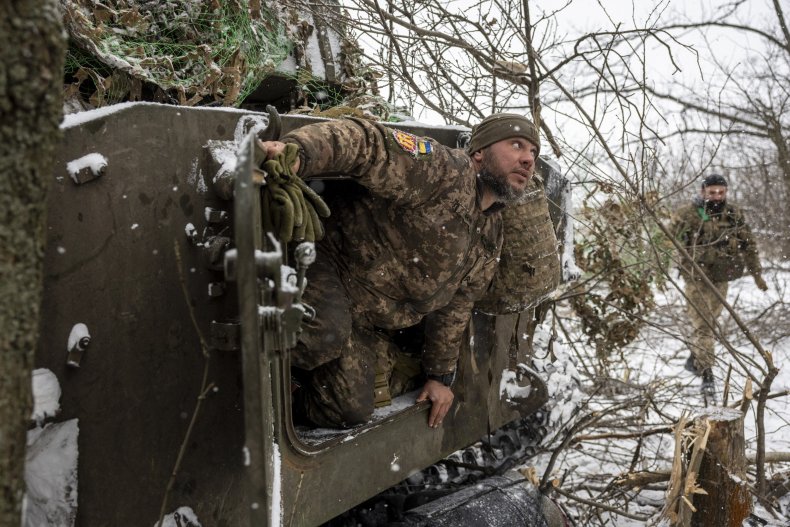 Another western assessment said Russia was struggling to replace equipment and probably lacked the resources to increase the intensity of its winter offensive in the Luhansk Oblast.
The Institute for the Study of War (ISW) said on Sunday that there had been "enormous" Russian tank losses, enough for around 16 regiments.
Russian forces almost certainly still have some reconstituted mechanized units in reserve, but these limited reserves to the Luhansk Oblast front line would be "unlikely to change the course of the ongoing offensive dramatically," the think tank said.
While Russia might "temporarily" gain momentum, Russian forces will probably "culminate well short of its objectives and likely short of achieving operationally significant gains," it added.
Newsweek has contacted the Russian defense ministry for comment.
Director of Russia studies at the CNA (Center for Naval Analyses) Michael Kofman told the War on the Rocks podcast on Saturday that Russia's new offensive had started three weeks ago with an attack on Vuhledar and has around five axes of advance in the Donetsk and Luhansk oblasts.
Describing the offensive as a "bit underwhelming," Kofman said it "may grow in intensity but not likely to grow in scope" unless there was another draft.
"In order to have another offensive, much larger than this, the Russian military would have had to conduct a second mobilisation," he said, adding that they would need "several hundred thousand additional personnel."
Meanwhile, U.S. President Joe Biden made an unannounced visit to Kyiv on Monday, meeting with Ukraine's president Volodymyr Zelensky. It was Biden's first visit to Ukraine since the start of Russia's full-scale war.
The pair had met on December 21 when Zelensky went to Washington, D.C. in a visit in which Biden said the U.S. would "give Ukraine what it needs to succeed on the battlefield."
Biden is scheduled to visit Poland this week in which he will speak with Polish President Andrzej Duda as well the leaders of the Bucharest Nine (B9), a group of Eastern European NATO Allies.