Balenciaga Photographer Breaks Silence Following Controversial Child Ad
Gabriele Galimberti, a photographer involved with Balenciaga's recent controversial ad campaign, has distanced himself from the images.
The images were slammed as "child porn" by some online, with Galimberti's shoot featuring a child holding a teddy which has bondage gear on. Another campaign shot by a different photographer featured unsettling documents in an office setting. The fashion brand has since apologized and suggested it would take legal action against "the parties responsible for creating the set" that featured the documents.
Speaking to Newsweek, Italian-born Galimberti said he wasn't responsible for the images of the child with the teddy.
"I am not in a position to comment Balenciaga's choices, but I must stress that I was not entitled in whatsoever manner to neither chose the products, nor the models, nor the combination of the same," he told Newsweek.
The pictures went viral when social media users compared the images as "child porn."
The Balenciaga Objects shoot included several photos of children with a series of items, including one photo with a toy bear wearing what appeared to be bondage gear. Another photo showed a toy bear wearing a string vest and a choker.
"As a photographer, I was only and solely requested to lit the given scene, and take the shots according to my signature style," Galimberti continued. "As usual, the direction of the campaign and of the shooting are not on the hands of the photographer."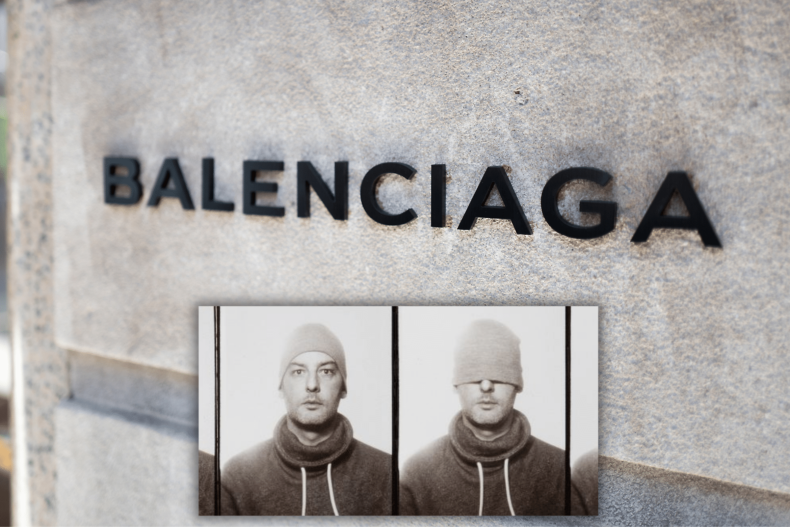 "I suspect that any person prone to pedophilia searches on the web and has unfortunately a too easy access to images completely different than mine, absolutely explicit in their awful content. Lynching like these are addressed against wrong targets, and distract from the real problem, and criminals."
He also stressed that he wasn't involved with the other ad campaign by Balenciaga and Adidas, called the Spring 23 campaign, which showed a bag positioned on top of a pile of papers.
Among these papers was a page taken from the 2008 Supreme Court ruling United States v. Williams. According to Oyez, a free law project by Cornell's Legal Information Institute, the said case examined whether laws banning the "pandering"—promoting—of child pornography curtailed First Amendment freedom of speech rights.
Galimberti later clarified this on his Instagram account.
"Also, I have no connection with the photo where a Supreme Court document appears. That one was taken in another set by other people and was falsely associated with my photos," he wrote.
He spoke out on Instagram after claiming he'd received "hundreds of hate mails and messages" as result of his involvement with the recent Balenciaga ad campaign.
Balenciaga confirmed to Newsweek that it would stop selling the toy bears featured in the images.
"We recognize the seriousness of this matter and condemn all forms of child abuse. We immediately removed the Holiday campaign from our platforms and will cease to sell the plush bears it featured," a spokesperson said. "We sincerely apologize for any offense our Holiday and Spring 23 campaigns may have caused."
After the images were released online earlier this week, they caused outrage online and were soon taken down.
A tweet posted on Monday by @shoe0nhead, compiled photos from the Balenciaga x Adidas and the Balenciaga Objects shoots alongside the message "the brand 'Balenciaga' just did a uh..... interesting... photoshoot for their new products recently which included a very purposely poorly hidden court document about 'virtual child porn.' normal stuff."
The tweet, along with the photos featured in it, was widely shared on other social media platforms, including one post on Reddit that stated the Balenciaga posts were "linked to CP & trafficking."
Others directly accused the brand of promoting a "child pornography campaign" and violence against children.
While the image of teddy bears wearing bondage gear and a string vest has undoubtedly caused offense and has drawn condemnation from pundits and social media users alike, it is worth stating that, contrary to what some of the comments above implied, the images are not technically classed as child pornography (nor were the photos that included a printout related to United States v. Williams).
"In addition, we are actively investigating the content of the Spring 23 campaign and are pursuing legal action against the outside contractors who oversaw the creation and management of the sets," a Balenciaga spokesperson told Newsweek, "We are also reviewing and strengthening internal protocols to ensure that this doesn't happen again."
Photographer Chris Maggio shot the images involving Adidas and the court documents.
Newsweek has reached out to both parties for further comment.
Do you have a tip on an entertainment story that Newsweek should be covering? Let us know via entertainment@newsweek.com.
Correction, 11/24/22, 3:30 a.m. ET: This article has been updated to add Balenciaga's statements sent to Newsweek and to correct phrasing which wrongly suggested Balenciaga intended to start legal action against Gabriele Galimberti.