Balenciaga's 'Disgusting' Ads Featuring Children Slammed as Brand Apologizes
Balenciaga is being criticized for its apology following backlash over a holiday ad campaign.
The photo shoot, which was featured on the luxury fashion brand's website as part of its holiday gift shop, included toddlers holding the company's teddy-bear handbags.
The toys, however, appeared to be dressed in bondage gear, including fishnet shirts and studded leather harnesses and collars. There were also empty wine glasses scattered around a table.
Other images, which were not part of the same photo shoot but were shot for the brand's Spring 23 campaign, were also criticized after making the rounds online. People noticed one of the pictures appeared to use a 2008 Supreme Court decision in a child pornography case to promote a purse.
The United States v Williams was a ruling that upheld the PROTECT Act, a 2003 federal law that criminalizes advertising, promoting, presenting or distributing child pornography.
It is unclear if the paperwork from the case was used in the Spring 23 photo shoot.
On Tuesday, November 22, Balenciaga released a statement.
"We sincerely apologize for any offense our holiday campaign may have caused. Our plush bear bags should not have been featured with children in this campaign. We have immediately removed the campaign from all platforms," the company posted on its Instagram Story.
"We apologize for displaying unsettling documents in our campaign. We take this matter very seriously and are taking legal action against the parties responsible for creating the set and including unapproved items for our spring 23 campaign photoshoot. We strongly condemn abuse of children in any form. We stand for children safety and well-being."
National Geographic photographer Gabriele Galimberti—who shot the holiday ad campaign featuring the teddy bears—also released a statement saying he felt "compelled" to speak out after receiving "hundreds of hate mails and messages."
"I am not in a position to comment Balenciaga's choices, but I must stress that I was not entitled in whatsoever manner to neither chose the products, nor the models, nor the combination of the same," he began his message, which was posted via Instagram on Wednesday.
"As a photographer, I was only and solely requested to lit the given scene, and take the shots according to my signature style. As usual for a commercial shooting, the direction of the campaign and the choice of the objects displayed are not in the hands of the photographer," he said.
"I suspect that any person prone to pedophilia searches on the web and has unfortunately a too easy access to images completely different than mine, absolutely explicit in their awful content. Lynching like these are addressed against wrong targets, and distract from the real problem, and criminals."
Additionally, Galimberti said that he has "no connection with the photo where a Supreme Court document appears."
While social media commentators attributed photos from both sets to Galimberti, he told Newsweek he did not take the photos featuring the court document and reiterated this in his online statement.
"That one was taken in another set by other people and and was falsely associated with my photos."
Balenciaga also confirmed to Newsweek that Galimberti has no association with the Spring 23 campaign and clarified that it would be "pursuing legal action against the outside contractors who oversaw the creation and management of the sets."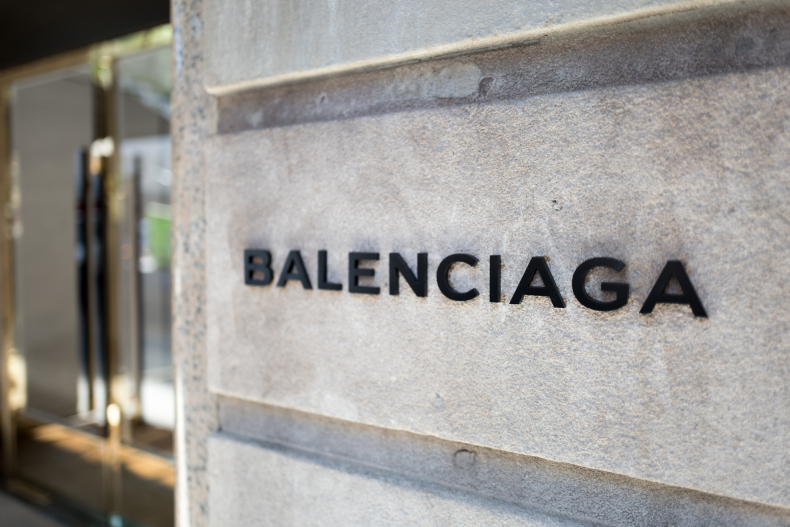 Twitter user CJ Pearson, who boasts more than 378,000 followers on the platform, tweeted via his verified account: "Balenciaga severed their ties with @kanyewest due to a tweet. Yet they expect us to just 'accept their apology' after they get caught up sexualizing children? They're not apologizing because they're sorry. They're apologizing because they got caught."
At the time of publication, the post racked up more than 24,000 likes, and that number was quickly rising.
Another verified user agreed, referring to the apology as "ridiculous."
"If after promoting the sexualization of kids, #Balenciaga isn't forced to endure a major overhaul, or better yet go under, it demonstrates all you need to know about the current state of the world's elite corporations. Their apology is ridiculous. They were testing the waters."
"Balenciaga just issued the most disgusting apology ever," someone else wrote, while a separate user posted, "Is Balenciaga dodging accountability by blaming the set designers or am I trippen [sic]? What were the unapproved items? Did they JUST realize children shouldn't be involved after being called out? Lmaoo this apology solves nothing."
Countless others, meanwhile, simply called to "#BoycottBalenciaga."
Balenciaga's apology over the ads comes just days after the brand deleted its Twitter account following Elon Musk's takeover of the social-media platform.
In October, Balenciaga cut ties with Kanye West, following his antisemitic comments.
At the time, the French fashion house's parent company Kering told Women's Wear Daily, "Balenciaga has no longer any relationship nor any plans for future projects related to this artist."
Do you have a tip on an entertainment story that Newsweek should be covering? Let us know via entertainment@newsweek.com.
Correction, 11/24/22, 3:30 a.m. ET: This article has been updated to include Gabriele Galimberti's Instagram statement and to clarify that he did not take the court document photo.