Canadian banks have begun freezing the accounts of people linked to the trucker protests in Canada and the federal government is promising to take more accounts offline in coming days in an attempt to clear demonstrators from Ottawa, which has been occupied for nearly a month.
On February 17, Deputy Prime Minister Chrystia Freeland said in a press conference that financial institutions have started freezing accounts and canceling credit cards in accordance with the Emergencies Act, which Prime Minister Justin Trudeau invoked earlier this week.
The powers granted by the act would allow banks to target the accounts of people who have donated to crowdfunding platforms, like the fundraising campaigns on GoFundMe and GiveSendGo, that have fueled the ongoing protests, but Freeland said she would not give "specifics of whose accounts are being frozen."
Donor information that was leaked from the GiveSendGo campaign—which has raised more than $9.5 million—revealed that more than half the donations going to protest organizers have come from the U.S.
An analysis of the data by Newsweek found that California, Texas, Florida, New York and Michigan topped the list of the highest number of U.S. donations by state.
Under the broadened federal powers, Canada's financial institutions have been prohibited from providing "any financial or related services" to people who are "directly or indirectly" involved in the anti-COVID mandate protests across the nation.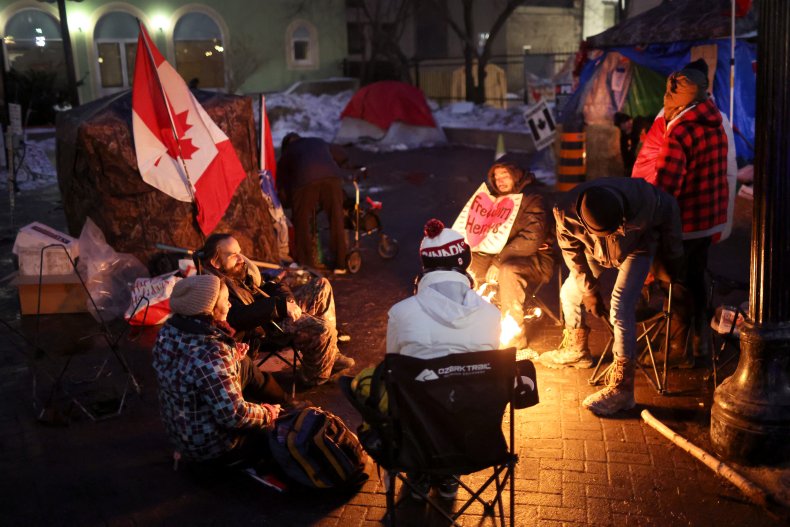 The Emergencies Act has also allowed the Canadian government to expand the country's money-laundering and terrorist financing laws to sites like GiveSendGo, which are now required to register with the nation's financial intelligence agency and to report large and suspicious transactions to the Financial Transactions and Reports Analysis Centre of Canada.
"It gives me no pleasure to impose any of these measures. In fact we do so with great sorrow but do not doubt our determination to act, to defend our democracy, to defend our economy, and to restore peace," Freeland said. "The consequences are real and they will bite."
Freeland, who is also the country's finance minister, said federal law enforcement agencies are collecting their own intelligence on the protesters and their supporters, which is being shared with banks to block access to cash or cryptocurrency.
She warned those still in Ottawa's downtown core that more ramifications would come if protesters don't leave, threatening to cancel insurance and suspend corporate accounts.
"We now have the tools to follow the money. We can see what is happening and what is being planned in real time and we are absolutely determined that this must end now and for good," she said.
On Friday, the House of Commons canceled its sitting to debate the emergency measures enacted, citing a police operation that is expected to take place on Parliament Hill later in the day.
Speaker Anthony Rota urged anyone not in the parliamentary precinct to stay away from the area until further notice.