Banned Seuss Site Emerges to Promote Dr. Seuss' Six Canceled Books
A website called Banned Seuss surfaced on Wednesday to promote the work of Dr. Seuss, following the announcement that six of the author's books will no longer be reprinted due to offensive imagery.
"Erasing books is insanity," the website says. "Stand up for our common humanity."
The Banned Seuss website currently features And to Think That I Saw It on Mulberry Street, one of the six books from the author that will no longer be reprinted, in full.
The website links to the Foundation Against Intolerance and Racism's site, a non-partisan organization that claims to be "dedicated to advancing civil rights and liberties for all Americans."
"Increasingly, American institutions—colleges and universities, businesses, government, the media, and even our children's schools—are enforcing a cynical and intolerant orthodoxy. This orthodoxy requires us to view each other based on immutable characteristics like skin color, gender, and sexual orientation," the foundation says on its website.
"It pits us against one another and diminishes what it means to be human," the foundation added.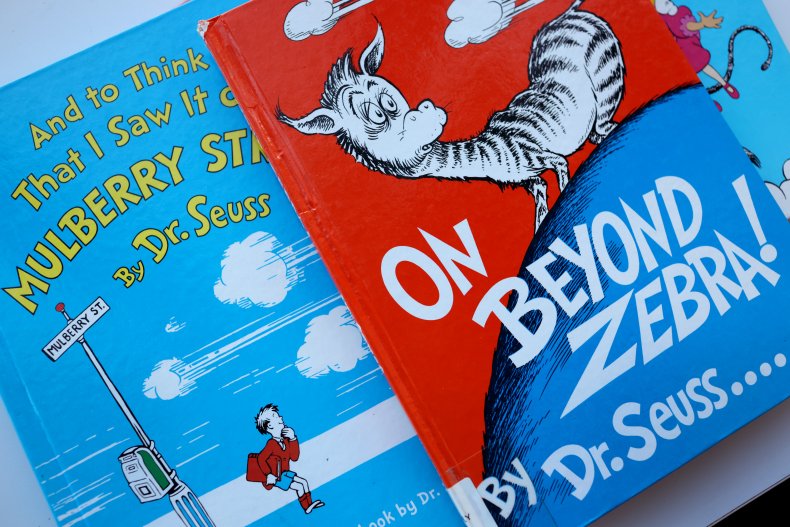 A spokesperson for Dr. Seuss Enterprises told the Associated Press on Tuesday that six books will no longer be reprinted due to their racist and insensitive imagery.
"These books portray people in ways that are hurtful and wrong," Dr. Seuss Enterprises said. "Ceasing sales of these books is only part of our commitment to and our broader plan to ensure Dr. Seuss Enterprises' catalog represents and supports all communities and families."
The six books that will no longer be reprinted are And to Think That I Saw It on Mulberry Street, If I Ran the Zoo, McElligot's Pool, On Beyond Zebra!, Scrambled Eggs Super!, and The Cat's Quizzer.
The announcement came on Read Across America Day, which also happens to be the late author's birthday.
Dr. Seuss, born Theodor Seuss Geisel, is one of the best-known children's book authors. He is behind such classics as The Cat in the Hat, Green Eggs and Ham, and How the Grinch Stole Christmas, among others.
Geisel, however, has a history of publishing racist and anti-Semitic work, according to a 2019 study published by the academic journal, Research on Diversity in Youth Literature.
The study examined 50 books by Geisel and found that 43 out of the 45 characters of color featured in those books have "characteristics aligning with the definition of Orientalism," or the stereotypical and offensive portrayals of Asia.
The study then notes the two "African" characters both have anti-Black characteristics. The study describes anti-Blackness as discrimination, opposition or hostility against Blackness and Black people.
The move to stop reprinting the six Dr. Seuss' books has since been criticized by some and praised by others.
Donald Trump Jr., the former President Donald Trump's eldest son, called "canceling" the books "absolutely insane" during a Tuesday appearance on Fox News' Fox & Friends.
Late-night talk show host Stephan Colbert, however, called the decision "responsible" on Tuesday.
Newsweek reached out to the Foundation Against Intolerance and Racism, but did not hear back in time for publication.