Bannon, Gaetz Call for 'Shock Troops' to Take Control of Government if Trump Returns in '24
Former White House adviser Steve Bannon and GOP Representative Matt Gaetz of Florida want some "4,000 shock troops" to get ready to take control of the federal government if Donald Trump decides to run for president again and wins in 2024.
Although Trump has not formally announced his intention to seek office, he has repeatedly hinted at the possibility. Several recent polls have suggested that Trump would be well positioned to defeat President Joe Biden, who has said he expects to run for reelection.
During a segment of Bannon's War Room podcast on Thursday, he and Gaetz discussed a pro-Trump strategy to take full control of the government should the former president win in 2024.
Gaetz said that "sometimes you've got to raise your voice to raise a ruckus and to raise an army of patriots who love this country and will fight for her." He said the pro-Trump movement is "going to operationalize the performance to go right after the people who are imposing the vaccine mandates, who are enriching themselves and who are selling out the country."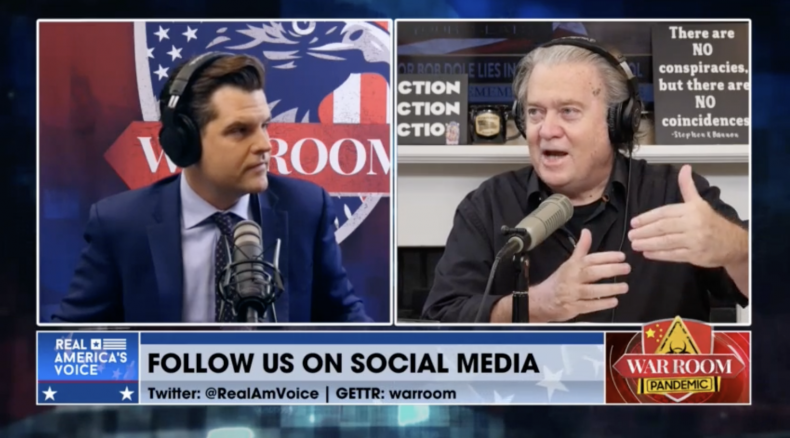 Bannon, who served in 2017 as Trump's chief strategist and senior counselor, said that thousands of Trump loyalists should be ready to help the former president take the reins of power again.
"This is Trumpism in power. That's when we went to the 4,000 shock troops we have to have that's going to man the government," Bannon predicted. "Get them ready now. Right? We're going to hit the beach with the landing teams and the beachhead teams and all that nomenclature they use when President Trump wins in 2024—or before."
Bannon previously touted the strategy, but with fewer details, in remarks to NBC News.
"We're going to have a sweeping victory in 2022, and that's just the preamble to a sweeping victory in 2024, and this time we're going to be ready—and have a MAGA perspective, MAGA policies, not the standard Republican policies," he said in early October.
"If you're going to take over the administrative state and deconstruct it, then you have to have shock troops prepared to take it over immediately," he added.
Trump formally pardoned Bannon right before he left office in January. The former White House official had been charged with fraud related to a crowdfunding campaign he had launched to raise money for Trump's long-promised border wall. Bannon has since been indicted by a federal grand jury after he defied a subpoena issued by the House select committee investigating the January 6 attack on the U.S. Capitol. He is slated to face trial in July.
Whether Trump launches another presidential campaign in 2024 is not certain yet. However, the former president has strongly hinted on multiple occasions that he plans to run. "I think my base is going to be very angry [if I don't run in 2024]," Trump said Wednesday on radio's Hugh Hewitt Show.
Earlier this month, Trump told Florida radio station WDBO that he suspects Biden won't run again in 2024. "So I would think that maybe he wouldn't be running, based on his performance. I would not imagine he would be running," he said.
"A lot of your listeners are people that will be very happy with what my decision will be [regarding 2024], I believe," he added.
Many of Trump's close allies have expressed their expectation and desire for him to seek another White House term.
"I think ultimately in 2024 President Trump does run again. At least that is my hope," former Trump adviser Jason Miller told Fox Business in October.