Steve Bannon Breaks With Donald Trump, Says Robert Mueller Is a 'Good Man'
Former chief White House political strategist Steve Bannon offered praise for special counsel Robert Mueller during an interview Wednesday, a stiff break from President Donald Trump's ramped up attacks against Mueller and the Russia election meddling probe.
Bannon said he viewed Mueller as "a good man, a combat-veteran Marine," to The Hill, but also said the special counsel should release a report about his findings prior to the fall's midterm elections to allow the country to decide the veracity of the investigation.
"Let the American people, on Nov. 6, let them decide," Bannon said. "They are going to say that is too thin a reed to hang anything serious on."
Bannon also insisted no collusion took place between the president's campaign and Russia to win the White House.
However, Bannon did suggest that Trump should dismiss Deputy Attorney General Rod Rosenstein unless the Justice Department handed over documents pertaining to the Trump-Russia investigation.
"If he doesn't do it in 72 hours, he's fired. I'd fire him," Bannon said.
House Republicans have heavily criticized Rosenstein and the Justice Department for not fully releasing information about the probe, as well as how Justice and the FBI opened and conducted the investigation. They have also chastised the FBI over the handling of the Hillary Clinton private email server investigation.
Rosenstein was even threatened with impeachment last month, but the threat was later rescinded.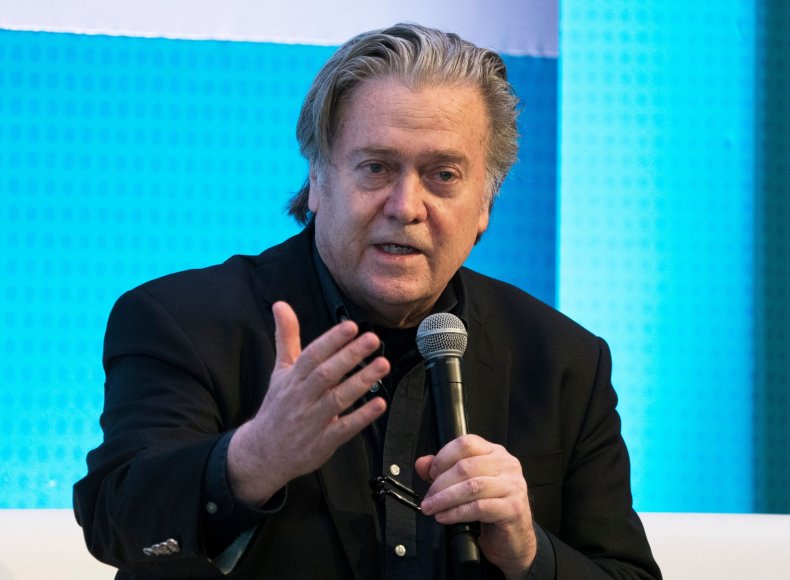 Bannon's kind words towards Mueller differ tremendously from Trump, who has recently claimed the former FBI director has conflicts of interest with the president.
On Sunday, Trump claimed Mueller's investigation was rife with political bias and cited the special counsel's friendship with former FBI director James Comey.
"Is Robert Mueller ever going to release his conflicts of interest with respect to President Trump, including the fact that we had a very nasty & contentious business relationship, I turned him down to head the FBI (one day before appointment as S.C.) & Comey is his close friend," the president tweeted. "Also, why is Mueller only appointing Angry Dems, some of whom have worked for Crooked Hillary, others, including himself, have worked for Obama....And why isn't Mueller looking at all of the criminal activity & real Russian Collusion on the Democrats side-Podesta, Dossier?"
Trump followed up Wednesday by deriding the probe as a "terrible situation" while stating Attorney General Jeff Sessions should end the inquiry. The president's words led to outcries of obstruction of justice and claims that he was directing Sessions to fire Mueller, though the White House pushed back and said Trump was not issuing any sort of order.