Bar's Age Restriction Policy Delights Internet: 'You'll Understand'
Most people are denied entry to a bar in the United States if they are younger than 21 years old, but two women said in a now-viral video that they were turned away from a bar in Los Angeles, California, because they were not 30 years old.
TikTok user @chergoodeats posted the video on her account where it went on to amass nearly one million views, and she said she and her friend were unable to enter Melody Bar and Grill.
While this particular establishment had a policy in place to only admit patrons 30 and older on certain days, California law states that people must be at least 21 to enter a bar.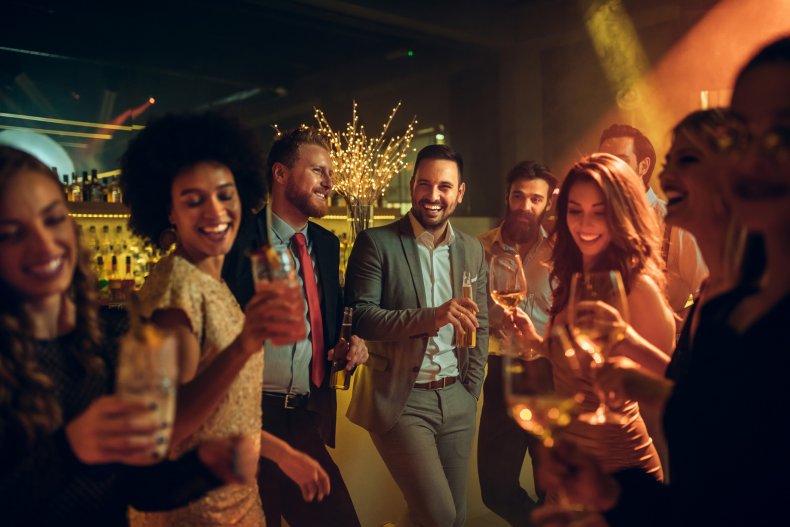 "A minor is allowed to enter and remain inside a restaurant that happens to have a bar attached to it, but not sit in the bar area," the California Restaurant Association said. "This means not only at the bar but generally at the bar tables."
If an owner of a licensed establishment allows a minor into a bar, they may be fined $1,000 and/or face six months in county jail.
TikTok user @chergoodeats showed a poster with a notice stating that only patrons 30 and older would be admitted on specific days.
"I just got denied at [Melody Bar and Grill] because we're not 30," @chergoodeats said, as she and her friend walked away from the bar. "You gotta be 30 years old to come on a Friday and Saturday night," she added, which is confirmed by their advertisements on Facebook.
TikTok user @chergoodeats told Newsweek in an email that she was unaware of the policy change that the establishment put into place.
"The sign wasn't visible to my friend nor I until the bouncer scanned our IDs, stepped to the side to show the signage and told us about the reasoning for the policy change," she said.
'When You Are 30, You'll Understand'
Although @chergoodeats and her friend appeared surprised, many viewers applauded the policy.
"All the 30 year olds like, 'take me to the promise land,'" a viewer wrote.
"I know it hurts right now, but when you are 30 you'll understand," another TikTok user said.
"Why am I now learning that there's 30 and up bars!? That seems nice," one viewer wrote. "I bet the bathrooms are clean."
"A lot of 20-25 yr olds are too loud and rowdy and they don't eat, we just wanna listen to moderate volume music w actual words and have a drink while watching the weather channels for the week coming along before we go home by 9 to prepare for the week lol," a viewer said.
'Not Trying To Throw Shade'
In a follow-up video, @chergoodeats said she would appreciate the policy when she gets older but was initially surprised when she was turned away.
"Just imagine going to someplace you've been to before and then not being able to get in," she said. "I was just shocked. I was not trying to throw shade at Melody Bar and Grill at all."
@chergoodeats said she and her friend found another bar at which to spend their night and said, with a laugh, that she would return to Melody Bar and Grill on the nights she would be eligible to enter.
'Safer Environment'
Christian Warren, the owner of Melody Bar and Grill, told Newsweek in an email that the policy was implemented in June.
He explained that there were previous issues with younger adults getting into fights with other younger adults, regular customers and security.
"However, not all of the younger crowd were causing the issues, and it's unfortunate for our younger loyal guests, but there is no way to distinguish the troublemakers from the rest, so we made a decision across the board to implement our 30 and over policy on Friday and Saturday nights only," Warren said.
Although sales slightly went down, he said the decision was positive to ensure a safer environment and has been well-received by patrons, many of whom are 30 or older.
@chergoodeats said she was glad to see that viewers were excited about the bar's policy.
"I hope the viral video brings more business brings more business to Melody Bar and Grill, a local favorite and staple to tourists," @chergoodeats said.
This is not the only establishment that caters to a specific demographic. Newsweek previously reported on a viral TikTok video that featured a gym that only allows women into the facility.
One woman posted a video showing the pub she rented for the weekend through Airbnb, while another woman posted a video explaining why tourists should avoid swim-up bars.
Update: 09/01/22 2:39 p.m. ET: This article was updated with comment from Christian Warren and @chergoodeats.