'Pro Tip': Woman Explains Why Tourists Should Avoid Swim-Up Bars
A woman went viral after revealing why tourists should avoid swim-up bars at hotels and resorts at all costs.
The woman, known as Whitney or @twofoodpiggies, posted the TikTok on April 20 where it received more than 3.6 million views and 2,400 comments, many from users opening up about whether or not they pee in the pool.
The CDC explains that urinating in a pool can result in less chlorine to tackle the other germs as well as the potential of the uric acid in urine combining with the chlorine, causing a hazardous gas. Individuals who come in contact with contaminated pool water are also at risk of waterborne illnesses.
Yet, a 2019 survey found that nearly half of adults pee in pools. Conducted by the Water Quality & Health Council, the Healthy Pools survey canvassed 3,100 individuals and found that 40 percent admitted to peeing in a swimming pool they were in.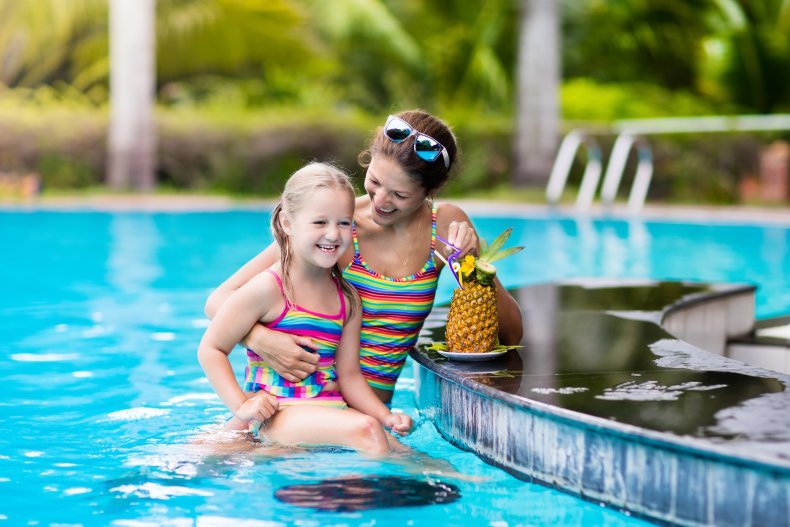 The CDC recommends people take bathroom breaks every 60 minutes and check children's diapers about every 30 minutes to ensure water does not get contaminated.
"Vacation pro tip: do not hang out in the pool where the swim-up bar is," Whitney said in the video as she showed tourists drinking and sitting at the pool bar.
"There was literally intoxicated guests admitting that they're peeing in the pool here," she continued.
In the video, Whitney showed a crowded bar surrounded by swimmers in waist-deep water.
"One girl didn't understand why some people were leaving the pool to use the washroom," the caption of the video read.
More than 2,400 users commented on Whitney's video, with many taking a light-hearted approach to the situation.
"I am one of those intoxicated guests peeing in the pool," one user openly admitted.
"All swim up bars are toilets," another user commented.
"As a collegiate swimmer, I promise we all peed in the pool everyday," another admitted.
But some users were much more realistic in their thinking, arguing whether or not chlorine would be enough to treat all the urine.
"There's so much chlorine you're fine," one user commented.
"There isn't enough chlorine to clear that up," another user wrote.
Other users recalled their experiences staying at resorts and noticing that the water by the swim-up bar was a different color and temperature.
"Noticed this the first night in Mexico," one user commented. "When the lights were out and the pool lights were on, the swim up bar was yellow."
In 2015, Newsweek reported that swimmers' red eyes are not caused by chlorine but rather the nitrogen in urine binding to chlorine to form chloramine.
The compound can also cause swimmers to suffer from a cough and a runny nose.
The CDC also reported that the stronger a pool's scent, the more it is filled with pee, poop, sweat and dirt.
Newsweek reached out to Whitney for comment.