Bar Association Urged to Disqualify Giuliani Over 'Trial by Combat' Speech Before D.C. Riot
The New York State Bar Association has been urged to investigate and disqualify President Donald Trump's attorney, Rudy Giuliani, for an inflammatory speech in which he called for a "trial by combat" prior to Wednesday's deadly riot at the U.S. Capitol.
Democratic Representatives Ted Lieu and Mondaire Jones drafted a letter to the association Friday, urging them to "open an immediate investigation" into Giuliani, the former mayor of New York City.
"We request that your office open an immediate investigation into the President's attorney for his statements calling for a 'trial by combat' preceding a violent insurrection at the Capitol in which five people died, including a U.S. Capitol Police Officer, and Members of Congress and the Vice President were credibly threatened with violence," the letter said.
"We believe the actions of Mr. Giuliani disqualify him from being a member in good standing with the New York State Bar."
Speaking at the 'Stop the Steal' rally in Washington D.C., on Wednesday, Giuliani made baseless claims that the election had been stolen due to voter fraud, and urged Trump supporters to fight the results.
"Over the next 10 days, we get to see the machines that are crooked, the ballots that are fraudulent. If we're wrong we will be made fools of, but if we're right a lot of them will go to jail. Let's have trial by combat," he said.
"I'm willing to stake my reputation, the president is willing to stake his reputation on the fact that we're going to find criminality there," he added.
Shortly after, a violent mob of the president's supporters stormed the U.S. Capitol building. The riot left five people dead, caused multiple injuries, and postponed the election certification of President-elect Joe Biden.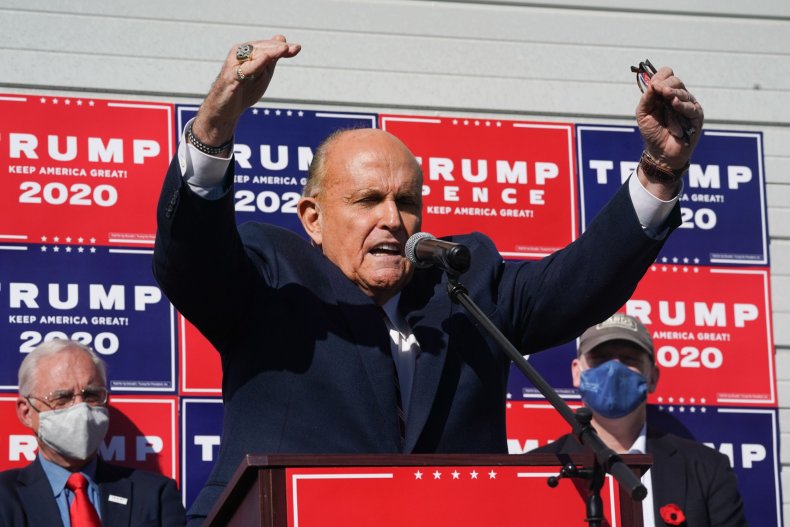 Lieu and Jones argued that through his language, Giuliani emboldened the "agitated, armed crowd," to engage in violence.
"Immediately following his speech, a crowd of thousands descended upon the Capitol and assaulted U.S. Capitol Police, forcibly entered the building, and threatened to assault or kill elected officials," their letter read.
"We cannot and should not stand for a member of our profession – no matter who they work for – engaging in such patterns of behavior that time and again subvert the authority of the United States government, let alone such a grave and sacred duty as election certification," they added.
On Thursday, Giuliani called the attack on the Capitol "shameful."
"The violence at the Capitol was shameful. It was as criminal as the rioting and looting this summer which was not condemned strongly enough by the Left. This violence is condemned in the strongest terms. Our movement values respect for law and order and for the Police," he tweeted.
A number of politicians have blamed the attack on Giuliani, Trump and additional allies who have peddled false conspiracies about election fraud for the past three months.
"Rudy Giuliani's incitement of a riot at the Capitol should bring an end to his destructive legal career. The legal profession can't tolerate sedition in its ranks if it hopes to maintain the faith of the American people," Jones tweeted Friday.
House Democrats and some congressional Republicans have since called for Trump to be removed from office. On Friday, House Speaker Nancy Pelosi warned that president that if he does not resign from office, Congress will bring forth articles of impeachment.
Newsweek reached out to the New York State Bar Association and Giuliani for additional comment, but did not hear back in time for publication.