Donald Trump's personal lawyer Rudy Giuliani has tweeted that the violence on Capitol Hill last night was "shameful"—a seeming volte-face from comments the day before calling for "trial by combat."
At 11.55 a.m. ET, the former New York mayor took to Twitter to condemn the violence "in the strongest terms."
"The violence at the Capitol was shameful. It was as criminal as the rioting and looting this summer which was not condemned strongly enough by the Left. This violence is condemned in the strongest terms. Our movement values respect for law and order and for the Police," the tweet read.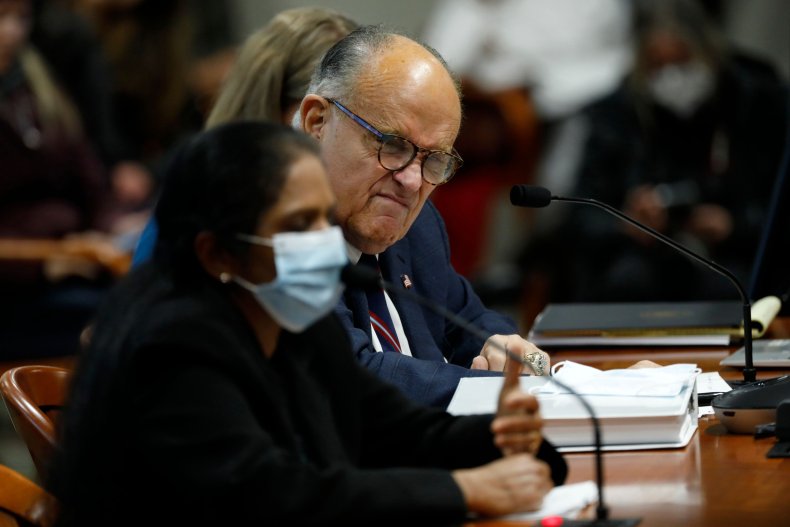 However, this provided stark comparison to comments he made yesterday, just ahead of the violent outbreaks in Washington.
Referring to allegations of widespread election fraud, which he claimed also happened in the Georgia U.S. Senate runoffs, Giuliani called, controversially, for "trial by combat."
"If we're wrong we will be made fools of, but if we're right a lot of them will go to jail. Let's have trial by combat," he said, without explaining exactly what he meant.
"I'm willing to stake my reputation, the president is willing to stake his reputation on the fact that we're going to find criminality there," said the former New York mayor.
Giuliani made the comments to a crowd of thousands at the White House just hours before Congress met to ratify the final Electoral College vote, and a mob of angry Trump protesters stormed the Capitol building, resulting in the deaths of four people.
The day was marked by unprecedented violence, with at least 10 people arrested for gun possession crimes and other violations, while many were seen fighting with counter-demonstrators.
Rudy Giuliani has not been afraid to use hyperbolic language in his role as Trump's personal lawyer, frequent spokesman, and most loyal ally. He has made bold claims, including that China manufactured coronavirus.
However, he has been known for his draconian stance on law and order since his eight-year stint as New York City mayor, marked by Giuliani's crackdowns on everything from organised crime to illegal food vendors and late-night licensing.
In equating the violence of Wednesday's clashes with the Black Lives Matter protests held across the country this summer, Giuliani draws on a common trope of the right. In comparison, commentators on the left have tended to critique the differences in policing approaches to the two movements.