Democratic Georgia Senate candidate Jon Ossoff has declared victory over incumbent Sen. David Perdue in the runoff election. He made the claim in a video address in which he vowed to prioritize fighting the coronavirus pandemic.
While his lead over Perdue in the state's general election runoff has grown to just over 16,000 votes, this falls within the 0.5 percent margin that triggers an automatic state-run recount of the votes.
Although no major news outlet has projected a win for the Democrat yet, Ossoff repeatedly referred to himself as becoming one of Georgia's two lawmakers in the U.S. Senate, signalling that there was no doubt in his mind as to who the winner was.
"It is with humility that I thank the people of Georgia for electing me to serve you in the United States Senate," he said on Wednesday morning, before describing how the COVID pandemic "continues to ravage our state and our country."
He said that he wanted to focus on how to "beat this virus and rush economic relief to the people of our state and to the American people."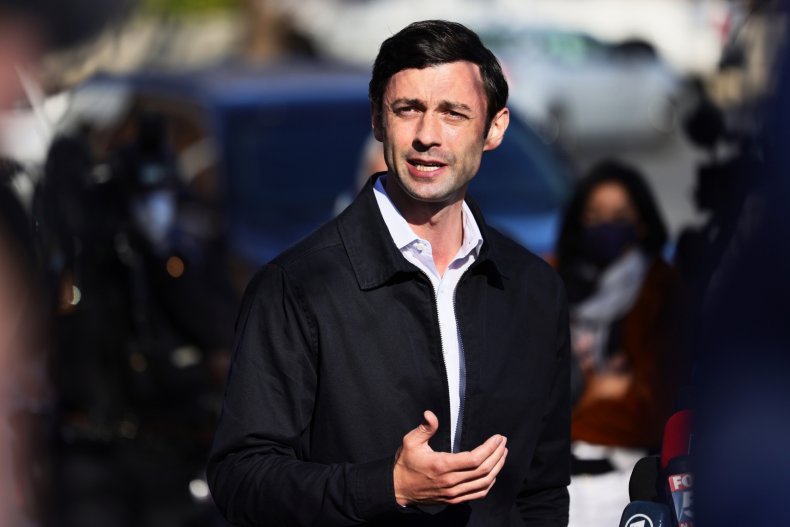 "I will work in the U.S. Senate to support a robust public health response so that we can defeat this virus," adding that, "this campaign has been about health and jobs and justice for the people of this state—for all the people of this state."
He paid tribute to his family and said he intended "following in the footsteps" of prominent figures who have passed away in the last year, such as Congressman John Lewis and civil rights activist C.T. Vivian.
He finished by saying: "I am honored—honored—by your support, by your confidence, by your trust, and I will look forward to serving you in the United States Senate with integrity, with humility, with honor and getting things done for the people of Georgia."
Perdue has not conceded the race but if confirmed the winner, Ossoff at 33 would become the youngest member of the U.S. Senate. His declaration of victory came hours after news outlets called Raphael Warnock the winner over Republican Sen. Kelly Loeffler, although she is yet to concede.
Adding to the historic nature of the runoffs, Warnock becomes the first Black Democrat elected as a U.S. senator from a state in the South and only the 11th black senator in U.S. history, USA Today reported.
Two Democrat victories in Georgia would tie the Senate 50-50 with the GOP, but Vice President-elect Kamala Harris would get the casting vote.
Senate minority leader Chuck Schumer said in a statement: "It feels like a brand new day. For the first time in six years, Democrats will operate a majority in the United States Senate and that will be very good for the American people."